share:
Recent DVDs
High Strung ... HIGH STRUNG - A streetwise violinist (Nicholas Galitzine) begins a relationship... more info $8.95was $9.99 Buy Now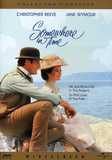 Somewhere In Time ... A young writer sacrifices his life in the present find happiness in the past,... more info $7.55was $14.98 Buy Now
MEDIA:
WATCH MOVIE CLIPS
|
VIEW TRAILER
|
VIEW PHOTOS
|
WATCH A TCM PROMO
| | | | |
| --- | --- | --- | --- |
| Also Known As: | Joyce Penelope Wilhelmina Frankenberg, Joyce Franklin | Died: | |
| Born: | February 15, 1951 | Cause of Death: | |
| Birth Place: | Hillingdon, England, GB | Profession: | actor, producer, ballet dancer, children's book author |
No biography information exists for this person. Be the FIRST to contribute by CLICKING HERE >
VIEW THE FULL FILMOGRAPHY
2000:
Executive produced and starred in the telefilms "Murder in the Mirror" (CBS) and "Enslavement: The True Story of Fanny Kemble" (Showtime), both directed by Keach
2004:
Guest-starred on "Law & Order: Special Victims Unit" appeared in the episode titled "Families," Seymour plays a wealthy socialite whose family is torn apart by a rape/murder
2007:
Played a therapist in "Blind Dating" directed by her husband James Keach
1988:
Cast as Wallis Warfield Simpson in the CBS TV-movie "The Women He Loved"
1994:
Co-produced with husband James Keach the ABC TV-movie, "Passion for Justice: The Hazel Brannon Story", also starred
1982:
Co-starred in "The Scarlet Pimpernel" (CBS)
1998:
Starred in "The New Swiss Family Robinson", co-starring James Keach
1992:
Debut as executive producer, "Sunstroke" (USA Network); also starred
2007:
Joined the fifth season of ABC's "Dancing with the Stars"
2006:
Returned to TV in the short lived WB series "Modern Men"
1980:
Co-starred with Christopher Reeve in the cult hit "Somewhere in Time"
1988:
Played Natalie Jastrow in "War and Remembrance" (ABC)
1988:
Won Emmy playing Maria Callas in "The Richest Man in the World" (ABC)
2009:
Starred as home improvement show host Prudence MacIntyre in the Hallmark Channel TV movie "Dear Prudence"
2011:
Reprised Prudence MacIntyre role in Hallmark sequel "Perfectly Prudence"
2013:
Played Mrs. Wattlesbrook in the Jane Austen-inspired romantic comedy "Austenland"
2017:
Cast on Adam Sandler comedy "Sandy Wexler"
1968:
Made film-acting debut in "Oh! What a Lovely War"
1972:
Had first feature credit billed as Jane Seymour in "Young Winston"
1999:
Received star on the Hollywood Walk of Fame
2001:
Reprised signature role and served as executive producer in "Dr. Quinn, Medicine Woman: The Heart Within"
1973:
Appeared as Bond girl Solitaire in "Live and Let Die"
1980:
Made Broadway debut as Constanze Mozart in "Amadeus"
1981:
Portrayed Kate Ames/Cathy in the ABC miniseries "East of Eden"
1976:
Starred as Bathsheba in miniseries "The Story of David"
1964:
Was a dancer with the London Festival Ballet
2005:
Starred opposite Owen Wilson and Christopher Walken in the comedy "Wedding Crashers"
1993:
Starred as title character in TV show "Dr. Quinn: Medicine Woman" (CBS)
1973:
Made TV acting debut in "Frankenstein: The True Story"
2006:
Played a college professor--and the object of Barney's advances--in "How I Met Your Mother"
2014:
Reprised Dr. Quinn role in Funny or Die spoof "Dr. Quinn, Morphine Woman with Jane Seymour"
2016:
Appeared as Lady Lindo-Parker on "Hooten & the Lady"
2017:
Played Olivia Gardner in "Pray for Rain"
VIEW ALL MILESTONES
Notes
In 1996, Seymour signed a $1 million deal to promote Clairol hair coloring products.

Made an Officer of the Order of the British Empire in December 1999.

Seymour unveiled a line of affordable silk dresses which were sold through CrossingPoint.com in February 2002.

husband:
Michael Attenborough. Theater director. Married c. 1971; divorced; son of Richard Attenborough.
husband:
Geoffrey Planer. Businessman. Married in 1977; divorced in 1978.
husband:
David Flynn. Seymour's business manager. Married on July 18, 1981; separated in March 1991; third husband; divorced in 1992.
companion:
Peter Cetera. Singer. Together in 1991; born c. 1944; formerly lead singer of the band Chicago; additionally had success as a solo act.
husband:
James Keach. Actor, director. Met on the set of a TV-movie "Sunstroke"; married on May 15, 1993.
VIEW COMPLETE COMPANION LISTING
father:
John Benjamin Frankenberg. Physician.
mother:
Mieke Frankenberg. Nurse.
sister:
Sally Frankenberg. Younger.
daughter:
Jennifer Flynn.
daughter:
Kate Flynn. Born on January 7, 1982; father, David Flynn.
son:
Sean Flynn. Born c. 1986; father David Flynn.
son:
John Stacy Keach. Twin, born November 30, 1995; father, James Keach.
son:
Kristopher Steven Keach. Twin, born November 30, 1995; father, James Keach.
VIEW COMPLETE FAMILY LISTING
"Jane Seymour's Guide to Romantic Living" Simon & Schuster
"This One 'N That One in Splat!: The Tale of a Colorful Cat" Putnam Publishing Group (Juvenile)
"This One 'N That One in Yum!: A Tale of Two Cookies" Putnam Publishing Group (Juvenile)
"Eat" Putnam Publishing Group (Juvenile)
"Me and Me" Putnam Publishing Group (Juvenile)
"Play" Putnam Publishing Group (Juvenile)
"Talk" Putnam Publishing Group (Juvenile)
"Boing! No Bouncing on the Bed" Putnam Publishing Group (Juvenile)
"Two at a Time: Having Twins: The Journey Through Pregnancy and Birth" Pocket Books
VIEW COMPLETE BIBLIOGRAPHY