share:
Recent DVDs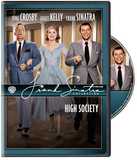 High Society ... Bing Crosby, Nancy Kelly, Frank Sinatra. An heiress has plenty of love to go... more info $9.71was $14.98 Buy Now
The Legendary... In this extraordinary musical celebration, first seen on public television, Bing... more info $16.95was $19.99 Buy Now
Every Day's a... Originally released in 1937. Directed by Edward Sutherland. Starring Charles... more info $19.95was $19.98 Buy Now
MEDIA:
WATCH MOVIE CLIPS
|
VIEW TRAILER
|
VIEW PHOTOS
|
WATCH A TCM PROMO
| | | | |
| --- | --- | --- | --- |
| Also Known As: | Louis E Armstrong,Louie Armstrong,Louis Daniel Armstrong | Died: | July 6, 1971 |
| Born: | August 4, 1901 | Cause of Death: | heart attack |
| Birth Place: | New Orleans, Louisiana, USA | Profession: | Music ... musician actor singer writer laborer coal seller newspaper vendor |
RATE AND COMMENT
BIOGRAPHY
A towering figure in the development of jazz, as well as one of the most beloved entertainers of the 20th century, Louis Armstrong was a trumpeter and vocalist whose unique playing changed the focus of the genre from a collective sound to one built around individual solos. His singing, too, wielded enormous influence on the vocal delivery of pop and jazz vocalists through his phrasing, enunciation and forays into scat singing. His naturally warm and gravely voice also made him an ideal interpreter of standards, which spurred his transition from jazz to the mainstream in the late 1940s and early 1950s. In doing so, Satchmo - as he was known to fellow musicians - became among the first African-American artists to cross over into mainstream white entertainment, where he continued to enjoy incredible success as a vocalist, most notably with his 1964 rendition of "Hello, Dolly!" which bounced the Beatles from the top of the pop charts. A tireless performer and benevolent soul who broadcast his personality and talents like a beacon across the globe, Louis Armstrong was unquestionably one of the defining artists in the history of popular music.
.Though he frequently stated that his birth date was July 4, 1900, Louis Armstrong was actually born on Aug. 4, 1901 in New Orleans, LA. His childhood was almost Dickensian in regards to its misery; both of his parents abandoned him and his younger sister, Beatrice, leaving them in the care of a grandmother. Armstrong would later return to his mother, Mary, but rarely see his father, who had raised another family after his departure. Armstrong helped his mother make ends meet by working at a variety of jobs, including hauling coal to Storyville, New Orleans' red-light district, where he absorbed the music of early jazz players like King Oliver. He eventually took up music as well, learning cornet from either Oliver or trumpet player Bunk Johnson. Armstrong honed his skills as the leader of the band at the New Orleans Home for Colored Waifs, where he was frequently sent for a variety of youthful infractions. There, he studied under Professor Peter Davis, who broadened the scope of his talent while instilling a sense of discipline in the teenager. After his dismissal from the home, the 14-year-old Armstrong began his professional career, playing dance halls, brass band parades and riverboats with bandleader Fate Marable, who recognized the younger man's gift for improvisation and allowed him to exercise it during his breaks in a song.
During this period, Armstrong would earn his enduring nickname of "Satchmo," which was reportedly short for Satchelmouth and inspired by his habit of putting pennies earned from street performances in his mouth to prevent them from being stolen. His other nickname, "Pops," came from his own habit of calling others by that name. By 1919, when Armstrong replaced King Oliver in Kid Ory's band, his musical persona was largely complete. He had gained a reputation as one of the first jazz musicians to take extended solos, as well as for singing and engaging in garrulous stage patter between songs. Eventually, his talent surpassed the limits of the New Orleans scene, and he headed north to Chicago, IL, where he joined Oliver's Creole Jazz Band. Armstrong made his first recordings with the band in 1923, and also met his second wife, pianist Lil Hardin, in their number. He took her advice to strike out on his own, leaving Oliver for Fletcher Henderson's band in 1924, where he switched from cornet to trumpet. He also recorded a number of records with artists ranging from Sidney Bechet to blues singers Bessie Smith and Ma Rainey. But Lil Hardin believed that her husband was a star in his own right, and brought him back to Chicago to play in her band, the Dreamland Syncopators.
In 1925, he recorded his first sessions as a bandleader with either the Hot Five - comprised of Hardin, Kid Ory, Johnny St. Cyr and Johnny Dodds - or Hot Seven, which added Dodds' brother, Baby Dodds, along with Pete Briggs and John Thomas, who replaced Kid Ory. The band hit the Top 10 with 1926's "Muskrat Ramble," which was soon followed by his first vocal hit, "Big Butter and Egg Man," "Hotter Than That" and "West End Blues" in 1927 and 1928. Armstrong formed a new Hot Five with Earl "Fatha" Hines, replacing Lil Hardin on piano that same year; the couple had grown apart, and after Armstrong took up with future third wife Alpha Smith, they divorced soon after. In 1929, Armstrong returned to New York, where he performed in the all-black revue "Hot Chocolate," which also afforded him a brief turn in the spotlight singing "Ain't Misbehavin" during each show, which later became another Top 10 recording.
A stint at the famed Cotton Club soon followed, but the debilitating impact of the Great Depression on the club scene prompted Armstrong to head west for Los Angeles. There, he performed at the New Cotton Club for the wealthy and famous, including Bing Crosby, who would draw heavily from Armstrong's vocal phrasing for his own singing career. Armstrong also made his feature film debut in 1931's "Ex-Flame," but a suspended sentence for marijuana possession contributed to his return to Chicago that same year. In 1932, Armstrong left his longtime label, Okeh, for Columbia Records, where he began recording material that was more in the vein of big band pop and standards than his early jazz cuts. However, the new songs still featured Armstrong's unique tone and phrasing, which would have an enormous impact on a generation of white crooners, especially his cover of Hoagy Carmichael's "Stardust" (1931), which became the version by which all subsequent renditions would be compared. Armstrong would score his first No. 1 single with a rendition of "All Of Me" in 1932, which was soon followed by a slew of Top 5 and Top 10 hits, including "Body and Soul" (1932) and "Sweethearts on Parade" (1932).
That same year, Armstrong headed to England for a tour that would expand into a three-year sojourn throughout Europe. Upon his return to the United States in 1935, Armstrong signed with Decca Records, which provided him with another Top 10 hit with "I'm in the Mood for Love." He soon settled into regular touring with a big band while turning out a number of Top 10 hits, including his iconic rendition of "When the Saints Go Marching In" (1939). Armstrong also began appearing regularly in motion pictures, including the Bing Crosby vehicle "Pennies from Heaven" (1936), and became the first African-American to host a national radio broadcast when he substituted Rudy Vallee on his CBS program. Armstrong settled in New York with fourth wife Lucille in 1943, just as demand for the big band sound had begun to wane. Armstrong himself was struggling to maintain his schedule of over 300 performances a year, due in part to physical problems with his fingers and lips.
Armstrong had also fallen out of favor with black audiences, who perceived his popularity with white music listeners and beaming smile as proof of his status as an "Uncle Tom," though Armstrong famously condemned the Eisenhower administration in 1957 for failing to act during the school desegregation conflict in Little Rock, Arkansas. These and other factors forced Armstrong to disband his orchestra and launch a six-piece group called the All-Stars, which featured a number of ex-bandleaders from the 1920s and '30s, including Jack Teagarden and Earl Hines. The change in band lineup did little to reduce Armstrong's popularity with mainstream audiences. He continued to land hit singles and albums, most notable the 1951 song "(When We Are Dancing) I Get Ideas" and the LP Satchmo at Symphony Hall, released that same year. Acting roles also continued to come his way, most notably in 1947's "New Orleans," a highly sanitized drama about the city's jazz scene that cast Armstrong as himself. When his contract with Decca expired in 1954, Armstrong freelanced for a variety of labels, scoring another Top 10 album with Satch Plays Fats (1955), a tribute to fellow jazz great Fats Waller. He also enjoyed critical success with a string of recordings with Ella Fitzgerald, beginning in 1956 with Ella and Louis. The demands of maintaining his ceaseless schedule took its toll on Armstrong, who suffered a heart attack in 1959. But he was soon back to work, wowing the musical industry in 1964 with his Grammy-winning recording of the title song from the musical "Hello, Dolly!" The single reached No. 1 and broke the Beatles' 14-week hold on the top spot on the Billboard pop chart.
Armstrong would score one final No. 1 with his 1968 rendition of "What a Wonderful World," which peaked at the top of the U.K. singles chart. The following year, he appeared opposite Barbra Streisand in the ill-fated film version of "Hello, Dolly!" while touring the world as a Goodwill Ambassador for the United Nations. His final live concert appearance came at the Waldorf-Astoria Hotel in 1970. Eleven months later, Armstrong succumbed to a heart attack in his sleep at his home in Corona, Queens, NY on July 6, 1971. His pallbearers including Crosby, Frank Sinatra, Count Basie, Ed Sullivan and Dizzy Gillespie, while Peggy Lee and Al Hibber performed during the services. Four decades after his death, Armstrong remained one of jazz music's most popular performers, enjoyed by audiences who knew of or cared little about the genre. He even scored a posthumous Top 40 hit with a 1988 re-issue of "What a Wonderful World," which had been featured prominently in the film "Good Morning Vietnam" (1987). From 1973 through 2008, 11 of his songs were inducted into the Grammy Hall of Fame, while the Rock and Roll Hall of Fame inducted him as an early influence in 1990. Five years later, the U.S. Post Office commemorated Armstrong on a 32 cent stamp.
By Paul Gaita