DVDs from TCM Shop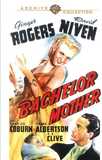 Bachelor Mother A fun-loving shop girl is... MORE&nbsp> $15.96 Regularly $19.99 Buy Now
USER REVIEWS
See Detailed Ratings
Acting of Lead Performers

Acting of Supporting Cast

Director

Music Score

Title Sequence

Screenplay

Cinematography

Historical Importance

Would You Recommend?

0 Member Ratings
Rate the acting of the Lead Performers

Rate the acting of the Supporting Cast

Rate the Director

Rating of the Music Score

Rating of the Title Sequence

Screenplay

Creatively uses the camera to tell the story

Importance in Cinema history

Would you recommend for fans of this genre
Submit Ratings
Cancel
Write a Review
Read Reviews
NO REVIEWS AVAILABLE
The title has not been reviewed. Be the first to write a review by clicking here to start.
Batchelor Mother

I love this movie and all the actors but while watching Batchelor Mother with Ginger Rogers. I noticed when she leaves for the dance her hair is all smooth and rolled under. Then at the dance it's all wild and curly. Then when she comes back from the dance it's all smooth and rolled under again. I think someone made a mistake while filming!

Love Bachelor Mother

One of my favorite movies! I think its hilarious when her boss is mistaken as the father so the movie could be called The Bachelor Parents. My favorite scene is at the end with the toy duck quacking and ratting out the location of the Bachelor Mother.

enquiring minds want to know..

the sweetest comedy with david niven having a dirty mind while acting like a hypocrite puritan that you will ever see. this is part fodder for the formula of 3 is company.. truly Hollywood history. good or bad history..up to you.

Bachleor Mother:

I just watched this movie by accident and started to watch it from the beginning. It sort of interesteed me as the subject of the film wasn,t to far fetched. Thos e things do happen today and back in 1939 one didin,t hear of those things as much.Thats why I watched the movie it was quite good for the year of the movie it wasn,t so corny like some 1930,s movies are.I didin,t reconize the woman with the baby until I read the summary it was a yiung Ginger Rodgers. Thats why she could dance well at the dance contest.Its a good movie well acted and the plaot was pretty good.I liked the characters in the movie. Charles Coburn made a good enough grandfather to be a bit crusty but understandable.I would recommend to watch the movie. It is a good movie with a predictable message. David Niven did the right thing to marry Polly Parish in the end.

Great Movie!

This was a real treat! I watched it for the first time the other night & I will make it a point to watch it again.

bachelor mother

A hard movie not to like, this gentle screwball comedy has just enough comic energy from screenwriter Norman Krasna and director Garson Kanin to keep frothily afloat for eighty five minutes. Along the way we're treated to several funny scenes, like the dance contest, the mock Swedish stuff, and anything having to do with ducks. Also contributing, is good chemistry between Ginger Rogers and David Niven, as well as good comic turns from Charles Coburn's permanently irascible tycoon, E. E. Clive's permanently dismayed butler, and Frank Albertson's sleazily ambitious department store stock boy. And sealing the deal is, blessedly, not too much baby schtick. Give it a solid B.

Bachelor Mother

Adorable movie!

Bachelor Mother

Great!

another gem from 1939

Sooooooooo much better than Kitty Foyle...

a nice movie

for a hot weekend sit back an enjoy come on anything with ginger in it rocks

BACHELOR MOTHER

One of my favorite CLASSIC movies. I try to watch it every time it is on TCM! The movie stars GINGER ROGERS and DAVID NIVEN but CHARLES COBURN "steals the show." Coburn is brilliant as the father of David Niven who thinks he is the grandfather of the orphan baby boy. His dialogue and facial expressions throughout the movie are brilliantly funny. Ginger Rogers and David Niven share great chemistry on screen. This movie is a FIVE STAR for me. It is a timeless movie CLASSIC. And yes, "they don't make movies like this anymore." A TRUE CLASSIC.

Bachelor Mother (1939)

Very funny film, in particular the scenes with Niven, the how-to book, and the wind-up duck; and Coburn and the ricocheting spoons; and, of course, Ginger and her mock Swedish language! So "smorgas" very much, TCM, for showing this great film! It is one I definitely plan on buying! :)

Bachelor Mother

***1/2

So delightful! An all-time favorite!

I WISH THIS WAS ON DVD! Ginger Rogers is wonderful and David Niven is dreamy in this sweet comedy about unemployment, dating and, yes, babies. The scene where Niven takes Ginger home after a hastily arranged New Year's Eve date is one of my all-time favorites -- the sweet look in his eyes and her smile and the lovely violins playing "Auld Lang Syne" in the background make my heart sigh. This movie is perfect AND perfectly funny.

Excelente

Este filme excelente. E transmite uma mensagem maravilhosa para o telepectador. Um filme lindo, divertido e emocionante. Eu daria 10 estrelas para este filme se pudesse.

Bachelor Mother

Before I saw this movie, I also thought of Ginger Rogers as Fred Astaire's dance partner. In Bachelor Mother, she is very funny and can hold her own as comedy actress. Here she shows us that she can do more than just sing and dance. I started to see her as an actress. I thoroughly enjoyed watching her go through the struggles of instant motherhood.

GREAT AND ENTERTAINING

JUST A GREAT MOVIE.....NOT CORNEY OR SLAP STICK. CHARLES COBURN STEALS THE SHOW. JUST A FUN MOVIE THAT EVERYONE IN THE FAMILY CAN ENJOY.

Bachelor Mother

Ginger Rogers was so cute with the baby: "My little guy". David Niven was better after he and Ginger fell in love. Charles Coburn was so good as the father of David. The plot twists were so comical.

Don't miss this one'

A classic, the relic of one of the most sentimental and decent eras in our nation's life, depression or no depression, when a single girl could be home at night, in a big city, alone, somebody knocks, and she gets up to open the unlocked door, or when the guy promises to pick her up to go out that evening, 'after supper'. Just true to life details of the times. Don't miss it. !!!!!

SO FUNNY!

This is one of the best forgotten films, as another reviewer states! David Niven and Ginger Rogers are so great together in this film. Their conversations and misunderstandings leave one in stitches! This movie should definitely be promoted as one of the "Classic" Christmas movies and put on DVD immediately!!!

Bachelor Mother

One of favorite Holiday movies.I love love love this movie.

Best Forgotten Christmas Movie

Ginger Rogers and David Niven are exquisite in their repartee and chemistry in this beguiling romantic comedy. Ginger Rogers is an out of work shop girl who gets a special surprise when the entire world presumes her to be an unwed mother -- including her former boss. There are very few movies I laugh out loud in -- this one gets me every time. There are so many hilarious "moments". The clothes are spectacular, the pace is edge of your seat and the nostalgic feel remind you of how we all wish Christmas felt. One of my favorite movies of all time.

A Strong Screw Ball Comedy

Ginger Rogers acting talent is displayed in full with her strong deadpan performance. She's the queen of the sidelong glance...and this film puts her in the kind of screw ball predicament...than no other character in the film can see...except for Polly Parrish...and of course, the audience. Director Kannin's showing the audience the key (and early) information, that drives the action, "the McGuffin", makes it a comedy version of a Hitchcock thriller. A truly inspired performance by Rogers is well supported by David Niven...and with his usual competence, James Colburn. The film is genuine top notch comedy entertainment...and it's an absolute wonder that it's not available on DVD. Unbelievable.

Don't miss this one

One of the most beautiful, sentimental, and nostalgic movies ever made. Can only be truly appreciated by those who lived in that magic era, the late 1930s, depression or no depression. You'll we wanting to see it more than once.

One of the best movies ever made

Ginger Rogers and Davis Niven have some of the best on screen chemistry.This movie is an absolute delight to watch and still very funny even by todays standards.I say its a must watch for all old movie watchers.

Family Favorite!

This is one of my family's favorite movies! Even my small children love it!I sure would love to see it released on DVD here in the US.

It's incredible!?....

.....that this movie is not on DVD. It's one of funniest comedy of all times, one of the box-office success of 1939 year of great movies and one of the major exits of Ginger Rogers. It's a gem, pure gold!. From the start when Ginger gets stuck with the baby the film flows funnily right up to the end. By the way, has there been any actress more talented, more attractive, more seductive and charmer than Ginger Rogers?..... I don't believe, either. Those amused expressions on her face in the scene when she recovers her job (with Niven and the Manager of the Orphanage) are prodigious!. Another wonderful scene is in the New Year Party especially at the end when Ginger makes fun of her rival with that magical blinking of her eyes. This is one of the most ingenious gestures invented for this incredible woman. There's another great moment, very short but full of good taste and hilarity in charge of the incomparable Charles Coburn and a hansome David Niven thought the butler E. E. Clive steals the scene. Unbelievable the way that the director, Garson Kanin worked this little "bit". There's more in this surprising film which inexplicable is not edited on DVD. (I remember having read a comment sent to IMdb in 2006 giving as done the releasing of the DVD. What went wrong since then?)

The Duck Saves The Day!

Another great Charles Coburn movie. He makes a perfect Grandfather! Ginger Rogers is so young that I didn't recognize her. She was quite the dancer. David Niven is very believable in his role. The Baby was a true delight to watch, as if he knew his lines, always smiling and waving or patting his little hands. I can't imagine being a salesperson that sells quacking ducks ALL day. Cute, entertaining movie!

GINGER ROGERS AND DAVID NIVEN SHINE TOGETHER.

CHARLIE WILKINSON

12/16/08

WATCH THIS ONCE AND YOU WILL WANT TO WATCH IT EVERY YEAR AT CHRISTMAS AND NEW YEAR. THE CLASSIC SCREWBALL COMEDY. THE MOVIES' STORYLINE ABOUT MISTAKEN FATHERHOOD IS PRICELESS.

An Excellent Movie

This film is joy to watch, with a solid cast. I can see why it was such a box office success in 1939...arguably Hollywood's greatest year. Ginger Rogers is absolutely charming and quietly hilarious, as an ordinary sales girl. Would that Hollywood take a leaf from this script, instead of all the violent, traumatic, vulgar, loud, and tasteless fare we get today.

Wonderful Movie!

One of the few that makes me laugh out loud. Ginger Rogers & David Niven were perfect for their rolls. Pls bring it out on Home Video!

Great

movie.... This is my personal favorite of all of the same-themed remake movies. Ginger Rogers is perfect and David Niven was superb. I am glad to see it is being played earlier than the normal 'Christmas' time airing. It ususally gets played during the Holidays, only. Thanks TCM.

great funny movie!

With so many bad, poorly made, and sick movies that are out there it is refreshing to see a movie that is funny and romantic. I love to see movies that I would want my kids to be able to watch and this one is a keeper for sure! It would be awesome to see it out on dvd. :)

One of my favorite movies

This movie is hilarious... the movies of the studio era are wonderful... and this includes Ginger Rogers in her acting. I loved the movie the first time I saw it on TCM with her leading man, David Niven. I loved the way Ginger could make you laugh just by the look on her face... and ultimately you fall in love with the movie because you see the characters acting like real people. This is my favorite movie!

A, "Feel good movie".

I really love this movie. I've only seen it twice but I can almost say the lines before the actors say them.I love the end when Polly asks, "Do you still believe the baby is mine?" When David says, yes, she comes back with her, ha ha. Great movie.

She got a baby for Christmas!

This movie was so innocent despite the fact that everyone thought Polly (Ginger Rogers) was a single mother. David Niven, the son of her employer, stepped in to "help" her. Confusion ensues and everyone ends up thinking he is the father!The ending is just jolly good. Quack! The little duck was a great supporting actor. I was laughing so hard as I watched this movie. My favorite quote: "I don't care who the father is. I'm the grandfather", by Charles Coburn (Mr. Merlin Sr.) Just made me crack up. I'd also like to get this movie on DVD.

You've disgraced the Toy Department!

Will McKinley dot com

12/23/07

This film is so good in so many ways, it's like an all-star team of a movie. The script (by Norman Krasna, based on a story by Felix Jackson) is sharply written and filled with quotable punch lines (like the one above). Garson Kanin's direction is joyously frenetic and his flawless set pieces are a treat to watch. David Niven is sublime. Ginger Rogers demonstrates that she can do more than dance. And I could listen to Charles Coburn read the phone book, as long as he was chomping on a cigar. If you enjoy screwball comedies like MY FAVORITE WIFE, you'll love BACHELOR MOTHER.--Will McKinley www.willmckinley.com

Alot of fun

This story has been redone many times. I'm glad this cast worked together before it was copied over and over. They were very good. I'd like to see it again. Ginger was glamorous as always.

Funny and charming

BACHELOR MOTHER, starring Ginger Rogers and David Niven, is both funny and charming. On a well-deserved par with IT STARTED WITH EVE and THE LADY EVE, this 1940s era black and white gem seems as fresh as the day it was released. Love conquers all, of course, but the perils and pitfalls along the way are delightfully engaging. The scene in which a rather pompous David Niven pedantically instructs Ginger Rogers on the proper care and feeding of a baby is especiallly delightful. A cinematic gem with an all star cast -- a great film to cheer you up on one of those dark days of the soul.

The Best Romantic Comedy

This is truly an underappreciated movie! The comedic timing is wonderful. A great boy meets girl movie. Should be shown more often and I wish I could buy it on DVD.
*We protect your personal infortmation and will not provide it to anyone without your consent. For a complete explanation, please refer to TCM's Privacy Policy. By submitting your contribution, you agree to TCM's Terms of Use.