DVDs from TCM Shop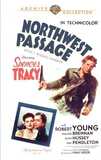 Northwest Passage True story of Rogers'... MORE&nbsp> $15.96 Regularly $19.99 Buy Now
USER REVIEWS
See Detailed Ratings
Acting of Lead Performers

Acting of Supporting Cast

Director

Music Score

Title Sequence

Screenplay

Cinematography

Historical Importance

Would You Recommend?

0 Member Ratings
Rate the acting of the Lead Performers

Rate the acting of the Supporting Cast

Rate the Director

Rating of the Music Score

Rating of the Title Sequence

Screenplay

Creatively uses the camera to tell the story

Importance in Cinema history

Would you recommend for fans of this genre
Submit Ratings
Cancel
Write a Review
Read Reviews
NO REVIEWS AVAILABLE
The title has not been reviewed. Be the first to write a review by clicking here to start.
Superb filming of the Kenneth Roberts Novel

Thomas Woodrow Wilson

8/1/19

I have long considered this one of my favorite films. It is based on Kenneth Roberts' novel of the same title. Roberts is my favorite historical novelist and this is my favorite of his novels, which are historically accurate, unlike some such novels. Some have questioned the title of the film as it has nothing to do with the actual search for the Northwest Passage. The answer is that only the first half of the novel was filmed, and not all of that. It concentrates on the St. Francis raid in the autumn of 1759. A sequel was to provide the second half which would include the search but it was never filmed. I highly recommend the novel, first published June 25, 1937 It is 709 ages of wonderful reading. As is usually the case, some changes have been made from the book, film being a different medium which necessitates a different approach of some aspects. One is the character of Hunk Marriner portrayed by the superb character actor Walter Brennan. In the novel he dies as a result of the powder explosion during the expedition but he was too good a character to kill off in the movie. Also, it is Captain Ogden in the novel who is shot in the stomach, not Langdon Towne. The rangers uniforms are not particularly accurate, either. And, Elizabeth Browne, Langdon's love interest, actually marries Robert Rogers!All that being said, this is still one fine movie, despite being filmed in the Pacific Northwest rather than the woodlands of the northeast.

"I will make a way in the wilderness"

With "stout arm and brave heart," Rogers (well played by Tracy, who won 2 Oscars in the 30's) led the civilized Rangers to clear the untamed wilderness of savages who too often did to fellow Indians and non-Indians alike the like of what was done to Lt. Crofton's brother: "They had a strip of skin torn upward from his stomach, and with it they hung him from a tree while he was still alive. They tore my brother's arms out of him. They chopped his ribs out of his backbone and pried them out of his skin one by one." The rugged Rangers were "ready for that rock tripe now" for "it will kill the taste of the (27) lizards" they caught to stay alive. As Towne said of Rogers, "That man will never die." Not until the self-hating historians took over. Thank God for TCM.

Review the movie

Again I read reviews who say this movie is racist , these are written by people who grew up on Sesame Street and Mr. Rodgers propaganda , and know nothing of how evil the Indians were . Long before Europeans came to America , Indians all over North and South America killed , tortured and stole from other Indians . Please review the movie and not history.

always worthwhile

.For some reason the film is listed as a "western.' There are guns, rugged and weatherbeaten men, sturdy women and horses. But it's no Western. It's an Eastern if such a genre even exists. It is a fairly accurate and a very entertaining story of tempestuous years from the French and Indian War to the Revolution. It's the story of early American patriots who identify as Rogers Rangers led by Major Rogers (Spencer Tracy). The setting is the vast eastern wilderness of Vermont and New York. Prominent locations include Montreal, Lake Champlain, Fort Crown Point, Mohawk River, Lake George. The terrain is as intimidating as any possible western locale. Adirondack Mountains, Hudson River, Lake Champlain, dense lush foliate, high craggy peaks, rocky mountain tops, steep cliffs and roaring cat 5 white water rivers. At least the attempt was made to create a deep, intimidating eastern wilderness. Robert Young, Walter Brennan, Ruth Hussey along with Spencer Tracy tell an exciting story. The Native Americans represented are stereotyped and portrayed as two dimensional savages, unfortunately. It's their land over which this group of white men travel but they are constantly portrayed and viewed as just an enemy.

response to will

Sorry it's taken me so long to get back to you, will. The answer to your question is implicit in my review. Ol Spence gives at least three stirring anti Indian speeches to his white troops but there is nary a single Native American oration to counter these Caucasian exhortations to massacre the "savages". If that isn't racist then what, pray tell us will, is? I do agree with you, however, that this is a damn good film, fast paced and gritty. Indeed, it's one of Vidor's best.

Can't watch it without laughing

I just can't watch this movie without laughing. The boys look like Keebler elves with their matching green buckskins.

northwest passage

reply to Mr. Sellers . What part of this remarkable film is racist? Major Rogers speech, as he confides to his men, is as close to the truth as youll get. There were good and on bad both sides. The native people Did hack and murder peaceful pioneer men women and children. ( non military) just as soldiers and Rogers Rangers raided native villages and did the same. if anything this film tells it like it was, and tragically as it still is.

Question

Why is this movie never shown on TCM? It is one of Spencer Tracy's best. Please show once in awhile if at all.

The best, Jerry, the best!

This is my all-time favorite movie. The scenery is wonderful, and the portrayal of the privations of war really hit home. It is not politically correct by today's standards, but it probably represents the true feelings of the people of the time on both sides. Great acting and music. I know they took a lot of cinematic liberties, but overall a GREAT film.

northwest passage

I don't mind the fact that this film is racist. Hell, just about any Hollywood movie of the 1940s dealing with Indians is gonna be like that. It's the fact that it's so damn preachy. I mean, the first speech Spencer Tracy gives his men to fire them up with vengeance against the Abenaki Indians is sufficient. You don't need two or three additional orations along the way. Also, it kinda ticks me off that one of the villains of the piece is Indian superintendent Sir William Johnson, who was one of the very few colonial officials the Indians trusted not to steal their land. It shows the malign influence of the virulently anti Indian historian Francis Parkman on peoples' perceptions of the French and Indian War at the time the movie was made. On the plus side the action sequences, such as a march through the swamp and the massacre of the Abenakis at Fort St. Francis are excellently directed by King Vidor, who resolutely pulls no punches. You feel every mosquito bite and act of savagery on the part of both races. Let's give it a B.

Historical Architecture makes me smile

Christopher Drewnoski

11/24/14

The opening interior scenes are comparable historical sites I've seen. The different timber log forts will make you smile. It makes you want to be there.

THE GREATEST

This is my ALL TIME favorite movie. The action scenes were so well done and made you feel the hardships these brave men had to endure. I admire all the actors and the movie people behind the scenes that shot it will REAL people not like today's movies where its mostly CGI on a computer. The Color is breathtaking so much better then today's pale colors. This is a masterpiece made with one of the greatest actors of all time - Spencer Tracy. Its just too bad they never got to make the sequel they had planned. Don't miss this because you will in in for a treat for an action adventure

northwest passage

One of my all time favorite films. Years after seeing this as a kid, I had the opportunity to take part in re enactments. French Indian Wars , War of 1812, Mountain Man camps. This film and a Very few other films inspired many of us to learn the survival and living skills that were almost lost in the twentieth and twenty first century. Read Fox Fire books and Tom Browns survival books. I had thought, when seeing this early on, that the Un uniforms were Hollywoods idea of what they looked like. From what Ive learned, not so, although the period clothing, Did change as time went by. As for the battle at St. Francis This is the way it Was, tragically. No good guy bad guy Hollywood bunk. it was a matter of survival on All sides. As Mel Gibson points out in the Patriot film, we have to spend the rest of our lives begging forgiveness, haunted, by our sins. See you at sundown.

Fantastic movie..

I first watched this movie when a young lad with my late father. This is in my humble opinion the best movie of its kind for the french indian wars and Spencer Tracy's best effort as well. If you want some good reading on what ROGERS was all about...get a copy of DIXIE GUN WORKS CATELOG...only five bucks I think...at the back of it there is a full page article about the RANGER CODE.....fantastic. You will love looking at all the fine flintlocks too. Good item to have around the house....Enjoy this movie...like I said before, finest movie of its kind.

Great Movie

I certainly wish Northwest Passage would be released on DVD. This movie is one that everyone can enjoy and get a feel for the way life was in colonial America. I would love to get my hands on a DVD version of this movie.

northwest passage

ty for putting this movie back on the air.its absolutly wonderful....and i totaly agree it needs to be released on dvd so that eveyone young and old can enjoy this timeless film.

A Wonderful Classic

"See you at sunset Harvard" is one of the all-time great movie lines, Spencer Tracy's speech to his starving men is as inspiring as any I have ever heard, the guy who keeps the head in the sack is memorably creepy, and the score is excellent. I stop and watch this movie every time it comes on. It's a shame it isn't available on DVD.

Northwest Passage

As others have stated, this is a great movie and should be out on DVD ! Spencer Tracy and Robert Young are great actors and with Walter Brennan as a side kick this movie has it all. I hope it comes out soon so I can add it to my collection.

Great movie

Pierce Youngblood

5/17/11

Why is this film not on DVD? The majority of people in this country are not liberals and don't give a rat's behind about political correctness.

DVD?

This is a great movie with teriffic actors and beautiful scenery. Why is this movie unavailable on DVD?

Northwest Passage

Great movie that is a must see for anyone who likes to escape to early American history.

test of time

denise walsh brown

4/25/11

Given the seventy-one years since the making of this movie, "Northwest Passage" holds up remarkably well. For the time period, there is a fair amount of graphic violence which rings remarkably true. the acting is not over the top (until the last scene) and the melodrama is held to a minimum. Walter Brennan is in classic form, good supporting actorsa nd Tracy and Taylor...perfect!

Northwest Passage

Though not a perfect depiction of the book by Kenneth Roberts, the movie reflects well about the French and Indian War time period. A good history for everyone to learn about that time. The cinematography was excellent. Only disappointment was the ending, which should have followed the book ending.But so many good movies then and now have disappointing endings, so nothing new here.Why this is not out on DVD escapes me to no end.Please TCM, bring it out on DVD, a must for all movie fans.

northwest passage

should be on dvd , great picture

Northwest Passage Epic

I have read this book several times. Kenneth Roberts' epic tale is a classic and perfect historical fiction. Unlike much historical fiction of today, Roberts' book has more history and less fiction. It reminded me of the great story teller of a professor I had in college who totally enraptured me with stories of the building of the American West. (This was one of the books we read in the class). With all that said, I have only been able to see bits and pieces of this movie, constantly looking for it to be on tv again or find a copy to plug into my DVD player. I can see by both the reviews and bits I have seen, there is limited fidelity to the book. Regardless, Spencer Tracy is a great pick for Rogers! With all the ca-ca movies we get stuck with at big box stores and video warehouses, it would be a welcome relief to have some more of the great TCM movies available, especially Northwest Passage.

NORTHWEST PASSAGE

A FANTASTIC MOVIE THAT I'M SURE WOULD SELL VERY WELL IF IT WAS ON DVD.

NorthWest Passage Book I

This 1940 version of the film is an excellent Hollywood production but a less than faithful version of Kenneth Robert's famous book ("Northwest Passage C1938) for which it is based upon. Roger's Rangers was an actual irregular militia contingent based out of Ft. Edward, New York (Upstate). Their most famous battle was the attack on St. Francis (Quebec Province, Canada) in 1759. A number of liberties are taken with the characters, the most disappointing is that of combining Langdon Towne's (Robert Young) character with the true-to-life Captain Ogden, who actually injured in the attack. Perhaps it was done to give Langon's character a more sympathetic view. Also the hero's desire to "paint indians" is rather downplayed which is a shame. The ending is the most disappointing of all. Roger's in reality took several men, including Towne, down river via raft while leaving the rest at old Ft. Wentworth to fend for themselves. Everyone was weak due to starvation and hash conditions, expecially the men who headed downriver through snow and cold in order to reach Fort #4 to get help for the rest of remaining rangers. The film eliminates what would have been a more rousing conclusion and the fact Roger's barely rested heads back North with the relief party to save the rest of his men. It's also a pity that MGM didn't film the 2nd book for which the story is named. Still, I would rate this a good film and very entertaining.

Northwest Passage

Great movie ... a masterpiece filled with great moments and lines ("We ain't crows!") and acting ... and not much sound stage stuff ... lots of real outdoors photography to admire. I do not understand why total dreck gets released on DVD week after week after week, but this Technicolor MGM classic adventure about early America (based on actual history) featuring Academy Award winners Spencer Tracy and Walter Brennan, and Emmy winner Robert Young is still not out. Just WRONG ... and if you don't agree with me ... I hope tonight at dinner you are served the head of an Abenaki Indian!!!!!!!!!!!!!!!!

northwest passage spencer tracy

bruno and dawn perez

3/23/10

my husband and i saw the movie northwest passage some time ago and we loved it so does our son we only hope they will release it to buy we agree with others this is a great movie and a timeless classic

Northwest Passage

This is a great great movie. There are very few movies about the French & Indian wars and this is a part of our history that needs to be told. I hope that this movie will soon be released and is not being held back for political correctness.

Northwest Passage

I saw the movie when I was about 12. Then I read the book. This movie introduced me to Kenneth Roberts. I read all of his books. They were beautifully descriptive writings that gave a graphic picture of the colonial era. As silly as it sounds, this movie and Darby's Rangers spurred me into becoming a US Army Ranger.

Northwest Passage (1940)

Great old Hollywood style adventure film, rousing score and a terrific cast. Spencer Tracy and Walter Brennan stand out. Beautifully produced, excellent art direction and score. It's a bit long but the pacing is good enough to hold your interest.

A classic from Hollywood's "Golden Age"

Spencer Tracy is perfect as the stalwart, but also human, Major Robert Rogers. Aspiring artist Langdon Towne and his friend, wordsman Hunk Mariner, and persuaded to join "Rogers' Rangers" on a perilous mission deep into enemy territory during the French and Indian War. Classic lines: "Is HE the one mixed that 'panther juice'?!" and "Mariner, you look better than when we left". Tracy remembered the rugged location shooting as one of his toughest. Filmed in glorious technicolor, film fans are clamoring for it's release on DVD.

Better off in Jail

It is no surprise that a movie about travel in the Northwest would be nominated for Best Cinematography. In fact, another film that year, North West Mounted Police, competed in the same category. They lost, as we currently are to The Thief of Bagdad.A political comment is appropriate when reviewing this film as it is a statement of our feelings in the middle part of the 18th century in America. Just as Major Rogers (Spencer Tracy) was trying on moccasins, he says, "Don't any of these red hellions have man-sized feet?" A statement that indicates just what he thought of the Native Americans he, and his band of Roger's Rangers, were wiping out. Well, they managed to cross the frontier and slaughter a village full of 'Indians," in fulfillment of their mission as mercenaries for the British in the French and Indian War. (Shades of Blackwater!) The film concerned itself mostly with the trip home, which was hellacious, and cost him most of his men.I enjoyed seeing Spencer Tracy (Oscars for Boy's Town and Captains Courageous, and seven more nominations) in his prime. This movie came out just after his two Oscar wins, and you see him at his peak.Robert Young ("Father Knows Best", "Marcus Welby, M.D.", The Enchanted Cottage) was quite interesting as a more humane individual (Harvard grad, artist, mapmaker), who tagged along to escape jail (Gitmo?) for criticism of the administration.Walter Brennan, who won an Oscar in 1939 and 1940 for The Westerner and Kentucky, and won one just a few years prior for Come and Get It, and who would get a nomination in the following year for a favorite: Sgt. York, was at the peak of his career and really shone as Young's sidekick.I am just glad that Young gets home to his fiance, Ruth Hussey (The Philadelphia Story). Tracy goes off to kill more Native American in hopes of a promotion in the Tory Government, not knowing that he had hooked up with the losers.

Please release it on DVD!

I watched this movie growing up and though I am young I love the movie, if only to catch the glimpse of my grandpa who was an extra during the filming. I would love to own a DVD of this film!

Please release this Great film on DVD

I first saw this film as a child. It inspired me then, and continues to do so to this day. I never miss an opportunity to watch it whenever it is replayed on TCM. If this were released on DVD I would purchase it. This is a great film depicting a too often ignored chapter of American history "The French And Indian War," as known on this side of the 'pond.'The battle scenes are ruthless. The weaponry authentic. The long march grueling. The courage and indomitable spirit of Major Rogers, as depicted by the great Spencer Tracy, inspirational. The supporting cast including: Robert Young and Walter Brennan, are brilliant in their portrayals. Needless to say, I love this film. Please seriously consider releasing it on DVD as soon as possible. Thank You.

Wait for me

The final scene of this classic makes me wish i could go with Rogers on his search for the northwest passage,for that man will never die!

Cut it loose

One of Spencer Tracy's Best..Adventure at it's best!!

A Classic held Captive

With all of the substandard movies that have been released on DVD I can't belive this classic is being held captive by the powers that be.

One of Spencer Tracy's best

For anyone who loves classic movies, this is a must have. I consider this movie to be one of Spencer Tracy's most moving performances and I cannot begin to understand why this movie has not yet been released on DVD. The supporting cast is also excellent (Walter Brennan, Robert Young). This is simply a wonderful piece of cinematography and a must have for lovers of classical movies, frontier era movies or Tracy fans.

Made for DVD release

Wonderfully photographed action film of the highest oreder. Closely follows the first half of Kenneth Robert's book of the same title. Younger Spencer Tracy in an excellent performance. Rousing entertainment. Can't wait for the DVD release.

Northwest Passage is a necessity.

Northwest Passage is a necessity for all American History lovers dvd collections. King Vidor tells the grand story of the struggle for supremacy in colonial America in excellent style. The acting is superb and the each scene is a postcard of what colonial life must have been like in mid - 18th century America. I agree that this movie should have been out on dvd a long time ago and hopefully in its original widescreen format. A superb movie that I eagerly look forward too everytime it is run on TCM.

What are they waiting for?

I am a History teacher who loves historically accurate films. Considering the time period this was made, King Vidor, the director, faithfully follows Kenneth Rogers novel. The movie gives a pretty balanced account of who Rogers was and the elite rangers he led. The movie was filmed on lcation in northern California but it looks like upatate New York. Please release this ASAP.

Classic Spencer Tracy Movie!

This movie should have been out on DVD or Video a long time ago. Its the story of Rogers Rangers, an elite group of soldiers and explorers during the Pre Revolution of our country. Spencer Tracy leads a great cast including Robert Young and Walter Brennen in an American struggle of discovery and freedom. At war with Indians at St Francis near Canada Major Robert Roders leads his army to defeat them to protect the settlers from their attacks once and for all. He succeeds but finds himelf in a crisis from the French who want to destroy his entire army for good. With little or no food Major Rodgers and his men face starvation as they struggle to get back home.
*We protect your personal infortmation and will not provide it to anyone without your consent. For a complete explanation, please refer to TCM's Privacy Policy. By submitting your contribution, you agree to TCM's Terms of Use.