DVDs from TCM Shop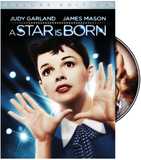 A Star Is Born A falling star marries the... MORE&nbsp> $16.95 Regularly $19.98 Buy Now
OVERVIEW
Brief Synopsis
A falling star marries the newcomer he's helping reach the top.
In Los Angeles, at a benefit show for the Motion Picture Relief Fund at the Shrine Auditorium, prominent but fading movie star Norman Maine arrives drunk and out of control. To save his studio from embarrassment, Oliver Niles, the studio head, tells his publicity director, Matt Libby, to keep Norman away from the stage. Using the pretense of publicity photographs and interviews, Libby lures Norman into the pressroom. However, Norman soon guesses Libby's ruse, knocks Libby into a mirror, smashing it to pieces, then heads toward the stage, pushing through performers awaiting their cue. Onstage, the Glenn Williams Orchestra is performing, and when the band's vocalist, Esther Blodgett, sees Norman coming, she links arms and struts with him, incorporating him into the act, thus preventing him from disrupting their performance. As he bows and exits, the audience cheers, believing the star's appearance was planned.

Afterward, backstage, Esther is preparing to depart, when Norman takes her lipstick and draws a heart on the wall with their initials inside to mark the time she "saved" him from disgracing himself. He invites her to supper, but she must leave with pianist Danny McGuire for another job at the Ambassador Hotel's Cocoanut Grove. Later, after sobering up, Norman goes to the Grove and learns from the headwaiter that the band, after finishing their performance, went to the Downbeat Club on Sunset Blvd. Norman proceeds there and hears Esther sing. Impressed with her talent, he drives her home and urges her not to settle for little dreams. Telling her she is good enough to be in motion pictures, he offers to introduce her to Oliver. Early the next morning, influenced by Norman, Esther quits the band, which goes to San Francisco without her. Norman intends to follow up on his promise but, at six a.m., the studio car comes to take him away to his next movie assignment, which is shooting on location at sea for several weeks.

Unable to reach Esther himself, he tries to get in touch with her through crew members, but no one takes his request seriously, and he cannot remember her address. When she does not hear from Norman, Esther assumes he was just flirting with her. To make ends meet, she sings for a commercial, but then must support herself by working at a drive-in restaurant. After shooting on Norman's film is complete, he searches for her, but by then she has moved to a cheaper rooming house. Eventually, after recognizing her voice on the commercial, he tracks her down and arranges for her screen test at the studio. The studio personnel make her over with a blonde wig and nose prosthetic, but Norman comes to the rescue and has her change back to her normal appearance. After completing a bit role, she receives her first paycheck and learns that the studio has given her a screen name, Vicki Lester.

Oliver shows no interest in Esther, believing that she is simply a passing romantic fancy of Norman's, until Norman arranges for him to overhear her singing. Then she is given a role in a musical and, with Norman's guidance, overcomes her nervousness to become an overnight success. Norman then tries to back out of a relationship with her, claiming, "I destroy everything I touch," but Esther tells him that she loves him. Norman proposes to Esther during a recording session, unaware that a nearby microphone is picking up and recording everything they say. At first Esther refuses, claiming that Norman is too irresponsible and drinks too much, but after listening to the playback, she accepts, prompting everyone in the studio to cheer. When news of the engagement reaches the studio, Libby warns Oliver of trouble, but Oliver feels that marriage is just what Norman needs to overcome his problems. Libby plans a highly-publicized nuptial event, but Esther and Norman sneak off for a quiet marriage ceremony by a small-town justice of the peace, with Danny and two prisoners in attendance.

Libby, resenting the years he has covered up for Norman, is infuriated. After returning from their honeymoon, Norman and Esther throw a party at their new Malibu beach house, during which Oliver tells Norman that the New York studio heads have ordered his contract to be dropped. Pleased with this turn of events, Libby sends out press releases stating that Norman asked to be released from his contract. While Esther's career continues to rise, Norman spends his days at home, hoping to resume his career. However, when a deliveryman calls him "Mr. Lester," he realizes that his career is dead and he returns to drinking. At the next Academy Awards ceremony, Esther is named Best Actress. As she gives her acceptance speech, Norman drunkenly climbs onstage and makes his own speech, begging for a job. Gesturing wildly, he accidentally hits Esther in the face. While Norman spends time in a sanitarium to dry out, Oliver tells the depressed Esther that he will give Norman another chance. He offers Norman a part in a film, but Norman declines it, realizing that it is not a lead role. After his release from the sanitarium, Norman plans to remain sober.

At the Santa Anita racetrack, where he drinks ginger ale instead of his usual liquor, he encounters Libby, who tries to humiliate him. Norman overlooks Libby's malicious taunting, until the publicity man accuses him of living off Esther's income. Norman then hits Libby, who strikes back, knocking Norman to the floor. Hearing the crowd gossip that he is "drunk again," Norman orders a double scotch. After not hearing from Norman for four days, Esther becomes worried. When she gets a call informing her that Norman has been arrested for drunkenness, she and Oliver proceed to the court, where the judge sentences Norman to ninety days in jail. Pleading for the judge to suspend the sentence, Esther promises to be responsible for Norman, and the judge relents.

At home the next day, while Norman is sleeping, the crying Esther tells Oliver that she has decided to quit filmmaking. She wants to take Norman away for a new start, so that he can get back his health, and later, his career. Although Oliver regrets that Esther is sacrificing her career, he agrees to release her from her studio obligations, but warns her that Norman's talents are gone, ruined by twenty years of alcoholism. Having awakened, Norman overhears them through an open window. Later, pretending to be in a good mood, Norman tells Esther that he is going out for a swim and asks her to sing to him. As she sings, he swims toward the sunset, allowing himself to drown. Later, Libby reports Norman's "accidental" death to the newspapers. After the funeral, a gawking crowd encircles Esther as she leaves the church, causing her to break down. Secluding herself at the beach home, she refuses to answer phone calls.

Danny, who is now her studio accompanist, arrives to pick her up for a Shrine Auditorium benefit concert she promised to attend before Norman's death. When she refuses to go, Danny tells her she is wasting what Norman gave her and what he died to keep from destroying. His accusation succeeds in getting her to leave the house. Backstage at the auditorium, she sees the heart Norman drew on the wall. When she is asked by the emcee to say a few words, she proclaims, "Hello everybody. This is Mrs. Norman Maine."

Cast & Crew
SEE ALL CAST AND CREW
Additional Details
MPAA Ratings:
Premiere Info:
Los Angeles opening: 29 Sep 1954; New York opening: 11 Oct 1954
Release Date:
1954
Production Date:
[CinemaScope]
EB; AFI Library; AFI; Paige (see below)

Color/B&W:
Color (Technicolor)
Distributions Co:
Warner Bros. Pictures, Inc.
Sound:
Mono (RCA Sound System), Stereo
Production Co:
Transcona Enterprises
Duration(mins):

182

Country:
United States
Duration(feet):

not available

Duration(reels):

not available
Leonard Maltin Ratings & Review
LEONARD MALTIN MOVIE RATING
LEONARD MALTIN MOVIE REVIEW:
User Ratings & Review
This title has not been reviewed. Be the FIRST to write a review by CLICKING HERE >
User Ratings & Review
User Reviews:
Recommend:

Cinema History:

Cinematography:

Lead Performers:

Supporting Cast:

Director:

Screen Play:

Music Score:

Title Sequence:
User Ratings:
One of the Greats

Jamie 2019-06-15

and if anyone thinks different , they are clearly mistaken. Some of the best moments in film and Judy doesn't disappoint. If any are foolish enough to... MORE>

Not a fan

Larry 2019-04-24

Maybe it is because, in this version of A Star Is Born, Judy Garland was already looking worn and tired, but this film just doesn't seem all that its... MORE>