DVDs from TCM Shop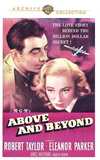 Above and Beyond The pilot who helped drop the... MORE&nbsp> $15.96 Regularly $19.99 Buy Now
OVERVIEW
Brief Synopsis
The pilot who helped drop the atomic bomb on Hiroshima struggles with the demands of the dangerous mission.
In 1945, as Lucey Tibbets waits at a Washington, D. C. airport for her husband, Lt. Col. Paul W. Tibbets, Jr., she recalls the past two years: In North Africa, Paul, an Army Air Corps pilot, incurs the anger of his commander, Gen. Samuel E. Roberts, when he questions an order to fly futile missions. The officious Roberts subsequently turns down Paul's pending promotion to full colonel, but Paul's tenaciousness in standing up to Roberts impresses visiting Maj. Gen. Vernon C. Brent. Brent later tells Paul he has a hunch that Paul is the man for an important job and orders him to return to the U.S. Paul further impresses Brent by not asking what the job is.

When they are flying to Washington, Brent tells Paul that he will be sent to Wichita to test a new long-range plane, the B-29. Because the testing will be dangerous, Brent informs Paul that he cannot have distractions, therefore Lucey and their young son, Paul, Jr. cannot join him. At the airport, Paul lovingly greets Lucey with his usual gift, a bottle of perfume placed in a paper bag and tied with a pink ribbon. Although disappointed at their short reunion and concerned for Paul's safety, Lucey accepts the situation and later visits Paul in Wichita. She is so unnerved by a crash-landing she witnesses, though, that they see each other only one more time during his tour, meeting for a weekend in the mountains. After the B-29 is finally determined to be safe, Paul returns home to Washington, but their short period of family happiness is again interrupted when Paul is summoned to Colorado Springs by Brent. Outside Brent's office, Paul meets Maj. Bill Uanna, who gruffly goes over details of Paul's life, including some seemingly casual conversations Paul has had with other officers.

A few moments later, Brent tells him that he is one of a hundred men who have been "under a microscope" for the past year and that Paul was one of only four considered for work on the most important project of the war. Although Paul is the youngest and lowest in rank, Brent thinks he is the man for the job. Before telling Paul what the job is, he hands him a buzzer and asks if he would press it if by doing so the war would end tomorrow and save 1,000,000 lives but kill 100,000 in one flash. Paul considers Brent's words for a moment, then presses the buzzer. Brent invites several members of the "Manhattan Project," a group of scientists developing an atomic bomb in Los Alamos, New Mexico, to explain the project to Paul. Brent then tells Paul that only he, Uanna and Paul will know what the true nature of Paul's job is, overseeing an operation to prepare a crew he will head to drop an atomic bomb over Japan. Although Paul expresses doubt about killing civilians, he agrees and soon leaves for a desolate base in Wendover, Utah. Every man assigned to Wendover is strictly screened and tested on his ability to keep absolutely secret about his job. Paul becomes known as a strict disciplinarian, surprising even Maj. Harry Bratton and other close friends he brings onto the project from the North Africa campaign. Because of the secrecy of his unit, Paul must frequently overstep the bounds of his rank, but does whatever necessary to keep the project on course.

To stop speculation about Wendover, and make it seem like a normal facility, Uanna suggests that families be brought to live on base, but strongly urges Paul not to bring Lucey, who is now pregnant and might prove a distraction. Paul initially agrees, but after Lucey gives birth in Washington, he sends for her and the children. Although at first they are happy to be together, Lucey soon detects a change in Paul and, after listening to complaints over Paul's strict discipline from Harry's wife Marge and others, thinks that Paul is overcompensating for not being promoted to full colonel. Meanwhile, Paul and his team are constantly testing and refitting B-29s to ensure that they will be able to carry the weight of an atomic bomb and withstand the blast's aftershock. The constant stress and overwork wears on Paul, who becomes more distant from Lucey.

One night, when she expresses sadness over the innocent children who have died during the war's bombing, Paul angrily lashes out at her. Their relationship deteriorates after Paul severely disciplines one of the soldiers over allowing Lucey into a restricted area to see Paul. Meanwhile, Brent has told Paul that the Japanese have refused another offer of surrender and the president has authorized use of the bomb, which will soon be ready. Paul alone must bear the responsibility of giving Los Alamos the "blue light" when the bombers are ready. Repeated testing and trips to Los Alamos take their toll on Paul. One night, when the exhausted Paul returns home, Lucey suggests that they take a weekend to go to a fishing area and casually mentions that Harry had made up an excuse to get a weekend off to take Marge there. Paul immediately has Harry relieved of his duties and confined to the base, precipitating a bitter quarrel with Lucey, who accuses him of being ruthlessly ambitious and says she wants out of the marriage. The next day, Paul goes to Colorado Springs to see Brent, who has been terminally injured in a plane crash, and tells his mentor that it is "blue light." When he returns to the base, he learns from Uanna that Lucey came to him wanting to know how important their work was.

Although Lucey apologizes to Paul, saying she only wanted to understand, he coldly tells her that she and the children will leave for Washington that afternoon. With the work at Wendover completed, the project's next phase, called "Operation Silverplate" sends Paul and his handpicked crew to the Pacific island of Tinian. A short time later, Paul learns that weather conditions will enable them to make the mission the next morning. After giving Uanna a letter for Lucey, Paul cannot sleep and writes a letter to his mother, Enola Gay Tibbets, telling her his fears about killing so many people and what the future holds once the bomb is unleashed. Comforted by thoughts of his mother, Paul decides to name his plane after her.

The next morning, his crew senses the importance of their mission, but is not fully briefed until their flight is near the coast of Japan. Paul receives a radio message that weather conditions have determined Hiroshima to be the target. Before the bomb is dropped, the men don darkened glasses and are told to avoid looking at the light flash. After the bomb is released, Paul desperately turns the plane around while the men steady themselves for the aftershock. After the Enola Gay turns, the men see the devastation on the ground, and Paul whispers "God." Back on Tinian, Paul is surrounded by the press. When one reporter says his readers want to know how he feels about killing 80,000 people, Paul snaps "How do they feel about it?" and leaves. Soon after, in Washington, Madge rushes to Lucey's house and tells her to turn on the radio. When Lucey learns what has happened and Paul's role in the bombing, she runs into her room and sobs.

As Lucey's thoughts return to the present, Paul's plane lands at the Washington airport. She is certain their marriage is over, but when Paul leaves the plane and walks toward her, she sees that he is carrying a paper bag with a pink ribbon and runs to embrace him.
Cast & Crew
SEE ALL CAST AND CREW
Additional Details
MPAA Ratings:
Premiere Info:
World premiere in Washington, D.C.: 31 Dec 1952
Release Date:
1953
Production Date:
EB; AFI

Color/B&W:
Black and White
Distributions Co:
Loew's Inc.
Sound:
Mono (Western Electric Sound System)
Production Co:
Metro-Goldwyn-Mayer Corp.
Duration(mins):

121-122

Country:
United States
Duration(feet):

10,969

Duration(reels):

12
Leonard Maltin Ratings & Review
LEONARD MALTIN MOVIE RATING
LEONARD MALTIN MOVIE REVIEW:
User Ratings & Review
This title has not been reviewed. Be the FIRST to write a review by CLICKING HERE >
User Ratings & Review
User Reviews:
Recommend:

Cinema History:

Cinematography:

Lead Performers:

Supporting Cast:

Director:

Screen Play:

Music Score:

Title Sequence:
User Ratings:
Above and Beyond

Michael Whitty 2017-04-05

A good description of the effort and results of dropping the atomic bomb on Hiroshima. As Colonel Paul Tibbets Robert Taylor does fine with his difficult... MORE>

The Woman Behind the Pilot

Joella Lyndon 2015-04-21

If nothing else, Above and Beyond accurately depicts the life of a military family. I've watched this movie 3 times. Each time I've watched my... MORE>