DVDs from TCM Shop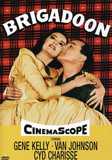 Brigadoon Two American hunters in... MORE&nbsp> $15.79 Regularly $19.98 Buy Now
Home Video Reviews
MGM underwent some severe cutbacks in 1953; most of its contract players were dropped including the majority of its proud roster of stars. The studio would have to survive in a new kind of Hollywood, going from picture to picture just like the smallest company in town. Just as budgets were being slashed, Arthur Freed's unit proposed filming
Brigadoon
on location in Scotland, as its subject demanded. Not only did that not happen, the entire film ended up being shot on interior sound stages, and filmed not in Technicolor but in glorious Ansco color: More economics at work.
Warners' DVD of
Brigadoon
is a relatively extras-light single disc edition. I had thought it one of MGM's more popular big-time musicals, but perhaps the general public sees it the same way I do - rather stage-bound and airless.
Synopsis: Tommy Albright and Jeff Douglas (Gene Kelly and Van Johnson) are New York businessmen who get lost on a hunting trip in Scotland. A village called Brigadoon suddenly appears where no village should be and they discover a perplexing bunch of villagers who behave as highlanders did two hundred years before. Tommy falls in love with a local lass named Fiona Campbell (Cyd Charisse) and finally gets the true story from Mr. Lundie (Barry Jones), one of the elders: Thanks to a bargain with God to keep the town untouched by the outside world, Brigadoon sleeps hidden for a hundred years between days, when its inhabitants awaken as if no time at all has passed. Its residents have experienced only two full days since 1754. Tommy needs to choose whether he wants to leave or stay with Fiona. But once a person becomes a citizen of Brigadoon, they must forever remain within its narrow boundaries - anyone who leaves will break the spell, and the village and its people will disappear forever.
Brigadoon
has several pretty songs and a couple of fun dance numbers but little to compete with the best of MGM musicals - economics really put the stopper on this one. The real stars of the show are the matte painters and the artists who mounted the immense scenic backdrops that form the backgrounds for the CinemaScope movie. The film doesn't seem to be taking place on a stage, nor does it look anything like reality. What it looks like is a movie set, with breeze-less trees and color-coordinated briars and heather stuck around the ground like Easter decorations. It's not artificial-fake, it's artificial claustrophobic, even when every scene takes place in front of a huge cyclorama.
The concept of Brigadoon, a magical destination for those tired of the chaos of modern life, is pure soft-boiled hooey. A Scot in 1754 is supposed to have made a deal with God to initiate the miracle, yet the completely homogenous population of Brigadoon doesn't seem to have much in the way of Christian influence. The wish to ignore the rest of the world and make one's "perfect" neighborhood last forever is a purely isolationist-reactionary fantasy. It fits the complacent 1950s, just as
Lost Horizon
's escapist fantasy was a predictable response to the war fears of 1912. Brigadoon has existed for only two days in this isolated state and already it has a dissident, an unhappy jilted suitor named Harry Beaton (played by ballet dancer Hugh Laing) who agonizes about being stuck in an enclosed world that holds no future for him. The rest of Brigadoon, even his own kin, appear to be in denial. Everybody's happy, so Harry must be the problem.
When Harry Beaton tries to escape,
Brigadoon
becomes a kind of
Invasion of the Body Snatchers
tale in reverse. Every member of society must think the same way and live the same way. Anyone who cannot conform is dangerous and must be restrained. A convenient 'accident' solves the problem. What's left of Harry is simply ignored so the rest of the evening's entertainment can proceed. The same confusion is at the heart of what's wrong with last year's
The Village
, which has no music or romance to cover up its contrived story.
Most of the songs go for generic romantic sentiments. Only
Almost Like Being In Love
and
The Heather on the Hill
are melodic standouts. Gene Kelly is called on to mostly sing, his weakest talent, while the dances are tasteful but not particularly memorable. Only the
Go Home With Bonnie Jean
dance develops a communal sense of fun.
Brigadoon
has lots of comedy relief but not much of a sense of humor. As Kelly's sidekick, Van Johnson's jabs fall mostly flat. He seems to be around to do little else but shake Gene's romantic mood. Just as in
Lost Horizon
the hero finds paradise, loses it, and returns to find it again. As is typical of Modern Fantasies of the Convenient Kind, the fantasy rules are always willing to bend for true love, especially when above-the-title talent is concerned. Kelly should have to wait 99 years and eleven months, but the magical town leaps back to life just for him. It's kind of like God telling Adam and Eve, "Come back to the garden, I was just kidding."
Allowing Kelly into the time-capsule community would also seem to be the defeat of the purpose for which Brigadoon was created in the first place. Is modern-man Kelly really going to keep silent when he realizes that Brigadoon's customs, superstitions, and scientific and medical state are one step away from the Dark Ages?
Typical of the loose ends that are left dangling, Van Johnson is abandoned at the edge of Brigadoon without comment. Knowing that the doubting cynic has witnessed a real miracle (ordained by a real God, by the way), wouldn't it be interesting to find out what he would do? I guess not.
They really missed their bet here, plot-wise. The obvious romantic solution would be for Harry Beaton and Tommy Albright to switch places, so each gets what the other wants. Tommy would get his 18th century farm girl. Harry could become a time traveler 200 years into the future, and take Tommy's place in Manhattan with all those spoiled babes. Perfect.
This is an early CinemaScope picture and director Vincente Minnelli uses his crane quite well, especially during the emotional run up that hill with the heather on top. There's also a lot of rapid camera movement through the countryside during the midnight search for poor Harry Beaton. Minnelli does his best but many scenes are static anyway, such as the meeting of the clans amid some old ruins.
Unbilled in the cast are Madge Blake (from TV's
Batman
) as a town baker. George Chakiris is said to be one of the dancers, while Stuart Whitman is in the New York bar somewhere.
Warners' DVD of
Brigadoon
is a fine enhanced rendering of the movie that far outclasses the rather badly encoded existing disc, which was one of the very first DVDs released. The Ansco colors look reasonably good but not great. A couple of scenes have a fluctuating density problem, but they last only for a couple of seconds. The audio is terrific.
The extras are some musical outtakes: The songs
Come to Me Bend to Me, From This Day On
and
Sword Dance
, and an audio outtake for a fourth song.
Sword Dance
gives us an opportunity to see Hugh Laing's dancing talent. He looks a little like a more rugged Timothy Dalton.
Along with
Seven Brides for Seven Brothers
,
Brigadoon
was filmed in CinemaScope
and
in flat 1:75, both for theaters that couldn't convert and also as a hedged bet in case the new anamorphic system tanked. In the docu
When the Lion Roared
Van Johnson tells of making the argument that because he had to film everything twice for two different versions, he should be paid twice! That idea didn't go over very well.
The revived 1:75 version of
Seven Brides
was quite a revelation on that two-disc set, so I have a feeling that
Brigadoon
's flat version could not be restored. Either that, or Warners is saving a deluxe release of the movie for a later date.
For more information about
Brigadoon
, visit
Warner Video
. To order
Brigadoon
, go to
TCM Shopping
.
by Glenn Erickson