DVDs from TCM Shop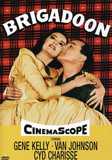 Brigadoon Two American hunters in... MORE&nbsp> $15.79 Regularly $19.98 Buy Now
NOTES
The order of the onscreen crew credits differs from that of the cutting continuity deposited with the Copyright Office. Also, the onscreen credits identify Adrienne Fazan as the film editor, but the cutting continuity and reviews list Albert Akst as editor. According to a February 26, 1951 Daily Variety news item, British producer J. Arthur Rank had sought the rights to the stage musical. Kathryn Grayson and Alec Guinness were originally to co-star with Gene Kelly, according to a May 12, 1952 Hollywood Reporter news item, and a March 19, 1952 item in Hollywood Reporter's "Rambling Reporter" column noted that David Wayne was under consideration for a role. A March 23, 1952 Los Angeles Times article mentioned Moira Shearer and Donald O'Connor as casting possibilities, and a modern biography of director Vincente Minnelli states that they were considered for the roles of "Fiona Campbell" and "Jeff Douglas," respectively. Minnelli's biography adds that Steve Allen and Bill Hayes were also considered for the role of Jeff. Hollywood Reporter news items add that Michael Maule was originally cast in the role of "Charlie Chisholm Dalrymple," and include Jane Fischer, Keith Hitchcock, May McAvoy and Cosmo Sardo in the cast. The appearance of these actors in the final film has not been confirmed, however. Virginia Bosler, who portrayed "Jean Campbell," was the only member of the original Broadway cast of Brigadoon to repeat her role in the film.
According to pre-production news items and modern sources, M-G-M originally considered shooting the film on location, but Scotland's unpredictable climate and the high cost of overseas production made this unfeasible. In a modern interview, Kelly recalled that he and producer Arthur Freed traveled to Scotland to scout locations, "but the weather was so bad that we had to agree with the studio. So we came back to the United States and started looking for locations here. We found some highlands above Monterey [in Big Sur] that looked like Scotland. But then the studio had an ecomomy wave, and they clamped the lid on that idea." Brigadoon was filmed entirely on M-G-M's lot in Culver City, using painted backgrounds to represent the hills of Scotland. The picture was Minnelli's first CinemaScope production.
Brigadoon opened to mixed reviews. Several critics commented on the omission of various songs from the Broadway musical, most notably "Come to Me, Bend to Me" and the "Sword Dance" number performed by "Harry Beaton." The Saturday Review (of Literature) review praised the director's special technique for enhancing the frenetic atmosphere of the New York bar sequence: "Minnelli has recorded the babble of voices a few frames out of synchronization, making everything sound even madder and more irritating." Brigadoon received Academy Award nominations for Best Art Direction (Color), Best Costume Design (Color) and Best Sound Recording. A modern source credits Carol Haney and Jeanne Coyne as assistant choreographers.