DVDs from TCM Shop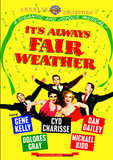 It's Always Fair Weather World War II buddies get mixed... MORE&nbsp> $15.95 Regularly $17.99 Buy Now blu-ray
Home Video Reviews
What a pleasure to see professional dancers dancing on screen in long, continuous takes. Far from today's maddening vogue of chopping movie dances up into the tiniest of pieces, thereby depriving the audience the exhilaration of taking part in the dance, or even proof that the performers themselves are really
doing
the dance,
It's Always Fair Weather
(1955) allows us to see, and feel, its numbers completely. This means plenty of long shots and long takes, but the camerawork is not static or stagy. The choreography of crane movements, pans, and dolly shots plays a big role in our response to the dance numbers and adds to the magic. It's no surprise, really, for the people behind the cameras on this picture were, quite simply, pros. Co-directors Gene Kelly and Stanley Donen (who also choreographed) and producer Arthur Freed were household names, responsible for the likes of
Singin' in the Rain, The Band Wagon, An American in Paris
and countless others.
Kelly and Donen had shared directing credit before (
On the Town
and
Singin' in the Rain
) but did not get along, and Donen had to be pressured to do this picture. He was now well-established as a solo director (
Seven Brides For Seven Brothers
) and saw it as a step backward to take this job. But he was talked into it, and sure enough, he and Kelly fought throughout production. Later, each admitted it had been a mistake to work together again. But the movie is so good (and unfairly underrated in some quarters) that they must have done something right.
The Oscar-nominated story of three Army buddies meeting ten years after the war and finding they have changed too much to re-connect was conceived as a sequel to
On the Town
, but MGM was unable to get Frank Sinatra and Jules Munshin to reprise their roles, so they made this a stand-alone story instead. Playing Kelly's buddies are Dan Dailey and Michael Kidd, a top choreographer making his acting debut. Writers Betty Comden and Adolph Green were nominated for an Oscar, no doubt for bringing to this story a slight bitterness and disillusionment which injected some depth - and honesty. The buddies are shown as united through song and dance at the outset, but when they meet ten years later, they have evolved into such different people with nothing in common that they loathe each other - and appropriately can't even share a musical number together anymore. Instead, we see their own numbers in a triple split screen - an ingenious way of showing their separation. The musical numbers contain all the emotional meaning of the story.
Meanwhile, the film pokes some fun at television with a plotline that involves a TV show produced by Cyd Charisse's character (who naturally also falls for Kelly). Further, it makes a biting comment on corporate culture by having Dan Dailey's executive character suffer a nervous breakdown from the monotony of corporate life - conveyed in the musical number "Situation-Wise."
But make no mistake.
It's Always Fair Weather
is first and foremost a musical comedy with exhilarating, showstopping numbers and a perky, Oscar-nominated score by Andre Previn. Dailey and Kidd show they can hold their own with Gene Kelly, and Cyd Charisse dazzles in one of her greatest numbers of all, "Baby, You Knock me Out," performed in a gym with a bunch of boxers.
Also memorable are the trash can lid dance with the three buddies and Delores Gray's "Thanks a Lot But No Thanks," in which she "kills" suitors by various means including a gun, dynamite, and a trap door. It's weird but entertaining. Gene Kelly's "I Like Myself," however, really stands out. Expressing his joy, Kelly dances on roller skates on a street and sidewalk, a la "Singin' in the Rain." Note how he taps and glides on the skates in continuous shots, showing us the skates are real and impressing us all the more. Fred Astaire and Ginger Rogers had a rollerskating scene in
Shall We Dance
(1937), but this tops it, and it's not hard to see why Kelly considered this one of his proudest accomplishments.
Warner Home Video's DVD looks and sounds excellent.
It's Always Fair Weather
is wonderfully suited for widescreen TVs because it uses the CinemaScope format so well, so fully. This is one 'Scope film which really is impossible to watch except in its proper aspect ratio. Every corner of the frame is used compositionally.
Warner has included some fascinating extras. First, there's a short documentary on the making of the picture which includes archival interviews with Comden and Green, Charisse, Kidd and Donen. It elaborates on the Kelly-Donen conflict and ends with a swell montage of clips from MGM musicals. Of even greater interest are two deleted numbers (with partial sound). "Jack and the Space Giants" is a tour de force of choreography in which Michael Kidd dances around a kitchen and cooks for a group of little kids. "Love is Nothing But a Racket" is a Kelly-Charisse teaming in a clothing store dressing area. It's nothing extraordinary but it would have added some much-needed musical bonding between the two characters. (They have no dance together in the finished film.)
There are two cartoons included. "Deputy Droopy" is a very funny and increasingly macabre western starring Droopy, but its morbidity has nothing on "Good Will To Men," in which a grandfatherly mouse explains to a tiny mouse what "men" were and why there are no more of them on this Earth. What starts as a sweet Christmas-time tale suddenly turns dark and scary, with stunning visualizations of war and armageddon. The imagination and thought-provoking images on display are practically nonexistent in cartoons these days.
Short portions of
MGM On Parade
in which Cyd Charisse and Gene Kelly are interviewed about the picture is a fun little extra, and finally there's the theatrical trailer, which perhaps not surprisingly gives no hint of the pessimism that lies just below the movie's surface.
For more information about
It's Always Fair Weather
, visit
Warner Video
. To order
It's Always Fair Weather
, go to
TCM Shopping
.
by Jeremy Arnold