DVDs from TCM Shop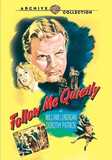 Follow Me Quietly Police track a mysterious... MORE&nbsp> $15.95 Regularly $17.99 Buy Now
FULL SYNOPSIS
DVDs from TCM Shop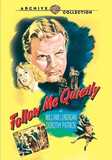 Follow Me Quietly Police track a mysterious... MORE&nbsp> $15.95
Regularly $17.99 buy now
At a café one rainy night, Ann Gorman, a writer for Four Star Crime magazine, seeks out police lieutenant Harry Grant with questions about "The Judge," a serial killer who only attacks when it rains. Harry rejects Ann's pleas for information, however, and leaves with his partner, Sgt. Art Collins, when a call comes in about an attack on a newspaper editor named McGill. Though badly injured, McGill describes how his assailant tried to strangle him in his office, but ended up pushing him out of his window during the struggle. McGill then dies before the police can obtain a description of the murderer, who Harry is convinced is The Judge.

Although over the months Harry has collected many clues regarding The Judge's appearance, habits and psychology, including the fact that he murders out of a sense of moral outrage, he has been unable to "put a face" to the killer. Out of frustration, Harry asks his forensic experts to construct a dummy replica of The Judge based on the clues he has collected, and soon a life-sized but faceless mannequin is created. The persistent Ann, meanwhile, continues to press Harry for information, and he finally signs an authorization form allowing her to write about the case, but stipulates that he has final approval over any story. When Harry later learns that Ann has used the authorization form to obtain information about the dummy, whose existence he wants to keep secret from the public, and has filed a story without consulting him, he angrily denounces her.

Harry then hears the confession of a man claiming to be The Judge, but soon unmasks him as a phony. Later, as rain begins to fall, the distraught Harry talks to the dummy in his darkened office, unaware that the dummy is actually The Judge. Sure that The Judge is going to strike that night, Harry then takes off in his car and drives around the city. He is soon joined by a contrite Ann, who tears up the authorization form as proof of her reformation. As predicted, The Judge strangles another seemingly random victim that night and leaves another clue for Harry--a year-old copy of Four Star Crime .

After studying the magazine, Ann concludes that the killer must have purchased it from a used book store. Harry, Art and Ann then canvas the city's book stores until they find a proprietor who confirms that a man whose build and dress match the dummy's buys crime magazines at his store. Assuming that the killer lives near the book store, Harry and Art canvas other area businesses and eventually find a café waitress who identifies the dummy as Charlie Roy, a nice man who lives around the corner. After inspecting Charlie's empty apartment, where they discover crime books and souvenirs from the murders, Harry and Art stake out his building. Sensing trouble, however, Charlie hesitates before entering, then flees down the street.

While chasing Charlie to the rooftop of a gas works plant, Harry loses his gun to his foe and is momentarily stunned by him. Soon, the plant is surrounded by police, who shoot at Charlie and hit a water tank. After Charlie fires all the bullets in Harry's pistol, Harry is able to corner and handcuff him at the top of a catwalk. As Harry is bringing Charlie out of the plant, however, the killer becomes hysterical when he sees water pouring out of the punctured tank like rain and begins to struggle with Harry, dragging him back up the catwalk by the handcuffs. Harry is finally able to free himself and pushes Charlie to his death. With the case solved, Harry and Ann then enjoy a quiet, romantic drink together.