DVDs from TCM Shop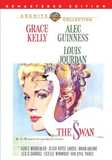 The Swan On the eve of her marriage to... MORE&nbsp> $16.95 Regularly $19.99 Buy Now
FULL SYNOPSIS
In the town of Kissmiskolcz in Central Europe during 1910, Princess Beatrix heads a family of exiled royals desperate to return to the good graces of the current ruling family, led by Queen Maria Dominika. Dominika's son, bachelor Prince Albert, has recently completed his tour of Europe's eligible young ladies and now telegrams that he is coming to Kissmiskolcz, propelling Beatrix into a frenzy of activity as she tries to ensure that he fall in love with¿and marry¿her daughter Alexandra. After summoning her brother Carl, now a monk named Father Hyacinth, Beatrix, with her aunt Symphorosa, orders tutor Prof. Nicholas Agi to keep her sons George and Arsene out of sight and lectures Alexandra on the myriad ways to gain Albert's affections. Alexandra relieves her nervousness by fencing with Nicholas, who, nonplussed by the girl's cold manner, teaches her the arts of feinting. The whole household bustles to ready the estate for the prince's arrival, but when Albert comes, he retires straight to the bedroom and sleeps through two lavishly prepared meals.

The family waits impatiently for his entrance, and finally Albert joins them in the salon, where Beatrix hurries everyone out so Albert and Alexandra can be alone. Alexandra, whom her late father nicknamed "The Swan" for her cool beauty and pride, cannot warm up to the frivolous, sophisticated prince, and their stilted interaction ends after she flinches when he touches her hand. Unwilling to accept defeat, Beatrix arranges Albert's schedule over the next few days to include as much exposure as possible to Alexandra, but Albert prefers playing ball with Nicholas and the boys, and with the help of his aide, Capt. Wunderlich, eludes Beatrix and Alexandra. Despite her daughter's chagrin, Beatrix remains determined to ensnare Albert, and so before the ball planned for his last evening, commands Alexandra to invite Nicholas as her guest, hoping this will pique Albert's interest and jealousy. Although both women feel that Nicholas is beneath them, when Alexandra worries about stooping to such humiliating tactics, Beatrix assures her that she attracted Alexandra's father in a similar manner and that Nicholas is "nearly as much one of God's creatures" as are they.

The ball commences with a great deal of pomp, but when dancing begins, Albert first asks Beatrix to join him, then retreats to play bass with the musicians. Hurt, Alexandra agrees to dance with Nicholas, and as he twirls her expertly around the dance floor, his deep regard for her begins to melt her reserve. When she spots Albert with the band, however, Alexandra, mortified, races out of the ballroom and borrows a carriage. Nicholas runs after her and accompanies her to a nearby lake, where he showers her with heartfelt adulation, likening her to a mirage that is too beautiful to describe. The sheltered princess is overwhelmed by the young man's ardor and insists they return to the estate, where Albert has, as hoped, become intrigued by the couple's absence, and is hiding in a salon so he can drink brandy. Outside, Nicholas pledges his love to Alexandra and asks why she is no longer curt and officious toward him, and she sadly reveals the truth behind his invitation to the ball. Although she begs for his forgiveness, Nicholas is incensed and cannot accept her apology. Alexandra runs inside, only to find herself in the salon with Albert, followed by Nicholas. Nicholas' anger causes him to lash out at Albert, who is at first delighted to see both the tutor and the princess agitated and passionate, for once.

While Nicholas trades barbed quips with Albert about each other's social standing, he also downs his first-ever glasses of wine, and Alexandra follows suit. Beatrix, Carl and Symphorosa join them and listen in horror, causing Beatrix to swoon and insist that Albert take her upstairs. Carl lightly chastises Nicholas, who, unable to contain his anger, leaves to confront Albert. Alexandra cries in Carl's arms, but when he asks her how she likes the turn of events, she replies, still weeping, "I like it very much," and admits her attraction to Nicholas. After calling Nicholas back, Carl leaves the two alone, and the tutor soon coaxes a kiss from Alexandra. Just then, Albert re-enters and reproaches Nicholas for his impertinence, calling him an "insolent upstart." When Alexandra sees that Nicholas is about to respond in anger, thus putting himself in danger, she stops him with a kiss. Although Albert, realizing where Alexandra's affections lie, apologizes, Nicholas misinterprets the kiss as one of pity, and stalks out.

The next day, Dominika arrives at the estate and sweeps regally into Beatrix's room, where Beatrix is hiding under the covers, fearful of the queen learning that her son was thrown over for a tutor. Albert expertly manipulates his mother, however, soon convincing her that true love deserves applause and that Nicholas should go unpunished. Meanwhile, Alexandra sneaks into Nicholas' room and, seeing him packed to leave, asks to go with him. Distrustful, Nicholas declares that she cannot leave the shelter of her family and was mistaken in her attraction to him.
,br> Carl finds the two and, approving of Nicholas' decision, brings them to Albert, who privately encourages them to reconcile, despite his emerging feelings for Alexandra and the probable family retribution. Nicholas refuses, however, and leaves the estate. While Alexandra watches his carriage ride off, Albert gently reminds her that, as The Swan, she is perfection while gliding on a lake but awkward once onshore, where the rest of the world dwells. Realizing she must remain silent, majestic and unable to fly, Alexandra turns solemnly to Albert and asks him to take her in to meet the queen, her future mother-in-law.