DVDs from TCM Shop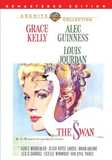 The Swan On the eve of her marriage to... MORE&nbsp> $16.95 Regularly $19.99 Buy Now
NOTES
According to a July 1955 Hollywood Reporter news items, Rex Harrison was originally set to star in The Swan as "Prince Albert," contingent upon his being able to leave the theater production of Bell, Book and Candle six weeks early. In August 1955, Hollywood Reporter announced that Joseph Cotten had been offered the role. The film marked Alec Guinness' first feature to be shot in America.
The film was based on Ferenc Molnr's 1914 Hungarian play that had been produced several times on Broadway under its English-language title of The Swan. The first Broadway production of the play was staged on October 23, 1923. Grace Kelly had appeared in the CBS television production of The Swan on June 9, 1950. The picture was shot mostly on location in North Carolina, at the 1895 Biltmore Estate of George W. Vanderbilt in Asheville and at Lake Junaluska. Press materials note that an authentic 1888 locomotive, named the A. J. Cromwell, was shipped in from Baltimore, MD for the scene in which Albert arrives. Some interiors were shot at the M-G-M studio. The picture's fictional village was named Kissmiskolcz, after director Charles Vidor's Hungarian birthplace. As noted in a June-July 1956 Films in Review news item, director of photography Joseph Ruttenberg shot all the location scenes in North Carolina. After a few weeks of work back at the studio, however, he fell ill, after which Robert Surtees took over all the interior scenes. According to a modern source, Bess Flowers appeared in the film as a ball attendee, and Angela Blue served as the picture's choreographer.
As confirmed in modern sources, Kelly met Prince Rainier Grimaldi of Monaco at the 1954 Cannes Film Festival. The two corresponded for months, during which M-G-M, hoping to capitalize on their romance, offered Kelly the role of "Princess Alexandra." As soon as production wrapped on The Swan in December 1955, Rainier visited Kelly at her family home in Philadelphia, and they announced their engagement on January 5, 1956. The studio held the release of The Swan to correspond with Kelly's wedding day, on April 18, 1956. As noted in a modern source, "Any resemblance between MGM's Ruritanian romance and the much publicized real-life fairy-tale marriage was anything but coincidental, despite the studio's ludicrous token denial." Kelly made only one more feature film, M-G-M's High Society, which was shot prior to her marriage. Prince Rainier and his subjects disapproved of their princess being involved in filmmaking. Kelly's marriage was, according to some biographical sources, an unhappy one. After three children and a lifetime of charity work, she died on September 13, 1982 in a car accident, at the age of fifty-two.
The reviews were unanimously favorable toward The Swan, and Kelly in particular. The Hollywood Reporter critic stated, "She will be the girl who stood right on the threshold of becoming the next Garbo." The Los Angeles Times reviewer commented, "If by any chance The Swan should be Grace Kelly's final picture, then this remarkably successful star will have attained a lustrous culmination to her movie career."
The Molnr play had previously been filmed in 1925 by Famous Players-Lasky, directed by Dimitri Buchowetzki and starring Frances Howard and Adolphe Menjou; and in 1930 by United Artists under the title One Romantic Night, directed by Paul L. Stein and starring Lillian Gish and Rod La Rocque (see AFI Catalog of Feature Films, 1921-30).