DVDs from TCM Shop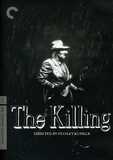 The Killing A team of specialists plots a... MORE&nbsp> $19.47 Regularly $29.95 Buy Now blu-ray
NOTES
Working titles for the film were Clean Break and Bed of Fear. The Variety review erroneously reversed the order of actor Kola Kwariani with that of his character, "Maurice Oboukhoff". The film featured offscreen, voice-over narration by Art Gilmore throughout, presented in a mock documentary style. At various places throughout the film, the story unfolds out of chronological order, with the narrator establishing the time sequence, using phrases such as "forty-five minutes before." The film contained what reviewers called "rapid fire" shots, elements that some reviewers felt heightened the tension of the narrative.
The race sequences were shot on location at Bay Meadows race track, outside of San Francisco, according to reviews. A 1962 Hollywood Reporter item noted that Frank Sinatra was considering a remake of The Killing, to co-star members of "The Rat Pack." Years earlier, according to modern sources, when producer James B. Harris approached author Lionel White's agents for the rights to the novel Clean Break, he was told that Sinatra was already negotiating for the book. When Sinatra hesitated, Harris secured the rights.
Modern sources indicate that United Artists was concerned about the project having no viable star and suggested Victor Mature for the role of "Johnny Clay," but Harris and director Stanley Kubrick, working on his second feature production, refused. Harris approached Jack Palance without success. The same source indicates that although star Sterling Hayden approved of the film at a first screening, he later expressed concern that its unconventional structure had reduced the impact of his performance. Fearing a lawsuit by the actor, Kubrick re-edited the film in chronological order but noted that the narrative tension was lost and returned it to its original structure.
The Killing is the first of three films on which Harris and Kubrick collaborated. The other productions were 1958 Paths of Glory (see below) and 1962 Lolita (see AFI Catalog of Feature Films, 1961-70). Although The Killing performed poorly in general release and was not critically acclaimed, it has since gained a "cult" following with the development of Kubrick's career. Art director Ruth Sobotka was Kubrick's wife from 1955-1961.