DVDs from TCM Shop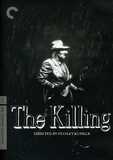 The Killing A team of specialists plots a... MORE&nbsp> $19.47 Regularly $29.95 Buy Now blu-ray
Quotes
Marvin Unger


You jerk, you clown!

Marvin Unger


Come on, clown, sing us a chorus from "Pagliacci"!

Johnny Clay


You'd be killing a horse - that's not first degree murder, in fact it's not murder at all, in fact I don't know what it is.

Johnny Clay


A friend of mine will be stopping by tomorrow to drop something off for me. He's a cop.

Joe


A cop? That's a funny kind of a friend.

Johnny Clay


Well, he's a funny kind of a cop.

Johnny Clay


You like money. You've got a great big dollar sign there where most women have a heart.

Johnny Clay


Alright sister, that's a mighty pretty head you got on your shoulders. You want to keep it there or start carrying it around in your hands?

Sherry Peatty


Maybe we could compromise and put it on your shoulder. I think that'd be nice, don't you?

Maurice


You have my sympathy, Johnny. You have not yet learned that in this life you have to be like everyone else. The perfect mediocrity. No better, no worse. Individuality is a monster and it must be strangled in its cradle to make our friends feel comfortable. You know, I often thought that the gangster and the artist are the same in the eyes of the masses. They are admired and hero-worshiped but there is always present the underlying wish to see them destroyed at the peak of their growth.