DVDs from TCM Shop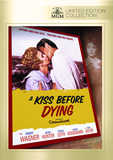 A Kiss Before Dying A college student tries to get... MORE&nbsp> $11.45 Regularly $19.98 Buy Now blu-ray
USER REVIEWS
See Detailed Ratings
Acting of Lead Performers

Acting of Supporting Cast

Director

Music Score

Title Sequence

Screenplay

Cinematography

Historical Importance

Would You Recommend?

0 Member Ratings
Rate the acting of the Lead Performers

Rate the acting of the Supporting Cast

Rate the Director

Rating of the Music Score

Rating of the Title Sequence

Screenplay

Creatively uses the camera to tell the story

Importance in Cinema history

Would you recommend for fans of this genre
Submit Ratings
Cancel
Write a Review
Read Reviews
NO REVIEWS AVAILABLE
The title has not been reviewed. Be the first to write a review by clicking here to start.
Interesting Little Thriller

This was better than expected. Not the greatest acting skills by the principles but still entertaining. Wagner seems well cast in this. Art imitating life possibly?? One question: what happened to Joanne Woodward's hair? Never seen her look so unbecoming.

First Class!

Jay Nunnally Allen

10/27/19

"A Kiss Before Dying" is a compulsively watchable (color) film noir. And yes, some ARE in color. Also, thanks to the suspicious drowning of Robert Wagner's wife, Natalie Wood, a whole new lair is added to this strange film. This is a disturbing movie is really about the disturbing topic of prejudice against the rich. It does exist. Great ending.

Mister Dublin

When the registrar's office rep described Mister Dublin as "wears glasses; bohemian type; sloppy clothes and such" it's also a terse interpretation of this movie 63 years later. You won't need glasses to notice the beautiful bright colors by DeLuxe, the burnishing bright red hair of Astor, and the blinding bright headlights Ellen illuminated in the alley by the Esquire Club. The movie is before its time in several ways, to the point where a release date between '65 and '75 (the height of unconventional "I just want to be free" me-first nihilism in America) fits better. This "Finding Dory's killer" movie is also surprisingly sloppy ("You alright?" Bud utters monotone, without urgency, after Dory tumbles down the bleachers and then leaves her mere seconds later without it affecting Dory; Bud flicking a cigarette in not one, but five different scenes; etc.). However, the clothes (on the young) and such (mid-century LA interiors, exteriors, and scenery) are sublime. The film also has Gordon with a pipe and glasses and telling a waitress he's reading "an article on the curvature of space" and all of it is wholly unconvincing, but Wagner in the room with Dory's ex-boyfriend made for a "holy mackerel" convincing Matt Damon.

a kiss before dying

Good murder/thriller in the Hitchcock/Highsmith mode. It's not as tense or unsettling as those two masters of course but for a first film director Gerd Oswald does an impressive job. (By the way, wonder why he didn't have a better, bigger career in films? Personality? Politics? Both?) And the cinematography by the great Lucien Ballard captures the lushness and decadence...and, yes, beauty...of 50s LA. Acting's a bit hit and miss, though. Robert Wagner, in his first big role, is efffectively creepy and menacing but at times he overplays it and you wonder why a gal as seemingly intelligent as Joanne Woodward's murder victim wouldn't have felt more than a trifle discomfited in the guy's company. (i.e. That weird tugging you feel is your credibility being strained). And speaking of Woodward it would have been better if she and Virginia Leith had switched roles since Woodward is by far the better actor and Leith's role is by far the more important. However, Mary Astor, settling into self pitying mid life mom roles, does a fine job, as does George Macready as the controlling dad. As for Jeffrey Hunter, he's in a non Ford film so he's fairly sucky. Thus, summing it all up, let's give this one a B plus.

Good mid-century thriller

Neat portrait of a sociopath, performed credibly by Wagner. Interesting factoid for fans of the late-'50s TV show 'Adventures in Paradise' -- watch for restaurant scene about halfway though this picture. You'll hear a version of the 'Paradise' theme song (composed by Lionel Newman) playing in the background.

Prefer 1956 Movie To 1991

Robert Quarry has one brief role,which makes me delighted.Jeff Hunter and RJ seem to be competing beefcake.Prefer Woodward to Leith,so accusatory and belligerent to misguided,Puritanical father.Can so believe RJ as a killer with what's come out about him lately,even if have serious doubts he actually killed Natalie.Wish Quarry had the Gordo role,he's so much deserving.This film deserves to be seen more often.

Better Than 1991 Remake

Both 1956 & 1991 films have their merit.Prefer this 1956 version,but Mary Astor as being praised here?Just like trashing Jo Woodward-undeserved.Macready more effective in father role than Max Von Sydow,both Wagner & Dillon have been effective greedy killers.Robert Quarry is good as fellow student investigating Bud Corliss,hated Jeffrey Hunter,too much to be desired as actor,IMHO!At least Hunter & Wagner pretty enough,Quarry was nice-looking man and he & Macready apparently had a long friendship.Don't think much of Sean Young's acting,but she was good in the remake.Few of the other actors were memorable in 1991 version,but surprised 1991 didn't show Bud's demise as written in the book,and that Leo didn't have more of a beefed up part in either version (the father of the victims of Bud-3 sisters in the book).

good color, good crime drama

That mid-fifties color was great --Wagner was creepy, and the way this story progressed kept my interest. Jeffrey Hunter also was good in the detective role.

Good Film,Great Ira Levin Story

whothoughtmaryastordead

2/10/17

This is slightly different than the book,but really like it.Woodward not given much to do,Wagner truly evil,and he gets his but not as he did in the book,but doubt you could get away with that.Leo Kingship had daughters,one of whom our villain lures with a marriage promise,like An American Tragedy,only to be murdered,and nearly succeeds in luring his other daughter,but fate intervenes.Mary Astor is the cad's mommy,Robert Quarry in an early role as a classmate who is killed forsuspecting something's amiss.Mary Astor was apparently upset because a castmate said they thought she'd died when it just her career-no one wished you dead,that's just how people sometimes tease each other,not wishing anyone ill!It's called life,got over yourself,you messed up your own life with your sordid diary,Mary!I'm sure the diary entertained in its day,but really,people shouldn't take on the nose in the air after publicly shooting themselves in the foot with sleazy behavior.At least you got a part in a good film.

Love This Film

Watched on dvd-what's wrong about George Macready as Leo?Was hoping they would do to Bud what he so richly deserved as retribution in Ira Levin's book.Macready far more attractive than the description of Leo in book!The only letdown was Hunter as a professor-why?His character was a fellow classmate in the book.And think the ending with Ellen easing up and being a little more sensitive to her father was great.

Robert Wagner As You Never Expect As A Sociopath

Changes some of Ira Levin's excellent novel,but excellent movie.JoAnne Woodward as Leo Kingship's daughter preyed on and impregnated by RJ'sBud Corliss who's after daddy's money and doesn't care how he gets it.After he murders Dorothy,he moves on to Ellen,her sister.He almost succeeds in doing her in,too.Unlike in the book,Leo and his employee don't try to force a confession out of Bud-but what does happen is poetic justice!Elsewhere I read criticism of some of the acting.Mary Astor has little to do,but does well.George Macready does well as Leo,and looks so much better than the description in the book:fat,bald,blue-eyed.The only thing he was was blue-eyed!Still made an attractive man in his 50s and 60s,IMHO.I hope to see this movie soon on TCM!

A Kiss Before Dying

Susanne Cavendish

6/21/15

I found the reviews by others even more interesting. You don't have to live in the '50's to appreciate the times, the culture, the mores, the interpersonal relationships. I watch a movie for what it says based on the known. not as a competition for the best of years later. I found the movie exciting. For those of you who call it schlock, maybe you should look that word up in a dictionary? It was one of Woodward's first movies and I did find her acting tiresome but, maybe she inhabited the part, as a girl of those times. Check out your grandmother? It took a book that takes hours to read and condensed it into an hour and a half? I recommend it. I thought Hunter was pretty convincing. Natalie Woodward? Hmm? A take on the death of Wagner's girlfriend, Natalie Wood who drowned and whose death was never fully explained!

Natalie Woodward

A Freudian slip perhaps???

Who the hell is Natalie Woodward?

Ignore the naysayers!Who the hell is Natalie Woodward? Tilis obviously didn't know what he was talking about!I agree with Murray - this is a good 50's thriller. I enjoyed it.

AKBD

This film is pure shlock garbage. Wagner is a wooden actor but somehow he suits the role of a soulless killer. The scene where he shoves Natalie Woodward to her death is truly chilling.

You nailed it Mr. Brooks

This movie is the worst collection of zombies I've seen in one movie since 'The Walking Dead'. Robert Wagner & Virginia Leith looked and sounded like they were sleepwalking through their entire non performances. Actually, I was embarrassed for most of the cast. I nearly applauded when Wagner finally shoved Joanne Woodward off that building and silenced her simpering, cloying, dribble. There was absolutely nothing sympathetic about her character. Mary Astor was a total waste. One reviewer said Astor was particularly good as Wagner's mother? Are you kidding? She must have had all of six lines in no more than two minutes on screen. The dialogue was ludicrous and the plot was absurd. There wasn't enough substance to even make the movie bad enough to be fun. The score was, typical of the era, heavy handed and obtrusive and the beginning credits would have been more appropriate for a Pink Panther sequel. I'm a sucker for old movies and find redeeming value in almost all of them, but this one is pure schlock. Two thumbs down. Way down.

Robert Wagner saves us.

This film is a time machine that transports us back to the mid-1950s.Robert Wagner does us a merciful favor by bumping off Joanne Woodward early enough in the film to save us from her terrible acting.

Good-bye Joanne Woodward

This movie is worth watching just to see Joanne Woodward and her lame acting killed off early in the film.

A kiss before dying

***1/2 I like this one alot. A thriller that kept me on edge of my seat. Robert Wagner-love him or hate him, but he's very good at being very bad.

A Kiss Before Dying (1956)

Robert Wagner is one of the worst actors of all time, but he's actually half way decent in this thriller. The good cast helps boost this story up to above average. Mary Astor is particularly good as Wagner's mother. Suspenseful and great pacing. Fascinating story.

A VERY GOOD, ADULT, FIFTIES THRILLER!

DISREGARD THE PREVIOUS REVIEW! This movie is very good. If you like adult thrillers, you'll like this one too. Robert Wagner underplays his character perfectly and just lets the evil smoulder underneath. The monotone voice and relaxed air and coolness just adds to the drama and seems almost sarcastic. His character is relentless in his scheming and won't let anything get in his way. I don't think he ever handled a role as complex as this one before and not too many since. The supporting cast is capable but the film works mainly because of his portrayal of the villian.The scene where he disposes of Joanne Woodward is played very well. This is easily one of Wagner's best roles.But the whole film plays out almost at a very leisurely pace and doesn't seem forced or loaded down with numerous subplots.The direction is very good and the music adds the right amount of suspense at the right moments.The dialog is very direct and mature.I was actually surprised that the studio released it with the word "pregnant" blaring out in full effect. Something unusual for the fifties.This whole film actually doesn't seem like one from the fifties. Its viciousness seems like something from the seventies so its definitely ahead of its time. I'm sure that fifties audiences were a little stunned at this one. It still packs a punch today.FORGET THE REMAKE! The original is much better. The fact that its available on DVD says something about its staying power.

Loved this movie

Growing up I only knew Robert Wagner as the Hart to Hart man. But seeing this movie has made me a huge fan of his. Not only did he look beautiful but I really enjoyed his acting. He played the evil man with such darkness. Yes Joanne Woodard acting was very bad in this film but this is one of her first films. I just loved this movie and the remake (with Matt Dillion) does it no justice.

A flawed mid-50's thriller.

david lincoln brooks

7/19/07

Wooden acting, a colossally boring script, a glacial pace, an uncertain tone, an absurd plot, dismal directing and occasionally risible camerawork mar this Technicolor thriller.The mind reels to understand what the appeal of this picture could have been upon its first release... I'm guessing this was a picture to launch the fledgling careers of co-stars Wagner and Woodward... who were positively babies when this pic was made.The picture is a farrago of would-be Hitchcock, Billy Wilder and Douglas Sirk, but it never approaches the calibre of their work; the picture is not even dopey or campy enough to be on an Ed Wood level.Still the mid-50's colors and decor are pretty neato.
*We protect your personal infortmation and will not provide it to anyone without your consent. For a complete explanation, please refer to TCM's Privacy Policy. By submitting your contribution, you agree to TCM's Terms of Use.