DVDs from TCM Shop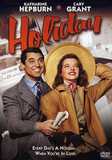 Holiday An unhappy heiress falls in... MORE&nbsp> $9.75 Regularly $14.99 Buy Now
Articles
SEE ALL ARTICLES
Holiday (1938)
A "woman's director" known for his collaborations with a bevy of talented actresses, George Cukor's best known match-up was perhaps with Katherine Hepburn, an actress rarely understood by Hollywood executives but advantageously employed by the director. The vibrant star of his 1938 screwball comedy Holiday, Hepburn began her mutually beneficial collaboration with Cukor in 1932's A Bill of Divorcement and starred in eight of the director's sly, sophisticated film productions.


In Holiday Hepburn stars as the unconventional, idealistic daughter of a wealthy businessman who dreams of escaping the suffocating boredom of her home, but lacks the confidence to break away. When a brash, exciting man from the wrong side of the tracks, Johnny Case (Cary Grant), enters the Seton household to marry her beautiful sister Julia (Doris Nolan), things seem to be changing for the better. But propriety, routine and the temptation of great wealth threaten to derail Johnny's dreams too in this tale of non-conformists versus the establishment.


An actor who spent his career playing debonair, moneyed gentleman in films like The Philadelphia Story (1940) and North by Northwest (1959), Grant plays humorously against type in Holiday as an eccentric trying to impress Julia's rich father and win his daughter's hand in marriage.


Hepburn was singled out with ample praise for her poignant, charismatic portrait of a repressed rich girl in Holiday though, ironically enough, she was rejected more than once for the part of Linda Seton. Hepburn had been an understudy for the role of Linda when Philip Barry's popular play appeared on Broadway, but the role in a 1930 Hollywood version went to Ann Harding. When Holiday was remade by Cukor in 1938, Columbia president Harry Cohn pressed for Irene Dunne, who had played opposite Grant in The Awful Truth the previous year. Hepburn had recently been named "box office poison" by the Independent Theater Owners Association and it seemed unlikely the idiosyncratic actress would beat out Irene Dunne for the part of Linda. But Cukor insisted on Hepburn, who bought herself out of her contract at RKO and went to Columbia to make Holiday.


Hepburn's persistence was rewarded with positive critical reviews, including the New York Herald Tribune which noted her "first-class screen acting." Grant, who worked on a number of productions with Hepburn including Sylvia Scarlett (1936), Bringing Up Baby (1938) and The Philadelphia Story, raved about his co-star in Holiday calling her "the most completely honest woman I've ever met."


Holiday was adapted to the screen by Algonquin humorist Donald Ogden Stewart, who also scripted The Philadelphia Story, Keeper of the Flame (1942) and Without Love (1945), all starring Hepburn. And Stewart's path had intersected with Hepburn's long before their Hollywood collaborations. Stewart had played Johnny Case's friend Nick Potter (a part Barry wrote with Stewart in mind) in the same Broadway stage version of Holiday in which Hepburn understudied Linda Seton.


Director: George Cukor
Producer: Everett Riskin
Screenplay: Donald Ogden Stewart, Sidney Buchman based on the play by Philip Barry
Cinematography: Franz Planer
Production Design: Stephen Goosson
Music: Sidney Cutner
Cast: Katharine Hepburn (Linda Seton), Cary Grant (Johnny Case), Doris Nolan (Julia Seton), Lew Ayres (Ned Seton), Edward Everett Horton (Nick Potter), Jean Dixon (Susan Potter).
BW-95m. Closed captioning.

by Felicia Feaster
back to top
---