DVDs from TCM Shop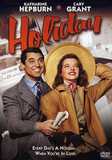 Holiday An unhappy heiress falls in... MORE&nbsp> $9.75 Regularly $14.99 Buy Now
Home Video Reviews
"So daring -- so tender -- so human -- so true -- that everyone in love will want to see it!"
So reads the poster art for George Cukor's 1938 romantic comedy
Holiday
, but the marketing guys could just as well have sold it with, "The rich are different." This is a romantic comedy for the Depression years, in which "meet cute" meets Marx. Heady arguments about the true role of money and the meaning of life bump up against playful slapstick, and at one point Cary Grant shows his true feelings for the snobbery-set by hailing them with a Nazi salute. Who says screwball wasn't political?
Grant plays Johnny Case, the very embodiment of America's work ethic. A poor boy orphaned at a young age, Johnny has been obliged to work for a living since he was 10 years old. Now, a modestly successful financier, he has fallen head over heels for Julia Seton (Doris Nolan), first daughter of the storied Seton family, one of the nation's most prominent and stuck-up bunch of richies.
The patriarch of the Seton clan (Henry Kolker) dislikes the idea of his daughter marrying so palpably beneath her station, but Johnny's unyielding determination and natural charm bring him around. If the Seton family grudgingly accepts Johnny into its fold, no such patience is offered Johnny's dearest ambition: to "retire young and work old." Having become a self-made man, he has no interest in the Seton money, but simply wishes to go on an extended holiday while he is still young enough to enjoy life. Later, when he is older and wiser, then he'll return to work.
This is a wholesale rejection of the Seton's values. To the Seton clan, Johnny's ideas are practically communist, a blasphemy against the god of money.
Only Linda (Katharine Hepburn), the self-professed "black sheep" of the Setons, sees things Johnny's way. Too bad he's already engaged to her sister...
Loosely based on the life of Gertrude Sanfred Lejean, a real-life "Linda Seton" whose free-thinking ways made her a proto-feminist,
Holiday
began life as a 1929 Broadway show by playwright Philip Barry. Two years later it was adapted into a feature film by director Edward Griffith-but in the interim, the stock market had crashed, radically changing the context of the story. By 1938, the story's obvious anti-rich attitudes resonated even deeper with audiences than before, and gave the material a sharper edge than the usual screwball romance offering.
Cukor was in waiting at the MGM lot while his next gig,
Gone With the Wind
, lumbered slowly into readiness-to bide the time he was loaned out to Columbia to helm a remake of
Holiday
. Borrowing talent from other studios was Columbia's standard operating procedure in those days-why pay people all the time when you could hire them out on a per-job basis, thought Columbia exec Harry Cohn?
Bridging the production to past incarnations of the story, character actor Edward Everett Horton joined the cast playing the same supporting role he had originated in the 1930 film. That role, of Johnny's friend Nick Potter, had in turn been played onstage by Donald Ogden Stewart, who was hired by the producers as the screenwriter for the 1938 remake.
For the male lead, Columbia tapped freelance actor Cary Grant, already on a fast trajectory to stardom despite lacking a studio to call home. For his costar, Columbia turned to Katharine Hepburn, whose unconventional behavior at RKO had given her a reputation as box office poison. Indeed, Hepburn was as willful and independent as the character of Linda Seton, whom she had understudied during its Broadway run. Hepburn had even used one of her scenes from the stage version of
Holiday
in her very first screen test. If anyone was to do this right, it was her, and Columbia's quick-thinking publicity mavens promoted her appearance with such slogans as "Is It True What They Say About Katharine Hepburn?" They proved their point, and Hepburn successfully shed her old reputation in favor of a new stardom.
Following
Holiday
, Hepburn bought the rights to another Philip Barry play,
The Philadelphia Story
, so that she could control her next film and negotiate her own terms: these involved reuniting with director George Cukor, costar Cary Grant, and screenwriter Donald Ogden Stewart all over again.
To order
Holiday
, click
here
. Explore more Cary Grant titles
here
.
by David Kalat