DVDs from TCM Shop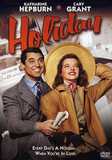 Holiday An unhappy heiress falls in... MORE&nbsp> $9.75 Regularly $14.99 Buy Now
USER REVIEWS
See Detailed Ratings
Acting of Lead Performers

Acting of Supporting Cast

Director

Music Score

Title Sequence

Screenplay

Cinematography

Historical Importance

Would You Recommend?

0 Member Ratings
Rate the acting of the Lead Performers

Rate the acting of the Supporting Cast

Rate the Director

Rating of the Music Score

Rating of the Title Sequence

Screenplay

Creatively uses the camera to tell the story

Importance in Cinema history

Would you recommend for fans of this genre
Submit Ratings
Cancel
Write a Review
Read Reviews
NO REVIEWS AVAILABLE
The title has not been reviewed. Be the first to write a review by clicking here to start.
Another GREAT Cary Grant comedy.....

What can you say? It's another great Cary Grant/Katherine Hepburn vehicle. Perfect comedy as only Grant can do - but he could do so much more as well. This is a good story > perfect characterizations, perfect story, perfect length. 90/100.

30 years early

"Free thinking" vessel of love adrift with no baggage and little meaningful cargo, and not really committed to ever dropping anchor (the always gracious Grant), wades into a confining (and confiding) harbor of riches that guides his boat to a moat and a palatial palace that's really a desolate dungeon (of course). There, the captivating cruiser and his guiding light to nowhere meets the wimp (Ayers) and the crimp (Koller), the bro and pop of the limp (Nolan), his bride-to-be. Sis (the always headstrong Hepburn) recognizes the illustrious wonder for the "we've got to make our own life" wonder he is and joyously utters "life walked into the house this morning." She dreams of sailing with him where the sun never sets, a lost horizon.

No Politics Here

Sometimes people are so consumed by ideology they fail to enjoy a film for its merits. Cary Grant plays a free spirit from an underprivileged background who's fallen in love with a privileged rich woman and then encounters her free spirited sister. In one of her best performances, Katharine Hepburn carries this picture as an unconventional sibling torn between empathy for Grant and affection for her sister. Edward Everett Horton and Jean Dixon as Grant's friends are nothing more than fish out-of-water. If the film is seen as anti-Capitalist because its writers may have been leaning towards the left, it should also be remembered this was made in the 1930s and the "private sector" wasn't doing so well back then.

is this where the club meets?

Another perfectly cast Hepburn/Grant film. Everyone turns in a winning performance, with the playroom party going down as one of the parties I'd most like to be part of. Horton and Dixon almost walk away with the film, but the rest of the cast match them all the way. The problem of being who you are is still plaguing society today... possibly even more, thanks to the electronic age. How fortunate the foursome are that they've found each other by the last scene.

Natural Voices in Holiday 1938

At last I have seen Cary Grant and Katherine Hepburn using their natural voices instead of the signature voices they acquired as their movie careers went on. They sounded so much better than the stage voices they became famous with.

Always a fan

This movie is one of the best of Hepburn and Grant. It Is funny and insightful for the time! Yes, it does have some political themes but at that time (and please remember to always watch a movie with your mind in the era) there were a lot of thee rich who believed in certain things we do not believe in today. Other than Hepburn and Grant, there is the couple who played Johnny's friends are greatest character actors. Unfortunately, this was the last movie for the woman who played Susan. I would have lpoved to have seen more of her. Just dit back and enjoy this movie with friends of by yourself, you won't regret it!!!

Great screwball comedy!

For the life of me, I don't understand anyone viewing any film and looking for political undertones in the actors, writers, etc. Film is entertainment and escapism. This isn't a documentary! It's a frenetic comedy with excellent actors. I've enjoyed this film immensely each time it is aired. Grant and Hepburn are at their best. Their pairing is excellent here. For my money, the film is stolen by the great Edward Everett Horton and Jean Dixon who play the oddball couple who understand Grant's character and choose to live life filled with fun rather than drudgery. The rapid-fire delivery of the lines in this film is reminiscent of "Arsenic and Old Lace" and there are some real zingers but you have to pay attention to enjoy their impact. It's a great way to spend a rainy day! Just sit back and let the fun begin!

A Classic

I don't focus on the politics within this film. It is a sharp, funny film that is often moving and eloquent.

Box Office Poison

Hepburn gives me heartburn. Her only film I liked was Alice Adams. Then she played the same person in every other film. My wife loves this film. But she never pays any attention to absurd plots. Grant goes on a ski vacation and comes home engaged. For a self made man, one does not enter into such quick and casual relationships without knowing something about the intended. Like she is loaded. It pained me to see Grant fumbling to find her house, and how long would it take any real human to figure out what's what. Lew (WWII Pacifist) Ayers plays his usual role, a dolt who is usually an alcoholic, or hopelessly bored with his wealth. Or he always plays a doctor that I never saw in real life. For those who didn't like the film due to its political tone, I would agree. Again, most critics love to hate rich people. Even though they are usually not shy about money themselves.

Life Before the Crash

Though this movie came out in 1938, during the Great Depression, it is based on a Broadway play produced in 1928 -- the heyday of the Roaring '20s -- and portrays how easy it was for a financially savvy Wall Streeter to make a killing, as Cary Grant's character does here. Some viewers don't realize that the time period of the movie is 1926 (Grant mentions that he's 30 and was born in 1896), and it's interesting to compare the giddy reality of easy money then to the more recent race to the Great Recession that occurred before the crash of 2008. In any case, Kate never looked better.

holiday

True to its theme of renouncing wealth this film did not make money when it was released. And you can see why. The last thing audiences in the Depression, when this movie came out, wanted to see was rich people saying they're better off poor. I mean, what were they thinking about at Columbia? However, aside from the rather boneheaded premise, and a bit (well, maybe more than a bit) of PC soapbox stuff from screenwriters Donald Ogden Stewart and Sidney Buchman out of Philip Barry's play, this is actually kind of an enjoyable film. Not as good as Philadelphia Story, with which it's inevitably compared, and which was blessedly free of political axes to grind, but almost. Katherine Hepburn is at her sharpest and most astringent here. The scenes when she's standing up to her father have real tension. I sure wouldn't want to mess with her. The fact that she can then move so seamlessly from rebellious fire to lonely self pity and be equally as convincing only supports the argument for Hepburn as the finest film actress of her generation. Cary Grant is good, but not as good as Hepburn, in my opinion, which is another reason to rank Holiday below Philadelphia Story, where the two of them went at it toe to toe, neither giving an inch, and the comedy was more liberally spread throughout. By contrast, the last third of this film is fairly somber. Let's give it a solid B. P.S. No one does weakness better than Lew Ayres. Guy was probably a stud in real life.

Why be so political?

Denscul, your not liking this movie for perceived political reasons only hi-lights where you stand. Would you be complaining if the movie happened to agree with your views? I somehow doubt it. So don't tell filmmakers not to make films about what they believe in. Personally, I don't want empty entertainment. Art should have a message, so why not the artist's own opinion? Isn't that what free speech is all about? If most people don't like it, they don't see the movie and it flops. Isn't that what capitalism is all about? And, what, you're saying that capitalists never get tired of the rat race and just want to get away from it all? That's what I get out of the movie. The western world is too preoccupied with overworking to make money for things they are programmed by the media into believing they need. And those pre-packaged "right" and "left" ideologies you're so worried about are themselves each a grabbag of incongruous beliefs, anyway, and frankly just a distraction from the bigger picture.

Lets poke fun at the rich.

My wife loves this film. I like Cary Grant, but I detected the anti-capitalist views of the writer, one of the Hollywood black listed writers caught in the Congressional Investigations that Hollywood and Liberals love to bring out as their finest hour of principal. It should be noted that the writer failed in the Stock Market during the roaring 20's. Perhaps this failure caused the screen writer to develop his political views, which were anti capitalist throughout his life, ending with his living in England the remainder of his life. In my view, this bias affected and wasted a good cast. The characters representing the capitalists, were boors, unlikeable, and without any redeeming value. The writer is entitiled to his political opinions, but when writing a screenplay, he should make his characters more believable . Grant's character, seems unrealistic in that he could fall in love with the wicked sister, in such a short period of time. This all happens at an exclusive ski resort, which during the Depression of the 1930's, was not a vacation spot for even the middle class. Grant's sudden achievement in the Stock Market, which enabled him to become a "free spirit" seems at odds with reality. In the 1930's, it was difficult for anyone to make fortunes in the Market. And then there was the comment made by one of the "greedy rich", that the country would be better off without the current (Rosevelt) government. Now that was strictly a political comment thrown into the script. If someone has a political agenda, he should go into politics and not try to subtly inject them into his scripts.At the time of the so called "witch hunts", the anti-facists were barking at dead men. Hitler, Mussolini, and Tojo were dead. The only dictator left was Joe Stalin. I am tired of hearing Bob on TCM continue to ignore facts.

Holiday (1938)

One of Cary Grant's best films; Katharine Hepburn's best film. Well-written, well-directed, and superbly acted, this is a movie with a great theme and lots of heart.

More of a Dramedy, then Comedy!

I have just watched Holiday, the 1938 romantic comedy directed by George Cukor and featuring the Grant and Hepburn comedic duo. The result is a fairly entertaining charming film which can be more like a dramedy than a comedy. And a romantic one, indeed. The script is written by Donald Ogden Stewart and Sidney Buchman which delivers an interesting (yet predictable) premise. Holiday takes place in New York City and follows Johnny Case, (Grant, very funny) a freethinking financier, who has just found the girl of his dreams and she's agreed to marry him. The girl is Julia Seton, (Doris Nolan) the spoiled daughter of a social millionaire. Johnny plans a holiday for the two to enjoy life but Julia has other plans. Like all screwball comedies go, nothing goes right leading Johnny to fall in love with Julia's sister, the down-to-earth Linda Seton, (Hepburn, who is also fine) who likes Johnny just the way he is. Although some cons including the film being too serious, dramatic and less enjoyable at times, Holiday is nevertheless delightful. The directing and script is pretty good, but the real magic lies within the two stars who have excellent chemistry. This may not be their best film together, but Holiday is on the whole a 3.5 (out of 5) star film!

Holiday (1938)

***1/2

Holiday

Poor Man / Rich Girl Love Story Flops; So, try another woman.

Great Characters - Grand Architecture

"Kindly walk, do not run to the nearest exit", seems to be what most of these folks are doing to escape this exquisite home and family life. Not everyone cares to live the high life - but it sure is nice peeking in once in awhile. Cary Grant's character is one flexible guy, if he's the actual person performing the acrobatics. Katharine Hepburn is graceful in all that she does, even appearing in some oddly shaped hats. The un-stuffy "private" engagement party in the playroom upstairs was so comfortable feeling compared to the "high air" going on downstairs. Enjoyed "Dr. Kildare" as the imbibing, musically gifted brother. What a grand home with beautiful architecture including the fireplace mantels and staircases. An enjoyable way to spend an afternoon at the movies!

You're in for a Holiday

I've just recently became in contact with this movie and I love it. katherine Hepburn does such an awesome acting job as being a rich daughter, who is about to go crazy. You could literally see the excitement in her eyes. Although her sister in the film did get on my nerves, the moviewas still a great success to me. Cary Grant as the leading actor was a perfect match, he has always been one of my many faves. Cary and Katherine have so much chemistry in this film, it almost seems as if you could grab it right out of the T.V. screen.

a must-see

certainly among the least stuffy serious comedies ever filmed-how we all lon to be johhny case-but if we can't be case may we all find one like linda did-this is by bar the best of the three hepburn-grant-cukor collaborations-which may shock those who only know of the slick and entertaing but overrated philadelphia story-also one with a message which is not shoved down our throats which we are forced into swallowing-not to mention a great supporting cast-horton,dixon,ayres, et al

Katherine Hepburn's best comedy role

This is a great way to introduce yourself to Hepburn's talent for repartee. She does a great job in "Bringing Up Baby" with Cary Grant, but is even better ghere as a "screwball." The movie has great pace and style.

Classic Grant & Hepburn

Bob Galvin-Oliphant

2/21/06

Good 1930's comedy with the great team of Cary Grant and Katharine Hepburn.
*We protect your personal infortmation and will not provide it to anyone without your consent. For a complete explanation, please refer to TCM's Privacy Policy. By submitting your contribution, you agree to TCM's Terms of Use.