DVDs from TCM Shop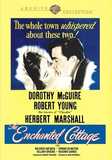 The Enchanted Cottage A scarred veteran and a homely... MORE&nbsp> $15.96 Regularly $19.99 Buy Now
USER REVIEWS
See Detailed Ratings
Acting of Lead Performers

Acting of Supporting Cast

Director

Music Score

Title Sequence

Screenplay

Cinematography

Historical Importance

Would You Recommend?

0 Member Ratings
Rate the acting of the Lead Performers

Rate the acting of the Supporting Cast

Rate the Director

Rating of the Music Score

Rating of the Title Sequence

Screenplay

Creatively uses the camera to tell the story

Importance in Cinema history

Would you recommend for fans of this genre
Submit Ratings
Cancel
Write a Review
Read Reviews
NO REVIEWS AVAILABLE
The title has not been reviewed. Be the first to write a review by clicking here to start.
A Flawless Gem The Size of Your Heart!

When I was a kid I used to read LEONARD MALTIN reviews in my local newspaper. I learned to be unerringly guided by his reviews. Whatever he panned, I'd rush out to see, and the film would be great! The method never failed me. I see here he has rated the Enchanted Cottage 2 1/2 stars out of 4. The "Maltin Method", still works!This is a brilliant, heartwarming, beautiful story (the first necessary quality of every film), told quietly, with warmth, and dignity, sufficient to bring a tear even to the eye of an uncouth, genuine knuckle dragger, like me. Read the reviews! Page, after page, of appreciative, loving praise for this quiet, beautiful masterpiece. The Mona Lisa, of film.Those with sufficient heart and mind to be here in the first place, will love this film. I wish I could relive the joy of seeing it for he first time...but it's still wonderful...like a dear, old friend, just a pleasure to be with.

"Locked into glass bottles"

are the lives of so many, as enunciated by Oliver, whom along with his true love Laura, are treated by all around them as if they were as fragile as glass as they voluntarily bide their days in their own little bottle known as the enchanted cottage. It is as if both of them embody the spirit of another Laura, that of "The Glass Menagerie." This is an endearing film with the winsome Young and McGuire (whose heart-wrenching Canteen scene predates Blair's ballroom scene in "Marty" by a decade) and a wicked, wintery Spring Byington. Classy move where TCM's main host, Ben Mankiewicz, told Sunday, May 20 viewers so much about the film before and after its 8pm showing without mentioning that his grandfather contributed to the screenplay of such a beloved classic. Thank you, TCM, for showing not just films it wants Americans to watch, but also some films that Americans want to watch. As Oliver said to Laura, I say to TCM: Bless you. Bless you forever and ever.

"Enchanted Cottage"

A superb version of a thought-provoking concept is presented in this production with Mr. Robert Young and Ms Dorothy McGuire in her best work in her cinematic career. It is one of the top two performances of Mr. Young. And the stoic Mr. Herbert Marshall spendidly weaves the tale together as one is transported to an imagined reality.

from the..

I do not know if I like the movie..but I like the idea of the story. that is what makes it special.

A land far,far away

If you are searching for a film to make you cry this may not be it, however having said that this flick may have you yelling at screen to make the characters notice each other. McGuire and Young battle back and fourth for each others affection in a house apparently without one single mirror! She's a sad duck from birth and he's a air force pilot who picked up a lot of cement after getting shot down in WW2. They start seeing each other as beautiful beings both inside and out after their wedding day supper.The proprietor and sometimes cook knows the truth but because of her own marriage crisis decides to keep quiet and let them enjoy the spooky digs! I shan't give away the entire plot but with some fine character actors and a more than serine new England countryside this little sappy yarn delivers the goods!

The role of love in the truth of beauty.

I am sure all of us have felt plain, or even ugly in our lives. Love gives us a look at our true beauty. Our love of self, another's love for us affects our perception of our own image as well as our image of others. This sweet movie es the "magic" in the bounds of the cottage, and what a sweet image it is.

Beautiful Story-Beauty In The Eye Of The Lovers

So many wonderful,inspiring scenes.What pain the characters went through to finally find happiness and true love.

Enchantment Personified. "Sez Who?" Sez me.

Doing some Internet research about "The Enchanted Cottage", it was originally based on a play written by Arthur Wing Pinero in 1923, then adapted for the silent screen in 1924. It was the author's way of addressing the serious problem of returning veterans who had suffered disfiguring injuries during World War I, and how true love helps to resolve the problem. It was then updated to address the same issue experienced by American veterans returning home following World War II. (If you like, please read my review for "The Best Years of Our Lives".) Robert Young, who stars in this 1945 version with Dorothy McGuire, years later said it was "the best love story that's ever been written." Co-star Herbert Marshall, an integral character in the film, tells this story in a flashback format, and although he is blind, helps all of us relate to the almost inexplainable sequence of events which, unfortunately, superficial people could never understand, including the Young character's own mother! I found this movie somewhat by accident, and fell in love with the touching, virtually magical, story. To my granddaughter Julia, this is the eighth of my 12 movies about love I'm recommending that you see, which you now have in your possession from the TCM Shop, as part of my year-long 12th birthday present to you. It may be several years, when you reach adulthood, before you can emotionally empathize with the main characters in this movie, but when you do, I think you'll find it as enchanting as I do. And if you do, please submit your review here as well. Love, Grandpa

ENCHANTING....................

AN UNUSUAL PERSON HAD TO WRITE THIS. IT DRAWS YOU IN FROM THE START. THE LOCATION IS BEAUTIFUL.. OUR MAIN ACTORS ARE SO PERFECT YOU FEEL YOU KNOW THEM AND FEEL WHAT THRY DO. WONDERFUL HOW 2 PEOPLE COULD FALL S TENDERLY IN LOVE. AND SEE NO FAULTS AT ALL. HERBERT MARSHALL GAVE HIS USUAL QUALITY TO HIS ROLE. I BELIEVE EVERY ONE SHOULD SEE THIS, ONCE. WAIT AND WATCH IT AGAIN. ROBERT YOUNG LOVED THE STORY SO MUCH HE NAMED HIS NO. CA HOME" THE ENCHANTED COTTAGE.. IS THAT HIGH PRAISE. IT TOUCHES THE HEAR AND SOUL.

Through the eyes of love

As I just saw the end of this beautiful movie a few minutes ago, I think to myself as tears go down my face that I had just learn a very important lesson in life. When you are in love you see something beautiful in one another, no matter how unattractive you are or anything else that other people might think; you can be beautiful and amazing no matter what, when somebody loves you. People may say love is blind but it gives you happiness, in your confidence, your love and is a foundation to your relationship. "For beauty is in the eye of the beholder."

What Is Love?

I wish everyone would watch this as I don't remember the real meaning of love ever being explained more clearly than in this quiet yet very powerful movie from WWII, "The Enchanted Cottage". Every character so divinely portrayed - Dorothy McGuire, Robert Young, Herbert Marshall, Mildred Natwick the main characters are perfection. A favorite of my mother's too. Pure enchantment!

emphasis

ugly is uncool unless you're in love....

Good movie

Enjoyed the movie- good acting script and theme....

I Never Tire of This One!

I first saw The Enchanted Cottage many years ago when our local station had Black & White Theater. A friendwould often watch it, too, and we'd discuss the scenes and the characters. Little did I know that this was a specialtreat for someone of my young age. Many years later I saw again this special film and it meant even more to me. I had experienced enough of reallife to realize how true and fitting this movie was for everyone ....for us all to realize that inner beauty is necessary, whereas the striking outer beauty we see on Robert Young and Dorothy McGuire is there because oftheir love for each other. I still see my husband of 51 years as he looked when he stood at the altar smiling at me. I had doubts about going through with it all until I saw his face, his smile...his love for me was so evident that evening...and he stilllooks at me the same way.One of my favorite scenes is when they look at the names scratched in the window panes...you wonder about all the other couples who lived there...not how the world saw them....but how they saw each other. The Enchanted Cottage is a wonderfully enjoyable hr. and a half of entertainment!

Sweet, haunting movie

Wonderful acting and story --- definitely recommended for the romantics in all of us!

one of my favorite movies !

THIS MOVIE IS SO SWEET ! IT ALWAYS MAKES ME CRY . ANYWAY IT IS ONE OF MY FAVORITES . IT TEACHES US ABOUT REAL LOVE . IT'S A 4 STAR FOR ME !! IF YOU HAVEN'T SEEN IT YOU SHOULD DO YOURSELF A FAVOR AND WATCH IT . YOU WON'T BE SORRY ....

A Timeless Parable

An oft-told story of human relationships - both finding inner beauty in others and striving to have inner beauty that others can find. But never portrayed better than in this movie. The Enchanted Cottage is a tonic, a pick-me-up and cure for a lot of what ails us.

The Enchanted Cottage-A Wonderful Film!

When I saw that "The Enchanted Cottage" was scheduled to air on 2/12/13 as part of TCMs 31 Days of Oscar festival, I taped it on VHS. I watched it and discovered what a wonderful film this really is. I've read the reviews for TEC on TCM database, and I agree with the reviewers praises and remarks. Robert Young plays Oliver, a flyer who's injured during WW2, set to marry a woman he really doesn't love, and trying to get out from under the control of his overbearing parents. Dorothy McGuire plays Laura, a woman whose not so beautiful looks have caused her pain and humiliation, and kept her from falling in love. They meet, eventually overcome their awkwardness toward each other, find a very special and beautiful love in the cottage and marry. They also learn from John Hillgrove, the blind pianist, the story of how he overcame his handicap and learned to "see" a special world that nobody else (sighted persons) could ever imagine. If anyone doesn't believe the adage "beauty is only skin deep", they need only see "The Enchanted Cottage to know that it's very true-love isn't what you see on the outside of someone, but what they have in their character, soul and heart. Four stars to TEC!

Simply beautiful!

This film is a cautionary tale for us all. It doesn't matter if lose your looks as the flyer did or you lose them to aging, if you do not have inner beauty, the loss of your outer beauty could destroy you. My favorite character in this film is Major Hillgrove, wonderfully acted by Herbert Marshall. After he lost his sight in the prior war, he found himself again through music. He befriends the two protagonists in this film and, after they are married, he visits them and understands what their "enchantment" is. It is not seen by anyone else but Hillgrove senses it. You will gasp at the faux pas made by Spring Byington's character toward the end of the film but then your heart will soar as you too understand the true meaning of the "enchanted cottage." Lovely film!

Beautiful

I love this film. My husband tells me I am beautiful many times a day everyday. Clearly, I am not. I find him the most handsome man and no other man can hold my interest at all. We are just like any other couple. We have our ups and downs but how we see each other never changes. We are still wearing those love goggles.

The wonder of Enchantment

This is my favorite all time movie, where beauty is not what you see but what you don't see, the love of two people.

Beauty is in the eyes of the beholder

Since most of us are not beutiful people. (If we were, we would be a celebrity of some sort.The sad fact is that in addition to those born sub par in the looks department, some of us have picked up some ugly scars. So this "chick flic" should appeal to the vast majority who watch two people fall in love, not for looks, but for who they really are, inside their outer skins. This flic should make up for all those beutiful people who seem to have horid personal lives, while those who find someone real, not beutiful necessarily, live happy, normal lives. Is there a profound message here?

The Enchanted Cottage (1945)

This movie has a good theme but the way the story presents it is somewhat less than satisfying. Some of the dialogue makes the film teeter on the edge of becoming "The Enchanted Cottage Cheese," but overall it manages to avoid being overly saccharine. Herbert Marshall is good as the pianist but other than that the acting is average or below average. Spring Byington was nowhere as good in this as I thought she'd be--I don't think the part was right for her.

An enchanted, beautiful move!

I saw this movie by chance on TCM. I was ill at the time, slept through the beginning....but when I woke up I was hooked. Could not wait until I could catch it again, finally did and at the time all I had was a VCR to record. It is not the best, but it beats nothing. Every now and then I have to take time out just to visit "the cottage". This is my all time favorite movie!!!

Family Legend...

I was reminded yesterday by my mother while we watched this film of a family legend. It goes like this, the story of "The Enchanted Cottage" was originally syndicated in her local paper. For its final chapter, there was a reader's contest to write an ending for it and my grandmother wrote the winning entry. We've never found a clipping of this in my Gram's affects to refer to and I cannot find any mention of this story being published prior to the original play. Have we got the wrong title? Any Sir Arthur Wing Pinero historians out there?

THE BEST EVER

Katherine Johnson

6/14/12

This has to be in the top 10 films for me. Decades have passed since I originally saw this one, but it stayed with me and upon a re-viewing, I am in awe of how deeply moving and healing a film "The Enchanted Cottage" is.

EVERYONE NEEDS THEIR OWN ENCHANTED COTTAGE

This movie is my favorite movie of all time. It has a message that crosses the boundaries of generations and is just as true today as it was back in 1945. Anyone who has ever loved someone knows love truly is blind. This is a perfect movie to share with someone you love, or to enjoy alone and remember someone you've loved. Through the windows of my "Enchanted Cottage" the world is beautiful. Pass the popcorn, when this is over we're watching "Our Town!"

My Hope

I am now 59 years old. If I had seen this movie when I was 16, it would have saved me years of needless disappointment and would have opened my heart and soul to the many, unfortunately squandered, opportunities for true love and happiness.After having seen the movie for the first time last night, I have done nothing but weep for joy for those who live in the Enchanted Cottages that exist in our midst. I used to wonder sometimes, why some couples seemed so happy despite what looked to me as drab circumstances. Now I know they lived in an Enchanted Cottage which was there for me, too - my entry denied by superficiality and vanity.I may not have much time left but the movie left me with hope that, now that I know they exist, perhaps I might have the joy of at least a few fleeting moments in an Enchanted Cottage of my own.

Beautiful film

This is one of the best films I have ever seen; the best performance by Robert Young. Dorothy McGuire, Mildred Natwick, are excellent as well. Supporting cast is superb. Wish I could give this more than five stars; nothing half-way about it. Unique story, well-done connection to the scars of war.

An Enchanting Movie

This is such an enchanting film that it brings tears to my eyes every time I see it. I wish TCM would play it more often. Since they don't play it often enough for me, I think I'll buy a DVD.

Wonderful story line

The Enchanted Cottage became a favorite of mine the day I watched it. It's a movie that is best seen in black and white, its a movie that doesn't need to be updated or colorized. The story is from the heart and the actors did such a wonderful job in telling the story.I don't like to give details about a movie because I think it ruins it for the viewer that has yet to see the film. This movie is well worth watching.

The Enchanted Cottage

What a great story line this movie has with happiness and with sadness and the casting was superb. This movie confirms to that the old black and white movies have character and charm .

The Enchanted Cottage

I'm an avid TCM fan! Love the old movies, mostly the 1940's. Would love to be able to watch this movie, again. Please either air it on TCM or make it available to purchase on DVD. Thank you, Judy

Excelente

Eu adoro este filme por sua sensibilidade . Este filme um dos mais belos e encantadores j produzidos. O filme maravilhoso e transmite uma mensagem to sublime que s poderia ser vinda do Amor. O Amor faz milagres. E o filme mostra isto. Dorothy McGuire est encantadora e reluzente. Robert Young est maravilhoso. Este filme um dos melhores e para mim um clsssico fenomenal.

The Enchanted Cottage

Can you please show the movie, "The Enchanted Cottage"?Thank you.Mrs. Byrd.

The Enchanted Cottage

This is a film that speaks directly to the human heart. I saw it years ago and could never forget it. I purchased multiple copies of this DVD when it became available, so I could share this "enchanted" love story will family and friends.

The Enchanted Cottage

I'm so happy the Enchanted Cottage is finally out on DVD!!!One of the best classic films I have ever seen, it's message of "Beauty is in the Eyes of the Beholder" is something our image obsessed society needs to be reminded of. The movie conveys this message in a magical way conveying the hope and true inner beauty that exists in every one of us, if only we would look a little deeper.The musical score, the cinematography, and Dorothy McGuire's lyrical narration makes this movie a must have for anyone who is a classic movie fan, or whoever wants to see the triumph of the true human spirit in action.

The Enchanted Cottage

I've watched this film for years, and it's one of the most romantic films I've ever seen. It has great atmosphere, with a soft touch, and even a tiny bit of the mystical. The music is wonderful too. I would recommend this film to anyone who loves good drama and romance. The main actors are great, and Mildred Natwick is fantastic. It's a rare film, and one worth seeing. I've always loved this movie and I think you will !

The Enchanted Cottage (1945)

An unusual film, a fantasy romance with a rather clever plot. Dorothy McGuire is quite good and very well cast, Robert Young is not so effective, but he does okay. It's a little too sentimental for my taste but it is beautifully done. The cinematography is very well done and enhances the story.

The Enchanted Cottage

Thank you! Thank you! Thank you to whoever finally decided to put this wonderful movie on DVD. I have loved this movie since I first saw probably over 50 years ago. You see, I lived in The Enchanted Cottage when I was a child and again in later life during my marriage. My mother suffered from a nerve disorder that eventually caused numerous scars on her face. She had several corrective surgeries but was terribly self-concious about it and hated to have her picture taken. She would often become depressed and remark to my father that she had become ugly, but he would reassure her that she was still beautiful in his eyes because they lived in The Enchanted Cottage. As a small child, I had no idea what that meant, but I knew it sounded romantic. When I was a little older, the movie was shown on commercial television and I was able to see it for the first time, watching it with my mother. And as I watched it, I began to understand what my father had meant. By the end of the movie both my mother and I were in tears.Later in life when I married, my husband never thought of himself as a handsome man, so I told him that we lived in The Enchanted Cottage. Having never seen the movie, he had no idea what I was talking about. I described it to him, but I don't think he fully understood. After several years, TCM finally came into being and one day the movie was scheduled to be shown. We watched it together and he finally understood. The years passed and after 34 wonderful years together, he succumbed to cancer. But as the disease progressed and he became weaker and weaker, he voiced his concern about not being the man he used to be. I reminded him that we lived in The Enchanted Cottage and that thought seemed to give him some peace. I'm extremely grateful to be able to purchase this movie and have it forever.

The Enchanted Cottage

An absolutely wonderful and charming story and a well acted and set film. One of my all time favorites!

Wow, What a Movie!!!!!

Enchanted Cottage is truly one of the best films portraying human dignity and true love found on the inside of a person. No matter what one looks like on the outside, they can still be loved no matter what. Dorothy McGuire gives quite a wonderful depiction of a woman who desires beauty and yet needs love from her husband more. Please show this movie!!!!!

A Must See . . .

I love old films, when acting was honored for the beauty of its craft. This film gives your heart a magical place to go when you just need to get away. I want to see it on DVD, along with "BackStreet", "My Foolish Heart", all the great films!

A Favorite

I am so pleased that TCM is going to be showing " The Enchanted Cottage ". It is a haunting film I have loved since I first watched it as a child. It is seldom seen now for some reason. Anyone who is a fan of romantic films such as " A Portrait of Jennie " will adore it.

ottage

This movie has touched my heart for many years now. Each time I see it I still cry my eyes out. The magic that touches these two people is so emotional it seems to take my breath away. I have been trying to located this movie to add to my movie archive but have had no luck. I would recommend this movie to everyone who loves or needs a little magic in their lives. As soon as this comes out on dvd I will be purchasing it for myself and family members and friends.

Lovely

An exquisite movie that illustrates the tranformative powers of loving spirits. This so needs to be available on DVD.

The Enchanted Cottage

This delightful and enchanting movie transports us to a mystical and magical place,that gives love the power to transform the inner beauty of the heart and soul to physical reality. The magical transformation can only be seen by the two lovers themselves and not outsiders. The owner/housekeeper of the cottage, was once the recipient of such a gift, when she and her husband lived happily at the cottage, before his death. The housekeeper knows the secret of the cottage and tries to protect the couple from the harsh, unenlightened view of the outside world. A blind man, who befriends the couple,is the only other one who "sees" their transformation and assists them to preserve their perceptions, in spite of reality outside of the cottage. Robert Montgomery and Dorothy McGuire give marvelous performances as the couple, backed strongly by the actor, who plays the blind friend and the housekeeper. This is a movie to watch, when in need of a little magic in your life. I would love to add it to my private collection.

The Enchanted Cottage

What a wonderful gem of a film! This really needs to be released on DVD.

Definitly Enchanted

What a fantastic job the Director did to give this movie a dreamy,enchanted and almost erie feel.Dorothy McGuire tries to play a homely woman but does this well in her acting alone,as the make up artist sure did not do his job well in keeping her beauty from showing through.What a beautiful hypnotic voice she has in this film which added even more to the movie's atmosphere and to the character's personality that she portrayed. Great skill.Dorothy McGuire and cottage owner Mildred Natwick nail their roles to a tee.For me a very memorable movie that was a pleasure to watch and to see how the Director and the mentioned cast were masters of their craft.

One of the Finest Love Stories

Patricia Hawk Smith

10/22/08

When I think of love stories, I can not help but think of The Enchanted Cottage. This is a story that is timeless and I am sure the next generation will enjoy it as much as I did and the generation that first viewed it when it came out. The Enchanted Cottage is such a beautiful love story, and you can not watch it without falling in love with the young Robert Young, the scarred air pilot and the homely Dorothy Macquire, the maid of the cottage. The Cottage is enchanted with a magic all of it's own. When the two lovers add their names to the names inscribed on the window pane of the cottage , the magic really begins. The scarred face of Robert Young suddenly vanishes as if it never was there. Dorothy Macquire is transformed into a beautiful radiant woman. The two live in their own world, and only in the confines of the Enchanted Cottage can the magic exist. Outside the Cottage, outsiders can not see past the scars, and are cruel in their comments. The Enchanted Cottage becomes a safe haven for the two lovers and they live in their own world. This movie has everything, fine acting, a terrific cast, and a wonderful screenplay. The black and white gives the film a special quality that somehow could have been lost in color. I only wish that this film could be released on DVD. I never tire of watching this movie, and would love to share it as a gift for some of my friends. I was lucky enough to win an auction recently for this video,and I can watch it whenever I want.

On my top 10 list.

One of the best movies I've ever seen and one of my "essentials." A lovely story. I wish it would come out on DVD, so I could watch it whenever I wanted.

A true love story! Dark, yet lovely

This movie truly is a fantastic movie. I wish I could get it on DVD so that I could share it with friends and family. It's hard to catch it on TCM. I'm a devoted Carole Lombard, Cary Grant fan but I would watch this over their films only because it is so far between showings. I LOVE THIS MOVIE!!!! It is one of my top five love stories. Along with In name only. Truly a love story that we all need to see to appreciate.

Enchanting movie!

I would recommend this movie to anyone that love classic movies. Please let me know when this comes available for purchase! Thank you!

great movie

I have seen this movie several times and I can say that I could watch it over and over again!!! I also would like to purchase this movie...can you advise when it might go on sale.Thank you,Judy Clemons

THE ENCHANTED COTTAGE

I LOVE THIS MOVIE AND WOULD LIKE VERY MUCH TO PURCHASE. I HOPE THIS MOVIE WILL GO ON DVD REAL SOON.

The Enchanted Cottage-

I love the message in this movie. I wish it was available to rent or buy anywhere.I know so many people that their lives would benifit greatly just by watching this movie. I've wished so many times I could recommend it to them. It isn't a movie you can explain, it has to be seen and felt in all it's beauty. It would benifet even greater now to be recommended viewing for so many of our returning soilders.I think it is a shame we are not able to view it when ever we wish or "NEED" to.It is a very beutiful movie.

THE ENCHANTED COTTAGE

ONE OF MY MOST FAVORITE MOVIES. I HOPE THIS MOVIE WILL GO ON DVD REAL SOON.

RE: Enchanted Cottage

This is such a lovely film! I think this movie is only shown once a year, and it's a shame because it is just wonderful!

Enchanted Cottage

I hope you can show this movie because it is a beautiful love story I love this movie one of my favorites. If you ever show it on TMC please let me know.Thank you I enjoy watching your movies on TMC

RE: comment posted in Feb

Spring Byington DOES NOT add anything to this movie!

The Enchanted Cottage

One of the best love stories I have ever seen! This picture should have won the Oscar for Best Picture, Best Actor: Robert Young, Best Actress: Dorothy McQuire; and Best Supporting Actress: Mildred Natwick.

Do you know what loneliness is, real loneliness?

This Oscar-nominated film (Score) is interesting in it's background. It was designed for returning GIs after WWII who were disfigured by the war and to ease their return.It features a homely girl (Oscar Nominated Dorothy McGuire (Gentleman's Agreement) who has given up hope of finding love. She meets a dashing pilot (Robert Young of "Marcus Welby, M.D." and "Father Knows Best" fame) before he is called to duty. he returns a year later disfigured and depressed.This is a story of love. The two become enchanted with each other, marry, and are transformed into beautiful people. The transformation occurs only in their eyes, however, but does not destroy what they have.Made even more enjoyable by the addition of Oscar-nominated Spring Byington (You Can't Take It with You, Because You're Mine), who played Young's mother. Byinton is best know to TV watchers for "December bride."

A Real Classic

A very rare find. Not many movies captivate love like this one. I love it! This movie is never played and never available anywhere, so when my Mom told me it was on last night I got so excited! It actually made my Thursday!!!! Thank you TCM!

Timeless hope and healing

This gem entranced me from the beginning. It avoids being smarmy by its absence of cliche. I recommend this love-story to my women students who are struggling to understand how love can transform us (with all our pain and brokenness) into the best of who we are. These women have suffered emotionally and physically at the will of those who claimed to "love" them. This treasure shows compassion, self-sacrifice, anger, sorrow, and pain in honest and healing portraits. Clean dialogue, beautiful scenery in simple sets, believable characters dealing with real issues, and a redeeming ending that isn't quite "happily ever after". Enchanting!

Post War Healing

"Enchanted Cottage" is one of my all-time favorite films. When I saw it on the TCM schedule I was delighted. I watched Robert's commentary in which he told us that this film was well received and was hailed by WWII veterans returning home with visible life changing injuries thus helping them with their convalescence. The first time I saw this film I was a youngster watching the late movies after the family went to bed and I can tell you as a 12 year old, I was absolutely mesmerized by the transformation that Robert Young and Dorothy McGuire underwent. The inspiration of the cottage and their deep deep love for each other was so overwhelming that they thought everyone could see the magical effect including Spring Byington, Taylor's mother who had to cut her visit short when she had heard of the transformation and was shocked when nothing had changed. Gladly, this movie helped WWII veterans get better, but MGM's brilliance affecting me as a youngster gave me my regular Hollywood diversion, not to mention a story that will be etched in my psyche for the rest of my days.

A special movie. A daydream on film.

I first saw this movie years ago and was entranced from the very beginning. You will become lost in the flow of the story and just drift away to a magical place, as if in a dream. My favorite Robert Young performance. Herbert Marshall is simply perfectly cast in his role. And the scene in the canteen could melt a heart of granite. So glad to see the four stars, well deserved.

An underappreciated treasure

A dvd of the complete film would be so wonderful. I spent years watching this lovely movie, without knowing that one major , heartbreaking scene had been cut for years. Finally seeing it complete (even the VHS version of the film was cut) was so enlightening. I hope a dvd of this will be available very soon. In the meantime, thank you TCM for airing it!

A Classic Love Story

This was one of my mother's favorite films and has become one of mine. For years I waited in vain for this to show up on any channel and am very happy to see it regularly programmed on TCM.It is a very well acted romantic fairy tale in the best 40s tradition. I particularly enjoy the evocative concerto (used as the movie theme) written by the blind composer, who, with the enchanted cottage, is most responsible for brining the two fated lovers together.There is a wonderful truth and heart in this film and its story. As my mother said to me as I first viewed this with her, love can indeed transform the one you love. One of the the greatest of Hollywood love stories. It is as timeless as the enchanted cottage itself.

A truely beautiful movie

....insightful unmasking of the reality of beauty. I too wish for a DVD release to give to all those I love.

Terrible loss to be hidden in film archives!

I've thoroughly enjoyed this movie since I first came across it in the early 90's. This month (Nov 2007) I was able to view it again on Comcast On-demand. I have a very old VCR version, but no longer own a VCR and so I would love to own this classic on DVD. It would be a terrible waste to lose it to the world of archives.P.S. This movie is a favorit of Whoopie Goldberg, maybe she could pull some strings to get it released on DVD!

Great Movie, hidden from the masses

This is a great movie. I never saw it before this week when it played on Turner Classic Movies. I gave it a 10, a must see. I wanted to buy it on DVD, but it is not available. Thank you TCM. Being a cancer patient, I could relate. A must see for anyone who has had surgery that may make us think we are different

the enchanted cottage

We are planning to track this movie down and share it with our friends. It shows how a good marriage works and how love transforms us all into beautiful people. This is an essential message to the younger generations who seek outward beauty only to fail at true love. My mother said that good character was the most important thing. I hate to admit it - you were right Mom!!

not made like this anymore

This picture is a clear look at life at that point in history. Well, that is the way I remember it. It is my sentimental favorite.

the enchanted cottage

when will the enchanted cottage be shown again...............thank you

Wonderful romantic tearjerker

The wonderful team of Robert Young and Dorothy McGuire make this memorable. They were even better in a couple of movies called "Claudia" and "Claudia and David." Great tearjerker.

Classic love is not blind

My husband and I truly treasure this movie. The great theme of love is blind is truly played out in this classic movie in the black and white format. When you truly love someone you can only see the beauty in their soul. You can't capture this in todays action, color computer enchancded movies. Please don't let this truly great movie get lost in today's high tech life!!!!! Sometimes less is more!

Just A Great Romantic Film!

I've cried every time I've seen it. This is one of those rare movies that can touch anyone's heart.

Every Newlywed Should See this Movie....

In today's world love doesn't have the same meaning or commitment as it did in the 1940's. This movie shows that true love goes well beyond how we look, and that when we truly love we take on an inner beauty that can take us through the good years and the hard years in a marriage. I believe that if all newly married couples and even go so far as to say all married couples see this movie....it will truly be a loving experience. It is a movie that Hollywood does not know how to create or make any more.

An Exceptional Story of True Love

A truly wonderful film with Robert Young, the distinguished Herbert Marshall and, of course, starring the unfailingly lovely and extremely talented Miss Dorothy McGuire.The film certainly emphasizes, quite correctly, that a person's inner beauty is far more important than one's outer "beauty." Nevertheless, even with the dowdy appearance, the film's director and make-up artist could never have diminished those limpid eyes and beautiful cheekbones of Miss McGuire's. (And, yes, I AM an unabashed and lifelong fan/admirer of that great lady and consummate film actress!)

I love This Movie

I love the storyline in this movie, it shows that outward beauty if fading but its the inner beauty that last for a life time. It's true what the Lord said to the Prophet Samuel when he was anointing for King to anoint in Israel, he looked at all of Jesse's sons, they were all tall and striklingly handsome, but the Lord rejected them all, He said, "man looks at the outward appearance but I look at the heart". So, though no one wants to be ugly in apperance, I feel your really ugly if your heart is ugly no matter how pretty or handsome you maybe..This should be on DVD.

The Enchanted Cottage

A heart warming love story about a handsome man that leaves for war on his wedding day and after surviving a plane crash returns home mentally and psychically disfigured. A homely woman takes refuge to get away from the cruelty as housekeeper at the cottage that has mystical powers. Oliver and Laura become friends and marry because they feel no one else would ever have them. On their wedding night a transformation takes place. They see each other as handsome and beautiful where to the world they are still disfigured. Make sure you have a lot of kleenex on has. This movie will bring tears to your eyes. I would give this movieTWO THUMBS UP.
*We protect your personal infortmation and will not provide it to anyone without your consent. For a complete explanation, please refer to TCM's Privacy Policy. By submitting your contribution, you agree to TCM's Terms of Use.