DVDs from TCM Shop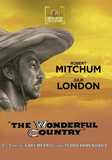 The Wonderful Country A hired gun falls for a Texas... MORE&nbsp> $11.45 Regularly $19.95 Buy Now blu-ray
NOTES
DVDs from TCM Shop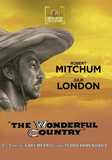 The Wonderful Country A hired gun falls for a Texas... MORE&nbsp> $11.45
Regularly $19.95 buy now
According to news items, director Robert Parrish met with author Tom Lea in Lea's hometown of El Paso, TX late in 1951 concerning the production of a film based on his novel, which had not yet been completed. In November 1953, Lea sold the film rights to Parrish and Gregory Peck, who announced the next month that they were forming an independent company to produce the film in Mexico in 1955. Parrish worked on the screenplay with Lea in El Paso in October 1954, and shortly after, the two formed a partnership to make the film. By July 1958, the film rights were owned by Lea, Parrish and Chester Erskine. According to a letter in the MPAA/PCA Collection at the AMPAS Library, in September 1958, D.R.M. Productions, Inc. was about to produce the film under M.P.L. (Mitchum-Parrish-Lea) Productions. Lea portrayed a barber in the film.
The Wonderful Country was Jack Oakie's first film since Tomahawk in 1951, aside from a brief, cameo appearance in the 1956 film Around the World in 80 Days. A November 1958 Hollywood Reporter news item stated that Oakie's wife, Victoria Horne, also had been cast, but she did not appear in the released film. In his autobiography, Parrish stated that when he had trouble casting the role of the African-American cavalry officer, Robert Mitchum suggested "Satchel" Paige, the great baseball player from the American Negro League, who had never acted in a film before.
According to news items, the film was shot entirely in Mexico. Most of the shooting was done in Durango, San Miguel de Allende and La Punta. Although several reviewers praised the atmosphere of the film, the Hollywood Reporter reviewer was critical of the way the film dealt with the historical significance of the use of African-American cavalry to fight the Apaches, commented, "the script never probes the emotions of a race, recently released from slavery, being used to fight an Indian tribe desperately fighting for its freedom."
A modern Mexican source adds the following actors to the cast: Alberto Pedret, Alberto Mariscal, Jos Chvez Trowe, Ignacio Villalbazo, Antonio Sandoval, Hernando Name and Salvador Godnez.