DVDs from TCM Shop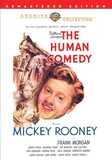 The Human Comedy A small-town telegraph boy... MORE&nbsp> $16.95 Regularly $19.99 Buy Now
FULL SYNOPSIS
In the small town of Ithaca, California, teenager Homer Macauley takes a night job as a telegraph messenger in order to help his widowed mother Katie make ends meet during his older brother Marcus' military absence. The eager Homer is awestruck by his manly new manager, Tom Spangler, a former valley champion in the 220 low hurdles, the same track and field event in which Homer competes, and is undaunted when the elderly, eloquent wire chief, Willie Grogan, issues instructions on how to rouse him when he is drunk. After Homer delivers his first wartime death notice, however, he is burdened by the grim realities of his job and confides a sudden loneliness to his mother. The understanding Katie, who has come to terms with her own husband Matthew's untimely death, reassures him that his confusion is a natural part of growing up. Later, at school, Homer and his rival, the well-to-do Hubert Ackley III, get into trouble with Miss Hicks, their ancient history teacher, for trading insults in class. As punishment, Miss Hicks orders the teenagers to stay after school and miss their scheduled 220 low hurdle race. The boys's coach, Blenton, however, lies to Miss Hicks that the principal has ordered Hubert to compete and pulls him from detention.

Angry at Blenton's deception, Miss Hicks allows Homer to go, and to everyone's surprise, Homer wins the race. Later, Homer is forced to sing Hubert's telegraphed birthday greeting to Helen Elliot, the object of Homer and Hubert's desire, at a party to which Homer has not been invited. Although humiliated, Homer accepts Hubert's subsequent apology, and both boys agree to make peace with each other. The down-to-earth Tom, meanwhile, reluctantly accepts an invitation from his wealthy girlfriend, Diana Steed, to meet her parents for the first time. Just before he is to be introduced to her father, however, Tom bolts from the Steed house and confesses to Diana his fears that her parents will not approve of him. After Diana assures Tom that her parents are not snobs, the two pledge their love, and Tom greets Mr. Steed wearing one of the elder man's bow ties. At the same time, in town, Homer's older sister Bess and next-door neighbor Mary Arena, Marcus' fiancée, meet three soldiers on the way to the movie theater and shyly invite them along to the show. The soldiers are grateful for the women's company, and Bess and Mary, seeing Marcus in each of them, are happy to have brightened the lonely men's day.

Far from home, at his Army training camp, Marcus, meanwhile, tells his buddy, Tobey George, about his idyllic life in Ithaca, and Tobey, an orphan, decides to move there after the war and "become" a Macauley. Just before Marcus is to be shipped out, Homer receives a heartfelt letter from him. Unnerved by Marcus' advice to prepare for his possible death, Homer declares to Willie that he will "spit at the world" if Marcus is killed. Months later, while attending a Sunday festival, the newly married Tom confesses to his bride, Diana, that he has enlisted in the Navy, and although she is pregnant, Diana bravely endorses his decision. In town, meanwhile, Homer notices Willie in the telegraph office while walking with Bess, Mary and his little brother Ulysses, and stops to say hello. Willie is passed out and, as a message starts to come in, Homer runs for some hot coffee. When Homer returns, he discovers that Willie has died, having succumbed to a heart attack after receiving a message about Marcus' death. Tom then comforts the grief-stricken Homer, and while Homer gathers his courage to tell his family the tragic news, the two play horseshoes in the park. At the same time, Tobey, who was wounded during battle, has arrived in Ithaca and is headed for the Macauley home. Outside his house, Homer meets Tobey, about whom Marcus had often written, and sadly accepts Marcus' class ring from him. Bolstered by Tobey's love, Homer yells to his family that "the soldier's come home" and walks through the front door with him, ready to face his family. Watching his now mature son, the spirit of Matthew comments to the spirit of Marcus that "the ending is only the beginning."