DVDs from TCM Shop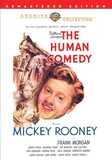 The Human Comedy A small-town telegraph boy... MORE&nbsp> $16.95 Regularly $19.99 Buy Now
USER REVIEWS
See Detailed Ratings
Acting of Lead Performers

Acting of Supporting Cast

Director

Music Score

Title Sequence

Screenplay

Cinematography

Historical Importance

Would You Recommend?

0 Member Ratings
Rate the acting of the Lead Performers

Rate the acting of the Supporting Cast

Rate the Director

Rating of the Music Score

Rating of the Title Sequence

Screenplay

Creatively uses the camera to tell the story

Importance in Cinema history

Would you recommend for fans of this genre
Submit Ratings
Cancel
Write a Review
Read Reviews
NO REVIEWS AVAILABLE
The title has not been reviewed. Be the first to write a review by clicking here to start.
Mickey Deserved Nomination

Wonderful picture.The Homefront during WWII deserved as much credit as our fighting men and women.Touching scene with the service men singing the same song Robert Mitchum tortured the kids in "Night Of The Hunter" when he was "coming to git them"!Morgan also a particular favorite.

The Human Comedy

A wonderful movie, with stunning performances from Mickey Rooney, and Frank Morgan. Great to see many young actors, before they come into their prime. I've read many reviews of this movie, and the critical ones seem unfair. The whole world was in trauma in 1942, and everyone as a community, in America, was wanting to keep the the values of the times. Scenes in the movie show those values; respect, support of neighbors, kindness, and love. The movie even touched on class structure, alcoholism, and the love of books. Fear of the world at war was demonstrated through the eyes of children. A tear jerker, but very real for the '40's.

Beautiful Messages in a Heartwarming Movie

Totally disagree with last reviewer. Not fair to judge this movie as if it were made today. So many real and touching scenes. For instance, after Homer has read the telegram to Mrs. Sandoval, and, sitting in the same rocker in which she held her baby son and sang to him. Also, when Homer's father appears and gently kisses his widow, and she somehow senses it. And how the 3 soldiers are overjoyed with the girls' letting them accompany them to the movie, and their boyish telegram messages. The teacher cheering Homer on at the track meet. The old man who owned the apricot tree understanding its lure, his amusement with it, and not begrudging the boys. Liked how Tobey knew he had a home and family waiting to embrace him & that Van Johnson's character wanted to share that with him. Mickey Rooney's acting is exceptionally good. If you have lost a loved one, this movie will bring a measure of comfort, and help you to remember they are near, and that the end is, after all, a beginning.

myth and memory

Let me begin by saying that I'm grateful to TCM daily for saving me from the brain numbing stupidity that's offered on most all other channels.That said, I have to offer my honest opinion of Clarence Brown's mid-war take on small town America.The only things he didn't include in this traipse through fantasy land, is the dog saving a boy from a frozen pond, and Louise Reiner answering a phone.Films by definition are a form of manipulation, and usually,, audiences love it, but to be so blatantly and obviously ganged up on is a movie goers's nightmare.It's difficult to object to a studio's better stars giving their best, but even they had to question a lot of this artificial mess..Women that don't work in wartime, poor folk playing piano and harp??????, token nationalities... all equal but separate, a drunk manning the important post of chief telegrapher, a dim child made up to look like the then popular charicature of Hirohito. I could go on, but I won't.Sufficive to say, today's movie offerings are not the stuff of the forties, nor are the audiances. It's a pity the post war style didn't hold on... bewitching and bedeviling us so.

One of My Favorite Mickey Rooney films

This is such a great film and one of my favorite Mickey Rooney films (the other is National Velvet, but I think this film slightly edges it). His performance is quite subdued but that is what makes it so effective and with such depth. The whole film has a very homespun feeling that makes you long for a time like this now. Unfortunately it isn't shown enough on TCM. Hopefully it will make a return.

A feel good movie

The year released caught my eye, 1943, the year I was born. The story and charactors reminded me a lot of growing up in the 1940s and the 1950s in a small town in southern Minnesota. Mickey Rooney's films are always a joy to watch and in addition many other actors in this film that we would come to know well. I was hoping it was available on DVD, but apparently not...I'd suggest strongly to release it on DVD. I would plan to purchase it and would hope those of my family younger generations would view it and maybe appreciate life as it was like back then.

LB Mayer's favorite film

I really enjoyed this movie despite a few occasions when I thought the message was too heavily underlined. (For example, that brief scene where James Craig and Marsha Hunt drove through the festival of nationalities.) Some great performances here. Kudos especially to Mickey Rooney and Frank Morgan -- but then, they are always good -- and to the actress who played the schoolteacher and, most of all, to the guy who played Toby -- not a well-known actor, but he couldn't have been better. I was crying by the end of this.

"The real poor are the poor in spirit"

Well said by the woman playing the mother of patriot (in both his reel life and real life) Mickey Rooney, now 92. This movie was meant to keep our country's spirit high in bad times (released in the depths of WW2) and its inhabitants appreciative in good times. It promotes positive values and character traits, sorely lacking in today's flicks. It was awesome seeing Alfalfa (from The Little Rascals) in the scene with the apricot tree.

Timeless and a Time Capsule

I love so much about this movie that I can overlook the embarrassingly cheesy moments and the moments that push the sentimental too hard. It also contains some moments of genuine, heart-tugging poetry on the level of Myth. You must remember that it was released in 1943 and was aimed at reconciling the many doubts and fears of a nation at war. If the Greatest Generation had to lie to itself to survive WWII then I can forgive Hollywood it's overt efforts at propaganda. If this movie shows an idealized America that perhaps never was, so what. It was still what we wanted to believe in and what we wanted to make true. Today's cynical viewer may well find it hard to believe people ever treated each other with respect. But I grew up in the 50's and this movie's ideallic portrayal is not as far-fetched as some might think. We need such portrayals as models. As another reviewer here remarked, we could use more uplifting films today. Amen to that!There are many standout performances in the cast and they frequently elevate the hokier material. My favorites are Mickey Rooney, of course, along with Van Johnson, James Craig, Marsha Hunt, and that old pro, Frank Morgan. I'm also amazed at a little noticed performance by Darryl Hickman, as the "slow" misfit child, Lionel. The scene in the Library where he's showing "all these books" to Homer, his much younger little pal, his best friend because Homer can't read either, is beautifully poignant. He's in such awe of books precisely because he knows he will never be able to understand all the wisdom that these books hold."The Human Comedy" is interesting as a time capsule look at a moment in American history but it also beautifully illustrates some timeless truths about how we all can survive the losses in our lives, how every ending is also a beginning.

The Human Tragedy

I've never seen a more hyper-sentimental movie than this one. It's an ongoing, almost desperate, onslaught of hokey, cliche melodrama. Yet despite it all, it still manages to bring a few tears to one's eyes. But they are resentful tears, for there is nothing noble or inspiring about war. The film's undercurrent of propaganda is more depressing than uplifting in its approach to wrap up violent death in a flag and ram it down the throats of people like so much apple pie -- as if war is a perfectly natural way of life that's here to stay, like it or not. Hopefully the day will come when people realize that their governments works for them and not the other way around. Then the war-mongers on either side won't get the chance to rob you of your personal freedoms yet at the same time claim that's what you're fighting for.

"The Human comedy"

My wife and I just love this film. It is so evocative of the period during WWII, when The USA was gearing up to fight the War, and the servicemen were just starting to be put in action. The scenes of Van Johnson, who plays the part of Marcus McCauley, newly inducted into the army, are especially heartwarming. Van is the older brother of Homer (Mickey Rooney) and he is exceptionally appealing in the scenes he appears in. This was one of Van's first really good rolls at MGM, in an "A" picture, and he proves himself a extremely capable actor, making every line of dialogue, and emotion count. You don't know that he is acting, he seems so real. We can't recommend this film highly enough, and, certainly must give the whole cast an "A" plus for coming through at a time when the country needed a tremendous amount of moral support. Cheers go to Louis B. Mayer and MGM for a job well done!

Surprise

What surprised me most about this film was how much a young Robert Micthum looks so much like a young Sean Penn.

The Human Comedy

This movie makes me wish I had a time machine. If Hollywood made more movies like this,maybe people would walk out of the theater ready to greet life rather than destroy it. A poignant slice of Americana. Get this movie on DVD and you'r doing movie watchers a good turn...reintroducing human dignity!

Let's get this out on DVD!

This is an important film. It catches the mood and spirit of the moment in which it was made and reflects the feelings of mid-20th Century America during World War II. Sentimental? You bet!

The Human Comedy stands out!!

This movie, accurately translated from the William Saroyan novel, is a true slice of idealized wartime Americana at its best. I had read the novel long before having seen the movie. This movie remains in my mind as perhaps one of my all-time favorites, both for its production values and its content. Many of Saroyan's writings feature most of the same very deeply human characters featured in this film, and I often wished that someone might bring some of his other writings to life, in the same way. I have been searching for this film on DVD for years, and am constantly disappointed, unfortunately.

Marvelous Movie - Heartwarming

This movie is tremendous. One of the best I have ever watched. Would be a great reminder to people now of what our young men and women fought so hard to preserve. Great for all ages and members of our families.PLEASE SHOW IT AGAIN IN THE EVENING AND, IF POSSIBLE, MAKE IT AVAILABLE ON DVD SOON.

Fantastic movie!

what a great movie! Please show it again in the evening so more can see it (and so I can see it in entirely. They sure as heck don't make em like this anymore! What a shame.

Mans pinnacle in history

I wish these type of movies were on in the evening when the whole family could watch. This pin points man's greatest and worst era. Lets concentrate on the good. Morals had a place people were responsible and everybodys Dad worked.The director was before his time and a Genius. I never had seen this movie before. I would pay $$ to go to a Movie theater to see this and other movies like it . Why they have a plot a meaning of feel good. No one gets murdered and everyone kept there clothes on. Unless I missed somthing while getting ready for work. Pleqase let me know when this one come on again

The Human Comedy (1943)

A wonderfully simple film, with genuine and sincere performances. Excellent writing and Clarence Brown's direction is right on target. Good sets, nice cinematography. A very touching, warm and wonderful film.

The Human Comedy is a movie for our time!

Great movie with such a message for our time. We need this movie to lift up the spirits of all. Our movie folks have missed the mark in producing movies that are uplifting and encouraging-we need that again. The Human Comedy is that kind of movie Please bring it back!

The Human Comedy - touches the heart.

We need this film to be available on DVD as soon aspossible. This film is perfect for our time. Over theyears I've shared this film with students who werenearly moved to tears and said it possibly changedtheir lives. This is a true classic of life-affirmingfamily and community values. Why with all the awfulfilms available on DVD can't this American classic beaccessible to homes and libraries everywhere?

One of the Best!

My husband and I watched this movie for the first time this week. It was wonderful. We just wish everyone in America had the chance to see such a good movie and remember how America use to be. Mickey Rooney was wonderful in it and the message the movie gave was one everyone should here nowdays. Thanks so so much for showing this great film. I just wish it was out on DVD so I could purchase it for my whole family.

A true classic

The Human Comedy reminds us of a time long ago. Growing up in a small town.So much nostalga. So many tear.They don't make movies like that anymore. That life has passed us by.I do hope it comes out on DVD real soon

Heart-warming for those with loved ones at war.

Beautiful portrayal of love for family and country during WWII -- a simpler time when little things meant a lot. Very encouraging for these times when many are losing loved ones to the war, but not nearly as many as lost their lives for our country in WWII.

Tearjerker

Great, home-front propaganda film from WWII. The story shows how the war affected everyone in different ways and yet all Americans were pulling together to beat the fascists. I love this movie every time it's shown.

with a cast like this ...

each little vignette is welcome (except the sisters parts) to make up a charming picture. Did you notice Darryl Hickman behaving as a goofy adolescent and taking little "Useless" to the library ? The there is Carl "Alfalfa" Switzer in a bit part when the boys go to steal apricots. Frank Morgan makes a scene historical when he passes out at the typewriter...and connects early on with the great Mickey Rooney "Homer"This charming picture gets me everytime -- especially when "Toby" comes back to Ithaca after the esteemed older brother " " Van Johnson was killed in the war.

Movie Fan to the bone

I first saw this movie in my teens on a little Black and white tv with a tiny screen.I cried my eyes out. I ran across it again a few years ago. Since then I have wondered why it was not available on DVD.The movie takes you back to a very simple and romantic time in history. At least it seems simple and romantic to us in this century. I completely enjoyed Mickey Rooney's performance. It is definitely one to own.

THE ENDING IS ONLY THE BEGINNING

This REALLY IS a tear-jerking story. Its a story that shows the unexpected and sometimes tragic things that happen in life. PLEASE suggest this movie or vote for it on DVD. I promise once you watch it you will never forget it!!
*We protect your personal infortmation and will not provide it to anyone without your consent. For a complete explanation, please refer to TCM's Privacy Policy. By submitting your contribution, you agree to TCM's Terms of Use.