DVDs from TCM Shop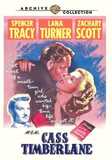 Cass Timberlane An aging judge creates a... MORE&nbsp> $15.96 Regularly $19.99 Buy Now
NOTES
DVDs from TCM Shop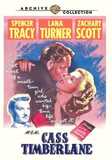 Cass Timberlane An aging judge creates a... MORE&nbsp> $15.96
Regularly $19.99 buy now
The onscreen title reads: Sinclair Lewis' Cass Timberlane. The Sinclair Lewis novel on which this film is based appeared serially in Hearst's International-Cosmopolitan magazine from May-October 1948. An April 1945 Hollywood Reporter news item reported that M-G-M paid $150,000 for the film rights to Lewis' novel. According to information in M-G-M story files at the USC Cinema-Television Library, novelist John O'Hara worked on a treatment and character studies for the film from August 20, 1945 through January 15, 1946. M-G-M story files also reveal that Sidney Kingsley worked on drafts of the screenplay in April and May 1946, but the extent of O'Hara's and Kingsley's contribution to the completed film has not been determined.
According to an August 1945 Hollywood Reporter news item, M-G-M was considering at the time either Spencer Tracy or Walter Pidgeon for the title role. Pidgeon appeared in the film in a brief cameo. A December 1945 Hollywood Reporter news item notes that M-G-M asked David O. Selznick for the loan-out of actress Jennifer Jones for the female lead. Late 1945 Hollywood Reporter news items also note the following: In Oct, while Tracy was set for the title role, M-G-M was negotiating with Vivien Leigh for the female lead. In Nov, Virginia Grey was screen-tested for a "key role," and it was announced that the film would be shot in Minnesota. The film was ultimately shot in and around Los Angeles. In January 1947, four months before the start of production, a Hollywood Reporter news item reported that producer Arthur Hornblow, Jr. and director George Sidney were "stymied" in their search for an actress to play the female lead and had begun looking at footage of actresses who had tested during the year. According to a May 1947 Hollywood Reporter news item, shooting on the film was suspeded for three days due to illness.
The world premiere of the film was held as a charity event for the John Tracy Clinic for deaf children, which was founded in 1942 by Spencer Tracy's wife Louise and named for their own deaf child. In April 1945, according to Hollywood Reporter, Fay Hendry, the mother of Sonya Hendry, a young girl who appeared in the film, was awarded nearly $30,000 for injuries she sustained when the girl was struck by a falling reflector at the site of location filming.