DVDs from TCM Shop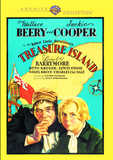 Treasure Island Robert Louis Stevenson's... MORE&nbsp> $15.95 Regularly $17.99 Buy Now
Home Video Reviews
Motion Picture Masterpieces
, a five-disc DVD set from Warner Home Video, has a misleading title. Although its five MGM productions are based on great novels, none of the movies are equally great, and only a couple come anywhere near masterpiece quality. The set is fun to watch, and fans of MGM's lavish 1930s style will have a ball. (This could have been called a Cedric Gibbons Festival, since he did the art direction for every film.) But it's also a reminder that the best screen adaptations usually come from second-rate books-and even tenth-rate ones-that filmmakers aren't afraid to tamper with for cinematic purposes.
Hollywood's first movie version of
Pride and Prejudice
, directed by Robert Z. Leonard and released in 1940, has never been topped. One reason is superb production work by art director Cedric Gibbons, costume designers Adrian and Gile Steele, and cinematographer Karl Freund, who forgoes his German Expressionist roots to capture exquisite images of England in the early 19th century. The film's other big triumph is its cast, topped by Greer Garson as lively, lovely Elizabeth Bennet and Laurence Olivier as her prideful suitor Mr. Darcy, an ideal role that elicited one of his most restrained and refined performances. The movie adds gimmicky episodes for visual excitement-a carriage race, an archery contest-and sugar-coats the ending. But it's terrific entertainment anyway.
Marie Antoinette
, directed by W.S. Van Dyke in 1938, turns the MGM design team loose on the sumptuous Versailles Palace in 18th-century France, where our heroine copes with a hapless husband, falls for a Swedish aristocrat, outgrows youthful irresponsibility to become a compassionate queen, and faces the guillotine after the French Revolution erupts. Norma Shearer is excellent in the title role. Tyrone Power plays the underwritten Count Axel with elegance and charm. And many scenes get stolen by Robert Morley as the Dauphin, a tragicomic character who's heading for the throne but can't figure out how to consummate his marriage. This opulent production is more conventional than the 2006 remake by Sofia Coppola, but just as absorbing. MGM had a flair for the French Revolution, giving it even stronger treatment in Jack Conway's marvelous 1935 version of Charles Dickens's novel
A Tale of Two Cities
, starring Ronald Colman as the self-sacrificing hero. It's also in the
Masterpieces
set.
It's hard to beat the story of
Treasure Island
, with brave young Jim Hawkins setting sail on a pirate-infested ship in search of the legendary Captain Flint's buried hoard of gold and jewels. The best asset of MGM's uneven 1934 version is the supporting cast, especially Nigel Bruce as likable Squire Trelawney and Lionel Barrymore as Captain Billy Bones, the rowdy buccaneer who sets the tale in motion. The leads are less impressive, owing to MGM's not-so-great idea of re-teaming the stars of
The Champ
, a big hit three years earlier. Jackie Cooper expostulates "Bless my soul!" so often you want to hang him from the yardarm, and Wallace Beery makes Long John Silver more cuddly than a self-respecting pirate would ever want to be. The adventure was directed by Victor Fleming, and there's little to suggest he was just five years away from putting his signature on
Gone With the Wind
in 1939.
The Personal History, Adventures, Experience, & Observation of David Copperfield, the Younger
, released in 1935, has always gotten extra points for featuring W.C. Fields as Mr. Micawber, a role he was born to play. In other respects, though, this is one of Hollywood's weaker Charles Dickens adaptations, and one of George Cukor's least memorable directing achievements. Picturesque posing carries more weight than sharp character sketching, and the atmosphere of Victorian England rarely comes alive. Solid work by Basil Rathbone and Jessie Ralph, as Mr. Murdstone and Nurse Peggotty, is overshadowed by lackluster acting from the likes of Roland Young and Lewis Stone, whose Uriah Heep and Mr. Wickfield make sadly wan impressions. Even the inimitable Fields gets weighed down by the screenplay, which cares more about the novel's catch-phrases than the context they need. What should have been a sparkling comedy-drama becomes a period piece that seems longer than its title, which at least has a truly Dickensian ring.
Each of the five
Motion Picture Masterpieces
discs has offbeat DVD extras. Some are connected with the features-versions of
David Copperfield
and
A Tale of Two Cities
made for 1930s radio-but the most fascinating are unrelated MGM shorts and animations from the period. Shorts like
Two Hearts in Wax Time
, about a drunk and a pair of mannequins, and
The Spectacle Maker
, about a magic monocle, are so bizarre it's hard to imagine what the filmmakers could have been thinking of. Ditto for a cartoon like
Poor Little Me
, starring Stinky, a skunk. There's also an "oddity" from Pete Smith that will make you look at stunt bowling in a whole new way, if you've ever looked at it in the first place. Singular items like these are worth the DVD price by themselves.
For more information about
Motion Picture Masterpieces
, visit
Warner Video
. To order
Motion Picture Masterpieces
, go to
TCM Shopping
.
by Mikita Brottman and David Sterritt