DVDs from TCM Shop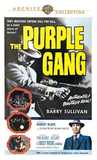 The Purple Gang The story of the infamous gang... MORE&nbsp> $14.95 Regularly $17.99 Buy Now
NOTES
DVDs from TCM Shop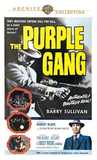 The Purple Gang The story of the infamous gang... MORE&nbsp> $14.95
Regularly $17.99 buy now
The Purple Gang begins with a prologue in which California Congressman James Roosevelt states that the same "sickness" featured in the film still exists in contemporary society, and only an informed public can provide the cure. Then a written statement appears: "This picture is based on information from official files which revealed the shocking story of the wave of juvenile delinquency which spawned Detroit's Purple Gang. Incredible as it May seem, this youthful rat-pack of terrorists dominated the city's underworld for more than a decade during the prohibition era." Voice-over narration, by Barry Sullivan as "Bill Harley," is interspersed throughout the film. Newsreel footage of the 1930s appears intermittently.
The Purple Gang was inspired by the real gang of the same name, which controlled the Detroit underworld from approximately 1927-1932. The mainly young and Jewish hoodlums began with hijacking, extortion and protection rackets, and soon moved into gambling, prostitution and alcohol running. As shown in the film, they fought brutally with warring gangs and, through intimidation and corruption, remained invulnerable to the police. Elvis Presley's hit rock and roll song "Jailhouse Rock" alluded to the gang's notoriety in the line "The whole rhythm section was the Purple Gang." Fred "Killer" Burke, portrayed in The Purple Gang by Paul Dubov, was a real-life hired gunman with the Detroit underworld.
Although October 1959 Hollywood Reporter new items add Ray Kellogg and Jim Healy to the cast, their appearance in the final film has not been confirmed. In addition, modern sources list John Damler, Don Haggerty and Harold Miller in the cast; Haggerty was not discernable in the print viewed. Like many of the critics, the New York Times reviewer noted that the screenplay disdained psychological intervention for juvenile deliquents, and called the film "socially irresponsible."