DVDs from TCM Shop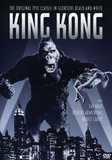 King Kong A film crew discovers the... MORE&nbsp> $10.95 Regularly $14.98 Buy Now blu-ray
Alternate Versions
The original version was released four times between 1933 and 1952, and each release saw the cutting of additional scenes. Though many of the outtakes - including the censored sequence in which Kong peels off Fay Wray's clothes - were restored in 1971, one cut scene has never been found. It is the clip in which Kong shakes four sailors off a log bridge, causing them to fall into a ravine where they are eaten alive by giant spiders. When the movie - with spider sequence intact - was previewed in San Bernardino, Calif., in late January, 1933, members of the audience screamed and either left the theatre or talked about the grisly sequence throughout the remainder of the film. Said the film's producer, Merian C. Cooper, ``It stopped the picture cold, so the next day back at the studio, I took it out myself''.

Other than the sequence where kong pulls Fay Wray's clothes off, here are the other scenes that were cut in the late 30's, and not restored until the seventies:- All scenes of the Brontasourus biting saliors, including the sequence where a sailor climbs to the top of a tree, and soon, a dinosaur comes and takes him away in his mouth.- Kong biting and chewing natives when he breaks through the gate on Skull Island.- Kong squashing a native under his giant foot when he breaks through the gate at skull island.- Kong biting a New Yorker when he escapes from the theatre.- Kong picking a sleeping woman from her hotel room, inspecting her and upon deciding that she's not Ann throwing her to the sidewalk several stories below.

Also available in a computer colorized version.

Also cut from the film at the same time as the spider sequence was a scene involving the search party encountering a group of triceratops right after the brontosaurus attack. Kong stumbles upon the creatures and a battle ensues. He hurls a giant rock at one of them causing one of its horns to break off. Another triceratops chases the sailors further into the jungle and stabs one of them to death with its horn. Also cut was a long sequence of Ann and Jack fleeing from Kong after they jump off the cliff into the river. Another scene cut from the New York sequence had Kong peering into a window and breaking up a poker game. An alternate shot of Kong falling off the Empire State building was filmed but discarded due to less than perfect special effects. A still of this exists and can be found in a book about the making of Kong.