DVDs from TCM Shop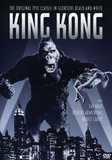 King Kong A film crew discovers the... MORE&nbsp> $10.95 Regularly $14.98 Buy Now blu-ray
Articles
SEE ALL ARTICLES
King Kong (1933)
SYNOPSIS

Carl Denham, an arrogant documentary filmmaker, organizes a trek into uncharted territory in the hopes of discovering a unique animal that he can capture, bring back to civilization, and exploit for profit. After hiring Ann Darrow, an attractive blonde, to help him on his mission, Denham leads his crew to mysterious, fog-enshrouded Skull Island where they encounter something tall, dark, and very hairy.

Director: Merian C. Cooper, Ernest B. Schoedsack
Producer: Cooper & Schoedsack
Screenplay: James Creelman, Ruth Rose

Based on a story by Merian C. Cooper and Edgar Wallace
Cinematography: Edward Linden, Vernon L. Walker, J.O. Taylor
Editing: Ted Cheesman
Art Direction: Carroll Clark, Al Herman, Van Nest Polglase
Music: Max Steiner
Cast: Fay Wray (Ann Darrow), Robert Armstrong (Carl Denham), Bruce Cabot (John Driscoll), Frank Reicher (Capt. Englehorn), Sam Hardy (Charles Weston), Noble Johnson (Native Chief), Victor Wong (Charlie), Jim Thorpe (Native Dancer), Madame Sul-Te-Wan (Handmaiden).
BW-104m.

Why KING KONG Is EssentialThough he was just a series of animated models given life through special effects technology, Kong, with his doomed loved for Ann Darrow, has become one of the most famous of all movie characters, revived in remakes, sequels and rip-offs. He has become a part of contemporary culture as a symbol of both unleashed savagery and nobility brought down by greed.

King Kong was the first of any kind to become a hit with an animated leading player. Willis O'Brien's pioneering stop-motion animation would inspire such later special effects artists as Ray Harryhausen and Jim Danforth and pave the way for contemporary CGI effects.

King Kong is often credited as the first to use miniature rear projections to create special effects sequences. Footage of the actors was projected on a small screen, one frame at a time, behind the models as they were animated.

The film also was one of the first to use Linwood Dunn's newly created optical printer to matte together shots of the animated models and live actors.

King Kong was one of the first films to have a musical score composed specifically for it and one of the most influential. The film was one of Max Steiner's first Hollywood assignments, leading the way to a long career in which he would write music for everything from Casablanca and Now, Voyager (both 1942) to the teen romance A Summer Place (1959). His use of themes in the film, including a love theme for Ann and Kong, was extremely influential.

The success of the film's 1952 reissue, in which it out-grossed many current A pictures, inspired Warner Bros. to make The Beast from 20,000 Fathoms (1953), the film that triggered the giant monster film genre of the '50s.

by Frank Miller
back to top
---
King Kong (1933)
With King Kong's success, a sequel was inevitable. The Son of Kong, released later in 1933, brought back Robert Armstrong as Carl Denham, who returns to Kong's Skull Island home to find a kinder, gentler version of the giant ape. The film was not as successful as the original. Worse, Willis O'Brien used bits and pieces of his Kong models to create the son. One was completely cannibalized. The other survives only as an armature, the original Kong skin having been lost when it was replaced for the sequel.

For King Kong's first reissue, in 1938, some of the original violence and sexuality had to be cut to satisfy the film industry's Production Code, which had not been strictly enforced at the time of King Kong's original 1933 release. Among the lost shots were Kong's removing Fay Wray's clothes, natives being crushed in close-up by the giant ape and a horrifying scene in which he casually drops a woman picked up by mistake during his search for Wray in New York. The footage would not be restored until the late '60s, with a restored print issued theatrically in 1971. In 1976, a new print with the restored scenes was struck from an original print discovered in the United Kingdom.

A 1942 reissue darkened certain scenes to minimize the violence.

In 1949, Willis O'Brien finally won an Oscar® for Best Special Effects (the award was not given until six years after King Kong's release), for another giant ape film, Mighty Joe Young. The film co-stars Robert Armstrong, who played Carl Denham in the original, in a similar role as an impresario out to make a fortune showcasing the giant ape.

In 1956, King Kong was sold to local television stations in syndication. It's first showing in the New York City area was watched by an estimated 80 percent of available households.

In the '60s, college age fans wore buttons reading "King Kong Died for Your Sins."

In one of his most famous comedy routines, Bob Newhart played the night watchman at the Empire State Building as Kong was climbing the structure.

In 1962, Japan's Toho Company bought the rights to the character for use in King Kong vs. Godzilla. Although Willis O'Brien had originated the idea, fans were horrified to see Kong played by a man in a rubber suit. According to legend, O'Brien's widow stayed home and cried the night it premiered. A 1967 sequel, King Kong Escapes, pitted Kong against a robot version of himself.

Dino De Laurentiis produced the film's first official remake which was released in 1976, with Jeff Bridges as leading man, now a paleontologist; Charles Grodin as an oil executive whose team discovers Kong's island; and Jessica Lange as Dwan, a shipwrecked actress. For the final scene, Kong fell from the World Trade Centers rather than the Empire State Building. The film's use of a man in a monkey suit angered critics. When the Motion Picture Academy® voted it an Oscar® for special effects, stop-motion animator Jim Danforth handed in his nomination certificates in protest. Contrary to legend, it actually turned a profit, making $80 million on a $24 million investment.

The original King Kong was among many films colorized by Turner Entertainment in the '80s. Although the process was widely derided by critics, bootleg DVD's of the colorized version are a popular item among King Kong collectors.

For King Kong's 50th anniversary in 1983, Hollywood craftsmen reconstructed the 20 foot head used in the original for display at Grauman's Chinese Theater. It looked so authentic that several newspapers thought it was the original.

The film was given a Criterion laserdisc release in 1985. Film restoration expert Ron Haver's audio commentary was the first ever recorded.

In a sequel to his 1976 remake, De Laurentiis released King Kong Lives in 1986, in which doctor Linda Hamilton keeps the giant ape alive with a giant mechanical heart after his fall from the World Trade Centers.

The long-running animated series The Simpsons spoofed King Kong in "King Homer," a story within 1992's "Treehouse of Horror III" episode. Homer Simpson became a giant ape in love with Marge.

In conjunction with the film's 60th anniversary, Turner Home Entertainment released a video package in 1993 including a poster, three mounted film frames and a documentary on the film's production.

Dudley Moore as King Kong! That was the casting for the direct-to-video animated musical The Mighty Kong, released in 1998. Moore also provide the voice for Carl Denham.

In 2005, New Zealand's Peter Jackson, director of the popular Lord of the Rings trilogy, directed a re-make, stating that King Kong was the film that had inspired him to become a filmmaker. It starred Naomi Watts as Ann Darrow, Jack Black as Carl Denham and Adrien Brody as Jack Driscoll. CGI effects created Kong and the other prehistoric creatures, but Jackson also used actor Andy Serkis, who previously had played Gollum in the Lord of the Rings films, as the movement model for Kong. Jackson was in negotiation to have Fay Wray deliver the last line ("It was Beauty killed the Beast.") when she passed away. Made for a record $207 million, the film grossed well over $500 million.

Collector Bob Burns sold the only surviving armature from one of the Kong models to Jackson in 2005.

King Kong was not released on DVD until 2005, when Warner Home Video and Turner Entertainment put out a special two-disc version. They also released a boxed set featuring King Kong, The Son of Kong and Mighty Joe Young.

An original one-sheet poster for the film recently sold for $52,000.

by Frank Miller
back to top
---
King Kong (1933)
One actress producer-director Merian C. Cooper tried to interest in the role of Ann Darrow was Dorothy Jordan. She didn't want to work opposite an animal, but something about her refusal must have appealed to him. They were married soon after.

The jungle on Skull Island was modeled on the work of engraver Gustave Dore.

The wall separating the native village from the prehistoric jungle had actually been built for Cecil B. DeMille's The King of Kings (1927), while the actual gate came from D.W. Griffith's Intolerance (1916). It would later be destroyed during the filming of the burning of Atlanta in Gone with the Wind (1939).

Drawing on past experience as wrestlers, Cooper and co-producer, co-director Ernest B. Schoedsack acted out the battle between King Kong and the tyrannosaurus for the animators.

The title "King Kong" was optically added to the theatre marquee where Carl Denham is exhibiting the giant ape after the film's title was changed to King Kong.

To play the flyers whose plane brings down Kong at the film's end, Cooper and Schoedsack cast themselves.

Sound engineer Murray Spivack recorded background jungle noises at a nearby zoo, then played them backwards to create a prehistoric feel.

Kong's roar was created by playing a lion's roar backwards and in slow motion. This was then over-dubbed with the animal's high and low notes, played simultaneously

During the climactic battle between Kong and the airplanes, the sun rises in the West.

Asian-American actor Keye Luke contributed some of the art used in the film's press book.

Kong was so convincing many critics insisted he must have been played by a man in a monkey suit. The rumors persisted for years, with several stuntmen claming to have played the role.

The Palace Theatre, in which Carl Denham exhibits Kong, would later house the stage version of Walt Disney's Beauty and the Beast.

For a 2005 DVD version of the original, Peter Jackson, director of the remake, worked with his special-effects team at Weta Workshop, to re-construct the scene. It's included as a DVD special.

One tagline for the film read, "They said it couldn't be filmed -- but it was! See it and ask -- what if such a thing could happen?"

King Kong opened March 2, 1933, at both of RKO's flagship theatres in New York -- the Radio City Music Hall and the Roxy. It was the first film to open at both theaters at once.

King Kong took in more than $100,000 during its first week, the biggest movie opening to that time.

Memorable Quotes From KING KONG

"And the Prophet said, 'And lo, the beast looked upon the face of beauty. And it stayed its hand from killing. And from that day, it was as one dead." -- "Ancient Arabian Proverb" created for the opening title card

"Is this the moving picture ship?" -- Sam Hardy, as theatrical agent Charles Weston, speaking the film's first line

"It's money and adventure and fame. It's the thrill of a lifetime and a long sea voyage that starts at six o'clock tomorrow morning." -- Robert Armstrong, as Carl Denham, selling Fay Wray, as Ann Darrow, on joining him

"Did you ever hear of...Kong?" -- Armstrong, as Carl Denham, trying to interest Frank Reicher, as Captain Englehorn, in a little side trip

"Cover your eyes and scream, Ann, scream for your life!" -- Armstrong as Denham, directing Wray, as Ann Darrow, in the character's screen test

"What does he think she's really going to see?" -- Bruce Cabot, as Jack Driscoll, commenting on the screen test

"Some big hard-boiled egg gets a look at a pretty face and bang -- he cracks up and goes sappy." Armstrong, on the romance between Cabot, as Jack Driscoll, and Wray, as Ann

"He's always been the king of his world, but we'll teach him to fear. Why, the whole world will pay to see this! In a few months it'll be up in lights: 'Kong, the Eighth Wonder of the World!'" -- Armstrong, persuading his crew to take Kong back to civilization

"Hey, what's this show about, anyway?"
"I don't know -- they say it's some big gorilla."
"Oh, geez -- ain't we got enough of them in New York?" -- Vera Lewis and LeRoy Mason, as theater patrons, waiting to see Kong

"And now, ladies and gentlemen, before I tell you any more, I'm going to show you the greatest thing your eyes have ever beheld. He was a king and a god in the world he knew, but now he comes to civilization merely a captive -- a show to gratify your curiosity. Ladies and gentlemen, look at Kong, the Eighth Wonder of the World." -- Armstrong, introducing Kong to the theatre audience."Don't be alarmed, ladies and gentlemen. Those chains are made of chrome steel." -- Armstrong, uttering some famous last words.

"It wasn't the airplanes. It was Beauty killed the Beast." -- Armstrong, speaking the film's final line.

by Frank Miller
back to top
---
King Kong (1933)
Documentary filmmaker Merian C. Cooper got the idea for King Kong while shooting location footage in Africa for his first fiction film, The Four Feathers (1929). He became fascinated with gorillas. Later he was equally fascinated by the Komodo dragons a friend of his had brought back to the Bronx Zoo from the Dutch East Indies. Eventually the two fascinations merged in the idea for a film about a giant ape living on an island inhabited by prehistoric monsters.

Initially, he thought King Kong could be made with real apes enlarged through trick photography but nobody at Paramount Pictures, for whom he was making The Four Feathers, was interested.

After time off from filmmaking, Cooper accepted an offer from his friend David O. Selznick to come to work at RKO Pictures. Cooper had actually gotten Selznick the job running RKO, using his influence with David Sarnoff, general manager for RKO's parent company, RCA.

One of Cooper's first assignments at RKO was to evaluate Creation (1931), a project of special effects pioneer Willis O'Brien, whose specialty was animating models to create the illusion of life. O'Brien's biggest hit at that point had been the silent version of Arthur Conan Doyle's The Lost World (1925), in which scientists discover dinosaurs living on a remote plateau in South America. Creation had a similar plot, but RKO executives had abandoned the project, deeming it too expensive.

When he viewed O'Brien's test footage and models, Cooper saw a way to bring his giant gorilla idea to life. He pitched the project to Selznick, who shared his enthusiasm.

At the time, the studio had a $200,000 limit on productions, but Cooper projected that his new film would cost twice that. Selznick siphoned money from other productions to make up the overage.

One factor encouraging RKO to green-light King Kong may have been the success of the low-budget pseudo-documentary Ingagi (1931), which made over $4 million in small exploitation theaters with its tale of native women sacrificed to an ape god.

To structure the story, Selznick assigned famed thriller writer Edgar Wallace. Wallace turned in a draft that put Cooper's ideas on paper, but he also inserted a subplot of his own about escaped convicts. Within weeks of arriving in Hollywood, however, he died of pneumonia. Cooper kept his name on the film.

Selznick then assigned Ruth Rose -- the wife of Cooper's partner, Ernest B. Schoedsack -- and James Creelman to write the film. They modeled the character of Carl Denham, the impresario who brings the giant ape to New York, on Cooper and Schoedsack.

The film went on the books as RKO Production 601, then was titled The Beast and The Eighth Wonder before becoming simply King Kong. In the film, the giant ape was only called "Kong." The "King" part was an addition by RKO publicity.

Even before the script was written, Cooper knew that he wanted a blonde to contrast with Kong. He even considered Jean Harlow.

Fay Wray had already starred in The Four Feathers and was currently filming Cooper's first RKO film, The Most Dangerous Game (1932), when he offered her "the tallest, darkest leading man in Hollywood." She thought she was going to be working with Cary Grant until he showed her the preliminary production designs.

Other actors chosen from the cast of The Most Dangerous Game to star in King Kong were Robert Armstrong, who would play Denham, and Noble Johnson, who played the native chief.

Originally, Cooper wanted to cast Wray's other co-star from The Most Dangerous Game, Joel McCrea, as Jack Driscoll, but his agent asked for too much money.

Bruce Cabot, who played the romantic lead, had only done a few bits when movie star Dolores Del Rio spotted him working as a manager at the Embassy Roof Club and recommended that Selznick sign him at RKO. King Kong was his first assignment there, but with the time needed to perfect the special effects, it would be his fourth RKO film released.

O'Brien finished work on Kong's fight with the tyrannosaurus rex before principal photography started. To get RKO's executives to put more money into the film, Cooper shot a test reel with Wray. She spent 22 hours in a dead tree as the special-effects footage played on a screen behind her. Even though all she could see were blurs, she had to react as though witnessing the battle while Cooper, off-camera, shouted, "Scream! Scream for your life, Fay." The executives were so impressed, they eventually let Cooper go $300,000 over budget.

by Frank Miller
back to top
---
King Kong (1933)
Even before the script for King Kong was completed, Cooper started filming action sequences with Fay Wray and Robert Armstrong during breaks in the filming of The Most Dangerous Game (1932), which also had a jungle setting.

The 18-inch models of Kong built by Willis O'Brien's assistant, Marcel Delgado, were the first animation models with metal skeletons and joints. Instead of the jerky movement of models built on wood, Kong moved much more smoothly, creating a greater illusion of life. Delgado covered the skeleton with rubber muscles that actually expanded and contracted as they were moved. The creature was then covered with rubber and latex skin and rabbit fur.

The animated models had to be shot one frame at a time, with minute adjustments between each shot. It often took an entire afternoon to get the 24 exposures needed to fill one second of screen time. The battle between Kong and the pterodactyl took seven weeks to film.

Most sequences in King Kong had to be shot non-stop, often requiring 20-hour workdays. Sometimes the shrubs used to dress the miniature sets actually wilted during filming. At one point, one of the plants on the set flowered. Before a scene could be started, all the lights on the soundstage had to be replaced with new ones to make sure they wouldn't flicker during the scene. The stage had to be sealed, and nobody could leave or enter to prevent any wind from moving the foliage.

Each night, the Kong models had to have their skins removed so Delgado could tighten the hinges on the metal armatures.

The one flaw that remains in the animation is the way Kong's fur seems to be moving constantly, showing where the animators had to grab the figure to move it.

O'Brien used three techniques for scenes uniting actors and models. The standard, at that time, was to film the actors in front of a projection screen with the effects footage. That was used for Kong's fight with the tyrannosaurus and the scene in which Carl Denham shoots the stegosaurus. O'Brien could also matte together actors and models in an optical printer. For those scenes, like the fight with the pterodactyl, Cooper shot the actors first, then filmed the models with the actors' side of the screen matted out.

The third technique was Cooper and O'Brien's innovation for King Kong. Cooper filmed the actors, then O'Brien projected the image one frame at a time on a screen behind the models. That's how they filmed Kong's removal of Wray's clothing. Originally, Cooper had wires attached to her clothes to pull them off her body. The model's movements were then matched to hers. Unfortunately, O'Brien and Cooper forgot to patent their approach, thereby losing a fortune.

In addition to the models of Kong, O'Brien had a 20-foot high head constructed. Three men sat inside it operating various levers to change the facial expression. Other body parts used in the film were a giant foot, to show Kong trampling people, and a giant hand for close-ups of Wray struggling in his grasp.

For the scenes of Wray in Kong's hand, the hand was attached to a crane and raised ten feet. First a technician put her in the hand and closed the fingers around her. Then the hand was lifted for filming. She would later say her terror in those scenes was real. The more she struggled, the looser the hand's grip grew. When she thought she was about to fall, she had to signal Cooper to stop filming.

After completing her scenes in King Kong, Wray spent a day in the sound studio recording a series of screams she dubbed her "Aria of the Agonies."

It took a year after the actors were finished for O'Brien to finish the effects work and Cooper to get the film put together. Between her work on King Kong and the film's release, Wray made four other films.

According to legend, one of the film's most spectacular scenes had to be cut because it upset preview audiences so much they couldn't focus on the next few scenes. Lost forever is a scene depicting the fate of the crewmen Kong shakes off a tree bridge. Originally they landed in a valley where they were attacked by giant spiders. Recently discovered memos from Cooper suggest that the scene was actually cut before previews because he felt it slowed the film down. The lost sequence inspired a scene in the 2005 re-make.

by Frank Miller
back to top
---
King Kong (1933)
AWARDS & HONORS

In 1991, King Kong was voted a place on the National Film Registry.

In a 1998 poll conducted by The American Film Institute, filmmakers and critics voted the film number 43 on a list of the 100 greatest American films ever made.

The film's final line was voted the 84th greatest movie line of all time in a poll conducted by the American Film Institute.

THE CRITICS' CORNER - KING KONG (1933)

King Kong took in $1,761,000 domestically during its initial release, saving RKO Pictures from bankruptcy.

"If properly handled, should gather good grosses in a walk...and may open up a new medium for scaring babies via the screen." -- Variety.

"Imagine a fifty-foot beast with a girl in one paw climbing up the outside of the Empire State Building, and after putting the girl on a ledge, clutching at airplanes, the pilots of which are pouring bullets from machine guns into the monster's body." -- Mordaunt Hall, The New York Times.

"Just amusing nonsense punctuated by such reflections as why, if the natives wanted to keep the monster on the other side of the wall, they should have built a door big enough to let him through." -- James Agate, London Sunday Times.

"If this glorious pile of horror-fantasy hokum has lost none of its power to move, excite and sadden, it is in no small measure due to the remarkable technical achievements of Willis O'Brien's animation work, and the superbly matched score of Max Steiner." -- Wally Hammond, Time Out.

"...King Kong is more than a technical achievement. It is also a curiously touching fable in which the beast is seen, not as a monster of destruction, but as a creature that in its own way wants to do the right thing." -- Roger Ebert, Chicago Sun-Times.

"The technical innovations found in King Kong are not the only reasons for its success; every good film must start with a good story. King Kong has a universal appeal, making it one of the most popular and well-known films in American culture." - Linda J. Obalil, The International Dictionary of Films and Filmmakers.<

"The greatest of all horror films..." - Danny Peary, Guide for the Film Fanatic.

"The monster....is as breathtaking in its first appearance as it is in the climax, when it climbs to the top of a skyscraper carrying the girl in its hand and is attacked by airplanes." - Georges Sadoul, Dictionary of Films.

"King Kong...is an untouchable, the epitome of cult sensation that makes great movies." - David Thomson, The New Biographical Dictionary of Film.

"The greatest monster movie of all, a miracle of trick work and suspense, with some of the most memorable moments in film history." - Halliwell's Film & Video Guide.

"A timeless classic made by a team of documentary filmmakers who patterned hero Carl Denham after themselves." - Michael Weldon, The Psychotronic Encyclopedia of Film.

"As a film, King Kong is barely average: crudely acted, little more than competently directed, and with (famed) special effects which vary wildly from the magnificent...to the mediocre...It can't even boast originality - there had been a screen history of prehistoric monsters just as huge and twice as ferocious....Yet what was Kong really going to do with his miniature Wray other than tear her limb from limb or eat her?....The real - the mythical - tragedy of Kong isn't that he didn't get to make love to Wray, but that if even he fails to non-conform, then there is indeed cause for despair." - The Encyclopedia of Horror.

"Yes, a monster runs amok in King Kong, but only at the climax of a multi-faceted, subtly poetic study of vanity...It's a weird love triangle, and a commentary on how arrogance and desire makes animals of us all. It's a portrait that takes a big canvas." - Noel Murray, The Onion A.V. Club.

"The classic monster picture that spawned the rest is not simply a venerable old cinematic relic that one is obliged to give a passing mention to. King Kong was created to grip and thrill like no movie before, and these basic principles hold surprisingly true today." - Almar Haflidason, bbc.co.uk

Compiled by Frank Miller & Jeff Stafford
back to top
---
King Kong (1933)
Whoever thought that a movie starring a giant ape would inspire countless imitations? But King Kong (1933) turned out to be a major blockbuster for its era and still remains the "king" of this peculiar genre. For those who need to brush up on their gorilla classics, here's the set-up: Carl Denham (Robert Armstrong), an arrogant documentary filmmaker, organizes a trek into unchartered territory in the hopes of discovering a unique animal that he can capture, bring back to civilization, and exploit for profit. After hiring Ann Darrow (Fay Wray), an attractive blonde, to help him on his mission, Denham leads his crew to mysterious, fog-enshrouded Skull Island where they encounter something tall, dark, and very hairy.

Working with a modest budget, Merian C. Cooper and Ernest B. Schoedsack, the producers of King Kong, had to make do with limited resources in terms of sets. Most of the budget was allocated to special effects and musical scoring. The jungle, overgrown with gigantic flora, was actually recycled from Schoedsack's previous film, The Most Dangerous Game (1932). He actually began shooting jungle locations for King Kong before The Most Dangerous Game had wrapped and between setups the crew would rush in to shoot their own jungle scenes. What made the schedule even more hectic was the fact that Fay Wray also starred in The Most Dangerous Game and had to race back and forth between the two films; Not surprisingly, her outfit for the jungle sequences in each film is suspiciously familiar!

Originally co-director Merian Cooper envisioned using a real gorilla for Kong, but once having screened Willis O'Brien's animation for a now-lost film called Creation, he knew that the special effects technician could bring his beast to life. Although in the film, Kong appears to be 40 feet tall; he was actually only an 18-inch model. The great ape was a skillful combination of a metal mesh skeleton, a mixture of rubber and foam for the muscle structure and rabbit fur for his hair. With trick photography, rear projection and an array of glass plates, Cooper and Schoedsack helped their three cinematographers blend O'Brien's stop-motion-animated sequences with real actors to create a realistic beast. O'Brien, of course, had built his reputation as Hollywood's top motion-control animator with his first feature-length film, The Lost World (1925), starring Wallace Beery.

As wildly popular and profitable as King Kong was on its first release in 1933, the censors sharpened their scissors on the big gorilla for its 1938 re-release and demanded that 29 scenes from the original version be cut before the film could be granted a seal of approval. For example, the bloody carcasses of five men dying in the jaws of the Brontosaurus were edited so that the beast only claimed three victims. Three lives were more acceptable to the Hays Office. The scene in which Kong holds an unconscious Ann Darrow (Fay Wray) captive in his massive palm while gently peeling off her dress like a linen banana was completely unacceptable to the new morality. This scene was completely eliminated for the 1938 release. Other scenes that were deleted included Kong chomping down on a New Yorker and dropping a woman from the Empire State Building. Despite these crucial cuts, most of the edited scenes were eventually restored to King Kong and seem rather tame by today's standards. However, O'Brien's title creation is still impressive, particularly in his first appearance, and Fay Wray still has the best scream in Hollywood history; it's one that has chilled audiences in such classic horror flicks as Doctor X (1932) and The Vampire Bat (1933).
Director: Merian C. Cooper/Ernest B. Schoedsack
Producer: Merian C. Cooper, Ernest B. Schoedsack, David O. Selznick
Screenplay: Merian C. Cooper, Edgar Wallace (story), James Ashmore Creelman, Ruth Rose
Cinematography: Edward Linden, Kenneth Peach, J. O. Taylor, Vernon L. Walker
Music: Max Steiner
Art Direction: Carroll Clark, Alfred Herman, Van Nest Polglase
Special Effects: Willis O'Brien, Harry Redmond Jr.
Cast: Robert Armstrong (Carl Denham), Fay Wray (Ann Darrow), Bruce Cabot (Jack Driscoll), Frank Reicher (Captain Englehorn), Sam Hardy (Charles Weston), Noble Johnson (Native chief), James Flavin (Briggs).
BW-105m. Closed captioning. Descriptive Video.

by Vicky Lee, Mike Tandecki, & Jeremy Geltzer
back to top
---