DVDs from TCM Shop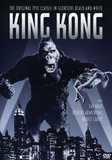 King Kong A film crew discovers the... MORE&nbsp> $10.95 Regularly $14.98 Buy Now blu-ray
NOTES
The working titles of this film were The Eighth Wonder, The Beast and Kong. In the opening credits, the cast list is concluded with the billing "and King Kong (The Eighth Wonder of the World)." An "old Arabian proverb" is then quoted onscreen: "And the prophet said: 'And lo, the beast looked upon the face of beauty. And it stayed its hand from killing. And from that day, it was as one dead.'"
The above cast list includes most of the featured bit players in the film, as indicated by daily studio production sheets, as well as selected names of the hundreds of extras who were used in the production. In many cases, actors played double or triple roles, and the above list May not indicate every part played by a given actor.
Unless specified as coming from studio production files, studio memoranda, contemporary news items or reviews, the following information about the production is provided by modern sources, including autobiographies and personal correspondence: According to a modern interview with Merian C. Cooper, the creation of King Kong began with him. In 1929, Cooper, who with co-director Ernest Schoedsack, had made two successful ethnographic documentaries-Grass in 1925 and Chang in 1927-started writing a long monograph on baboons, based on observations he had made of the animals while location shooting in Africa for Paramount's The Four Feathers, a drama he made with David O. Selznick, Schoedsack and Fay Wray. Although the monograph was accidentally destroyed and never rewritten, Cooper retained his interest in exotic animals and read The Dragon Lizards of Komodo (New York, 1927), a nonfiction book written by his friend, W. Douglas Burden, a trustee of the American Museum of Natural History in New York. In his book, Burden describes his exploration of the East Indian island of Komodo and his study of the rare dragon lizards that inhabit the island.
In a letter to Burden written in 1964 and quoted in a modern source, Cooper says: "Then one day, after one of my conversations with you, I thought to myself, why not film my Gorilla ....I also had very firmly in mind to giantize both the Gorilla and your Dragons to make them really huge. However, I always believed in personalizing and focusing attention on one main character and from the very beginning I intended to make it the Gigantic Gorilla, no matter what else I surrounded him with....I had already established him in my mind on a prehistoric island with prehistoric monsters, and I now thought of having him destroyed by the most sophisticated thing I could think of in civilization.... My very original concept was to place him on the top of the Empire State Building and have him killed by airplanes....I thought that by mattes and double printing and the new technique called rear projection it could be done....I personally conceived and initiated development of the photographic process afterwards called 'miniature projection'....I...went ahead and wrote a number of outlines of King Kong in the years 1929-30." In a return letter, Burden confirms many of Cooper's recollections.
In 1931, while Schoedsack was in Sumatra filming a picture called Rango, David Selznick became the production head at the financially desperate RKO. Through Myron Selznick, Cooper then tried to purchase the screen rights to Edgar Rice Burroughs' Tarzan from Irving Thalberg at M-G-M, with the thought that shooting a double "Africa" project, Tarzan and King Kong, would make economic sense. When that failed, Cooper went to Hollywood in October and November of 1931 and discussed the possibility of making his gorilla picture at RKO, but was discouraged not only by Selznick but by every other producer in town. Cooper was hired, however, as an associate producer at RKO in early December 1931. According to a 1963 letter from Selznick to Cooper as quoted in modern sources, Selznick assigned Cooper the "problem of studying and cutting down the overhead" of the studio, and in particular to study a project titled Creation.
After Cooper visited the set of Creation, a stop-action animated film on which chief technician Willis O'Brien and his crew had been working for over a year, he concluded that the project should be scrapped, but that O'Brien's stop-action animation techniques, which O'Brien first developed in a 1925 First National film, The Lost World, should be used to realize his own "giant gorilla" idea. Cooper realized that by using O'Brien's techniques, Kong could be made without costly location shooting in Africa. In a December 19, 1931 studio report, as quoted in modern sources, Cooper writes: "I have prepared and am sending...my conception of this Giant Terror Gorilla, and the kind of scenes in which he should be used....However, before any large amount of money is spent on this picture, I suggest that we make two scenes with the Giant Gorilla, to see how lifelike and terrible a character it can be made." Selznick agreed enthusiastically with Cooper's proposal but had to push hard to convince RKO's New York executives to finance even the one-reel test.
With the go-ahead for the test, Fay Wray was hired, a Kong model was created, and several rubber-and-dural dinosaurs left over from Creation were employed. For Kong, Cooper assigned modelmaker Marcel Delgado to build a miniature, "almost human" ape figure. After two unsuccessful attempts, Delgado came up with an eighteen-inch model that satisfied Cooper's conceptions. The scenes to be shot for the test featured Kong tossing terrified sailors off a log to their deaths, and Kong fighting the allosaurus (many sources refer to this dinosaur as a tyrannosaurus rex) in front of Ann. (Some modern sources state that the scene involving a triceratops was also part of the test.) The log scene was capped by the doomed men being eaten alive by enormous crab spiders, a scene that, after a preview in San Bernadino, Cooper excised from the final film because he felt the action slowed the pace of the sequence too much and because a test audience reacted negatively to their appearance. (One of these spider models was employed many years later, however, in O'Brien's 1957 Warner Bros.' film The Black Scorpion.)
A contemporary New York Times article reported that "three months were spent investigating scientific records before a single scene was photographed on the RKO-Radio sets....Geographical data concerning the vegetation, location and population of an imaginary island...were checked with experts and university research departments. Paleontologists were consulted by Willis O'Brien....It was discovered...that the most likely place for an island...where prehistoric monsters might exist, was off the Malay Peninsula. The backgrounds were prepared with this locale in mind. More than 600 hand drawings, with quantities of detail, were made by the scientific artists, Mario Larrinaga and Byron Crabbe." Ernest Smythe also drew some of the illustrations. Eadweard Muybridge's nineteenth-century sequence of photographs of animals in motion, as well as slow-motion films of elephants, were also studied by the animators. According to another New York Times article, the "initial work of the technical staff was kept secret from the general staff on the lot because RKO wanted to be certain the secrecy of its process was kept inviolate." According to studio correspondence, Stacy Woodard was hired in mid-January 1932 to shoot "some microscopic animal shots" and "some shots of a fish sequence" for "possible use in the proposed picture Kong." It is not known if any of Woodard's footage was used in the final film, though it seems likely that this footage was designed for the deleted spider crab scene.
During the filming of the test reel, Selznick brought in popular English mystery writer Edgar Wallace to write a draft of the script based on Cooper's treatment. Selznick writes in a modern source: "I had signed up and sent for Edgar Wallace and brought him to California, where unfortunately he died in consequence of getting pneumonia [on 10 February 1932]....I have never believed that Wallace contributed much to King Kong, but the circumstances of his death complicated the writing credits." Selznick persuaded Cooper to use Wallace because of his renowned speed and talent, but also admitted his desire to exploit the popular writer's name. In a July 1932 memo to Selznick as quoted in modern sources, Cooper complains about giving Wallace a story credit as he believed that little if any of the script was attributable to him. He did agree that Wallace's name should appear on the novelization of the screenplay, which was written by Delos Lovelace, because he recognized the value of Wallace's name and wanted "to use it." However, a modern source contends that Wallace contributed more than Cooper was willing to admit. Wallace's draft of the script, which he wrote between 1 January and January 5, 1932, does detail many aspects of the story as it was eventually filmed. In addition, Wallace indicates in his published memoirs that his script was received with great enthusiasm by Cooper and Selznick. It is not known how heavily Wallace relied on Cooper's treatment for his draft, however.
After Wallace's death, other writers were approached with the project. In late February 1932, Dudley Nichols was announced in Film Daily as "completing the script" for The Beast. No studio records confirming Nichols' participation have been found, and the exact nature of Nichols' contribution to the final film is not known. Leon Gordon is credited in production files as a treatment writer, while a July 1932 Film Daily news item announced him as a dialogue writer. The exact nature of his contribution to the final film is not known. Production files indicate that between March and June 1932, James Creelman wrote at least two drafts of the script. According to modern sources, Creelman quit after the first draft due to differences with Cooper. Cooper hired Ruth Rose, Ernest Schoedsack's wife, in July 1932 to write a script based on Creelman's draft and his own treatment.
For her screenwriting debut, Rose, who had written magazine articles and a short story, completely rewrote Creelman's dialogue and gave the script a simplicity the previous draft had lacked. In particular, Rose eliminated scenes detailing Kong's ocean trip to New York. In a radio interview as quoted in a modern source, Cooper told Rose to "establish everything before Kong makes his appearance so that we won't have to explain anything after that. Give it the spirit of a real Cooper-Schoedsack expedition." In fact, according to the interview, Cooper instructed Rose to "put us" [he and Schoedsack] in it [the story]," and it is generally acknowledged that the character of Jack was modeled on Schoedsack, while the character of Denham was based on Cooper. Using his documentary Chang as a model, Cooper insisted that Kong's first appearance in the film not be rushed in order to build up audience expectation and suspense. Rose continued to rewrite and refine her script during the long production. For scenes involving the Native Chief, Rose invented words to represent a language similar to the Nias Islanders'. Concerned that this dialogue might be offensive, the Hays Office demanded an English translation be submitted with the script for approval.
After viewing the test reel, RKO studio executives gave Cooper an enthusiastic go-ahead and awarded him a $500,000 budget. A March 1932 studio memo from Cooper indicates that before a budget for King Kong was prepared, RKO's legal department had to clear up questions concerning the shooting of the New York sequence. It has not been ascertained what potential legal problems were posed by this sequence. The same memo indicates that the start of animation shooting was delayed because chief technician Willis O'Brien and technician E. B. Gibson were extremely ill with pneumonia, influenza and blood poisoning.
As mentioned above, animation techniques used in the film included rear projection, the Dunning Travelling Matte Process and the Williams Travelling Matte Process. The Dunning and Williams Travelling Matte Processes enabled the filmmakers to combine with greater realism scenes in which foreground and background action were shot at different times and places. Although the rear projection process was not new to King Kong, O'Brien and his collaborators greatly improved and enhanced the technique. Sidney Saunders, head of RKO's paint department, for instance, refined the screen on which the previously filmed action was projected. His cellulose-acetate screen was much larger than previous screens, and was flexible, non-breakable and heat resistant, attributes that significantly reduced lighting problems that had previously plagued the process. In addition, King Kong is generally acknowledged as the first film to use miniature rear projection, the process whereby previously filmed live action sequences were projected into the miniature settings.
Many scenes employed Saunders' technique, including the one in which Jack hides from Kong in a protected jungle nook. Instead of first shooting Kong's animated movements and then projecting them on a screen behind the actor, the actor's movements were shot and then projected on a screen, against which the model Kong was moved. Miniature projection was also used in the scene in which Kong examines Ann's clothes and body. Kong's giant arm and hand were filmed with Wray, and then the rest of Kong, in miniature, was matched against this already filmed life-size action.
In a modern essay, O'Brien states that once the animators had decided which technique to employ, "the layout or construction plans were drawn and detailed, even to the exact position of the camera and the placing of the people and animals." O'Brien continues: "This work was done by Caroll Shepphird. If people were to be projected or matted in the set, a complete drawing for that part of the set would be necessary, so that they would take their place in the miniature in the correct perspective and create a convincing picture." The settings against which the animated action was shot were combinations of miniature construction and paintings on flats and glass. For some of the jungle scenes, where a deep, textured look was desired, O'Brien used as many as three planes of painted glass for a single shot with miniature set elements, including live foliage, sandwiched between them. Instructed by Cooper and O'Brien to copy illustrations by Gustave Dor for Paradise Lost, Mario Larrinaga and Byron Crabbe painted the glass for the jungle sets. Some of the New York scenes also used this three-plane technique.
The model of Kong was built around an articulated steel skeleton and had latex rubber muscles, which moved in a lifelike manner. The skeleton was stuffed with cotton, covered with liquid latex to form the basic shape, and then covered with bear fur. (Originally rabbit fur was used but was replaced after the animators discovered that it held and revealed their finger impressions from shot to shot.) Because the models suffered wear and tear over the course of shooting, two Kong miniatures were constructed and "spelled" each other as needed. The miniature dinosaurs had their own "stand-ins," simply constructed models that were used when a set was being lighted.
In addition to the two miniature Kongs, a giant head, arm and hand and foot of the beast were created, as was a giant pteradodon talon. In a modern essay, Marcel Delgado recalls that the head required three or four men inside to work the jaws and eyes. The detailed hand had jointed digits. Delgado also notes that Kong's dimensions varied from scene to scene; in most sequences, he would appear, by comparison, to be eighteen feet tall, in others as much as twenty-four. In the scene in which Kong scales the Empire State Building, for instance, Kong is, by comparison with the actual size of the building, about twenty-four feet tall, an adjustment Cooper ordered to avoid having Kong look like a speck against the skyscraper. In most reviews and ads, however, Kong was described as a fifty-foot ape, and in certain scenes, he actually appears to be that tall by comparison. The scale for the dinosaur models and the miniature people were constant throughout the picture, one inch of model for each foot of screen size.
In her autobiography, Fay Wray describes how the "big arm" sequences were shot: "The big arm, about six feet long, was attached to a lever so it could be raised or lowered. I would stand on the floor while a grip...would place the flexible fingers around my waist in a grip secure enough to allow me to be raised to a level in line with an elevated camera. There was a wind machine to give motion to my clothes, and I struggled to give the illusion that Kong was a fearsome forty feet tall." Wray recalls that, although Walter Plunkett is generally credited on the film as costumer, her costumes were designed by "a young woman from New York."
Linwood Dunn, a member of cameraman Vernon Walker's crew, and an expert in optical printing, Dunn's assistant, Cecil Love, and his engineer, Bill Leeds, worked with Willis O'Brien to match composite shots during the printing process. In a modern essay, Dunn recalls that the RKO camera department "only had one optical printer and the thing was constantly in use for duping, making trick matting shots, fades, dissolves, split-screen effects and multiple exposure work." The film was printed on an Eastman Supersensitive Panchromatic negative, according to a contemporary ad.
During the course of principal photography, production files indicate that Cooper concentrated on the more technical scenes, including the later New York, jungle and ship scenes, while Schoedsack directed the remaining sequences, including the village scenes and some of the New York footage. Beginning in June 1932, live action scenes were shot in three or four week stretches with weeks off in between. Experience taught the animation crew that, to achieve a constant look to any given scene, continuous shooting was needed, consequently the production days could be quite long. In her autobiography, Fay Wray recalls that she worked a straight twenty-two hours on her test reel scene, acting on a tree limb that had been placed next to a screen projecting the already filmed battle scene between Kong and the allosaurus. The scene depicting the sacrificial ceremony, which involved hundreds of extras, three camera crews, a flotilla of costume and makeup personnel and sixty-five electricians, was shot by Schoedsack in one night.
Joel McCrea was first considered for the role of Jack Driscoll, but Bruce Cabot was hired because he was perceived as better suited to the physical demands of the part. "Jack" was Cabot's first featured role. Wray notes in her autobiography that Cooper first thought of Jean Harlow for the Ann Darrow part and had also asked Dorothy Jordan, his wife-to-be, to star, but was turned down. A Film Daily news item added Ynez Seabury to the cast, but her participation in the final film has not been confirmed. Although some modern sources, including the actor's obituary, suggest that Charles Gemora, wearing a gorilla suit, portrayed Kong, most modern sources insist that all of the ape scenes were achieved through animation. Another actor, Ken Roady, is also credited by a modern source as playing the ape in costume.
Production files confirm that sets from the RKO jungle film, The Most Dangerous Game, which Schoedsack was directing during the day, were used at night by Cooper and his crew during part of King Kong's shooting schedule. Wray and Robert Armstrong starred in The Most Dangerous Game. (Modern sources note that the King Kong log was re-used in The Most Dangerous Game.) The New York auditorium scene, which was supposed to suggest Madison Square Garden or Radio City Music Hall, was shot at the Shrine Auditorium in downtown Los Angeles, while the harbor scenes were shot in San Pedro, CA, according to production files. Modern sources add that an actual freighter that was parked at the harbor was used for some scenes, and note that the Los Angeles River provided the foreground for some of the jungle footage. Some of the exterior shooting was done at RKO-Pathe's "40 Acres" ranch in Culver City, according to studio files. Studio correspondence indicates that the set for Cecil B. DeMille's film King of Kings, which Cooper estimated originally cost $100,000, was remodeled for $14,000 and was used in the village sequences. Cooper wanted the village to appear to be built "on the ruins of an old civilization." This set was re-used in RKO's 1935 film She and was destroyed in December 1938 as part of the burning-of-Atlanta scene in M-G-M's 1939 classic, Gone With the Wind.
The four biplanes, which were Curtiss O2C-2 and Navy NY craft, and their pilots were obtained from Floyd Bennett Field. Footage of actual flying was intercut with footage using miniature and process techniques. To obtain shots of Kong from the pilots' point-of-view, a twenty-four foot wooden ramp was built on which the miniature planes, suspended by thin piano wires, "swooped" toward the ape. The shots of the planes circling and diving were achieved by using different size models to suggest varying distances from the building. For the scenes on top of the Empire State Building, Schoedsack went to New York and took precise measurements of the edifice's pinnacle, and an actual-size replica was built on the RKO lot.
Budgetary concerns hounded the production. Studio correspondence includes numerous memos from Merian C. Cooper and others sent to various RKO executives justifying increases in production costs. In a modern source, Selznick is quoted as saying that he squeezed monies from other RKO productions to finish the picture. In addition to the budget, studio executives were also concerned about the length of the production schedule, which far exceeded any previous RKO venture. In an April 1932 Film Daily news item, RKO announced that the average cost for one of their "A" pictures was to be $225,000. According to a 1947 studio memo, the final negative cost of King Kong was $672,254.75, $270,000 more than the original projected budget. (Cooper contends in a modern interview that RKO padded this number by about $200,000.) A June 1948 New York Times article claims that to cut up-front production costs, Cooper paid some employees with "script redeemable from the picture's profits." Fay Wray recalls that she was paid $10,000 for her ten-week stint on the picture. Daily talent sheets in the production files indicate that African-American extras and bit players were paid, on the whole, half as much as their white counterparts.
Studio correspondence indicates that the recording of the music and sound began on December 29, 1932. In a contemporary article appearing in Popular Science Monthly, writer Andrew R. Boone reveals some of Murray Spivack's recording tricks: After several unsuccessful attempts using drums and floor boards, Spivack struck the chest of Walter G. Elliott, a studio sound effects specialist, to create the sound of Kong's chest beating. For Kong's lengthy roars, Spivack took a stock animal roar, ran the soundtrack backward at a slow speed through a projector, lowered the sound one octave and re-recorded it. For Kong's breathing, Spivack used a stock tiger soundtrack, ran it backward, and lowered the tone an octave, producing a low, guttural combination of growl and breath. On advice from a paleontologist, Spivack created Kong's "love notes" by uttering deep "r-r-rumps" through a megaphone.
Sounds for the battle between Kong and the tyrannosaurus were devised by mixing a puma soundtrack with the steam-like noise from a compressed air machine and adding a few screeches provided by Spivack himself. The giant head of Kong was equipped with a pump through which a blood-like liquid would flow and simulate naturalistic throaty sounds. In her autobiography, Wray recalls that at the film's Hollywood premiere, she felt "uncomfortable watching the film...mostly because of my screaming-Too much, too much, I thought. Before they had started editing the film, I had gone into a sound room at RKO and screamed and moaned and whimpered for several minutes, recording a kind of 'Aris of Agonies,' so that the sounds could be spliced into various spots as needed." Wray's recorded screams were used on other RKO pictures, including King Kong's sequel, The Son of Kong, and the 1945 picture Game of Death, a remake of The Most Dangerous Game.
To save money, RKO asked studio composer Max Steiner not to write any original music for King Kong, but to re-use music from other productions. Cooper intervened and insisted that Steiner compose an entirely fresh score, offering to pay him out of his own pocket. Steiner completed the score in eight weeks and recorded it using what was then considered a large 46-piece orchestra. The cost of the venture was $50,000. In an innovative move, Spivack matched the tones of his effects to the notes of Steiner's music to produce a more harmonious total soundtrack. Parts of Steiner's much-heralded score have also been heard in other features, including The Son of Kong (see below), The Last Days of Pompeii (see below), Becky Sharp, The Last of the Mohicans (see below), The Soldier and the Lady (see below), Fang and Claw, Back to Bataan (1945) and White Heat (1949).
According to Film Daily, the final title of the film was not settled on until late 1932. Stories about the title's origins abound. Scientist W. Douglas Burden notes in the modern letter to Cooper that Cooper seemed impressed by his use of the phrase "King of Komodo" to describe his dragon lizards, suggesting that he gravitated toward the word "king" as well as the "k" alliteration in imitation of the phrase. (Burden also speculates that the fact that his young wife Babs accompanied him on the dangerous expedition inspired Cooper to create the Ann Darrow character, a theory that Cooper has indicated in interviews May be true). Other modern sources suggest that Cooper chose the word "Kong" because it was the actual word for gorilla in the language of an obscure East Indian tribe.
In her autobiography, Fay Wray contends that Cooper, who was famous for strong, one-word titles, came up with the ape's final name just after he had shown her Willis O'Brien's miniature jungle set for the first time. "As we walked away from this first introduction to the nameless creature, Cooper slowed his pace, then stopped. 'I think I'll call him Kong.' A pause...and then, 'King Kong.'" Still another modern source insists that the final title was suggested by Selznick, who was responding to his marketing department's fears that the title Kong would lead potential viewers to presume the picture was about a Chinese general. Other modern sources, however, contend that RKO changed the title from Kong to King Kong to avoid confusion with M-G-M's 1932 film, Kongo. A mid-October 1932 Film Daily news item officially announced King Kong as the final title.
King Kong was first screened at fourteen reels but, at Cooper's and the studio's insistence, was cut to eleven reels. Deleted scenes included a confrontation with a triceratops, Jack and Ann's escape down the river and Kong crashing down Skull Mountain to the village. Production records indicate that at least one scene involving Hindus and English soldiers was shot, but was not included in the final film. Discrepancies in the film's running time as reported by reviewers suggest that additional cuts May have been made after the Los Angeles premiere.
Advertising for King Kong was elaborate and costly. RKO bought thirty minutes of air time from the National Broadcasting Company and, on February 10, 1933, broadcast a thirty-minute radio "teaser" for the film, which featured a specially written script and sound effects. Mystery magazine ran a serialized version of the story, which they advertised as "the last and the greatest creation of Edgar Wallace," in their February 1933 issue.
King Kong's New York engagement at Radio City's Music Hall and Roxy theaters attracted over 50,000 people on its first day, and after its first four days, the film set an all-time attendance record for an indoor event, according to ads. The two theaters boasted ten shows daily and 10,000 seats. For the Los Angeles premiere at Grauman's Chinese Theatre, Kong's giant head was displayed in the lobby. According to studio correspondence, RKO contract stars Robert Woolsey and Bert Wheeler were to be the masters of ceremony at the premiere. However, a Los Angeles Times news item announced Joel McCrea as the evening's emcee. Studio memos indicate that because of the unplanned "Bank Holidays" that occurred shortly after the inauguration of President Franklin Delano Roosevelt, and general financial woes because of the Depression, the Los Angeles premiere was delayed by over a week, and ticket prices were dropped from $5.50 to $3.30.
In spite of the economic setbacks, the opening was an enormous success. In a letter to Cooper, Sid Grauman, owner of the Chinese Theatre and "producer" of the premiere, said of the picture: "Never saw greater enthusiasm at any premiere in my past experience of presenting premieres as that of King Kong....Every person leaving the theatre tonight will be a human twentyfour sheet....I believe it to be the greatest picture I have ever seen." Premiere programs indicate that Grauman "conceived and staged" a "prologue" for the evening, which included "a scene in the jungle" production number, featuring such performers as Pauline Loretta, Jimmy Savo, the Chorus of Dusky Maidens and African Choral Ensembles.
Reviews for the film were favorable, although more than one noted the varied response the picture engendered from the audience. The Variety review, for instance, stated: "There are times when the plot takes advantage of its imaginative status and goes too far. On these occasions the customers are liable to laugh in the wrong way. A most tolerant audience at the Music Hall broke down now and then, but on the whole was exceedingly kind. It seemed that while a few details were too strong to swallow the picture, as a whole, got them." New York Times review observed: "Needless to say that this picture was received by many a giggle to cover up fright. Constant exclamations issued from the Radio City Music Hall yesterday." The Variety review goes on to describe the box-office potential of King Kong: "While not believing it, audiences will wonder how it's done. If they wonder they'll talk, and that talk plus the curiosity the advertising should incite ought to draw business all over. 'Kong' mystifies as well as it horrifies, and May open up a new medium for scaring babies via the screen." According to studio memos, as of 1946, King Kong had earned RKO $2,361,002.10. The success of King Kong greatly boosted the ailing RKO, which on the day of the New York opening, had been put into permanent receivership by the Irving Trust Company. Grosses for the opening New York weekend totalled $90,000, and later ads boasted that King Kong broke attendance records in theaters across the country.
Modern sources add the following names to the crew: Scenario assoc, Horace McCoy; Optical photog, William Ulm; Projection process, Sidney Saunders; Dunning process supv, Carroll H. Dunning and C. Dodge Dunning; Williams matte supv, Frank Williams; Special Effects, Harry Redmond, Jr.; Sculptor, John Cerisoli; Constr tech, W. G. White; Tech artists, Victor Delgado, Zachary Hoag and Juan Larrinaga; Makeup Supervisor, Mel Berns; Set decorations, Thomas Little; Supv art dir, Van Nest Polglase; Costumes, Walter Plunkett; Asst to Merian Cooper, Zoe Porter; Painting tech, Peter Stich; Cam aircraft pilots, Duke Krantz and George Weiss; Technical Advisor, Dr. J. W. Lytle, Dr. O. A. Paterson and Dr. Harry C. Raven; and Art titles, Pacific Title Co. Modern sources add the following actors to the cast: Russ Powell (Dock watchman), Sandra Shaw (Hotel victim), Syd Saylor (Reporter), Jim Thorpe (Native dancer), Madame Sul-te-wan (Native handmaiden), Etta McDaniel (Native), Barney Capehart, Bob Galloway, Eric Wood, Rusty Mitchell and Russ Rogers (Pilots), Reginald Barlow (Engineer) and Dorothy Gulliver and Carlotta Monti. In addition, modern sources note that Cooper and Schoedsack made cameo appearances as aviators in the final sequence of the film. Sandra Shaw, a socialite whose real name was Veronica "Rocky" Balfe, met and married actor Gary Cooper shortly after the completion of this production.
A sequel to King Kong, called The Son of Kong, was released in December 1933 (see below). King Kong was re-issued by RKO in 1938, 1942 and 1952. In 1952, it was re-issued along with RKO's Leopard Man and I Walked with a Zombie. The estimated gross profits of the 1952 re-issue were $2,500,000, according to studio publicity. For the re-issues, moments from the following three scenes were cut for censorship reasons: the scene in which Kong plucks off Ann's clothes; the scene in which Kong bites off the head of a villager and squashes another with his foot; and the scene in which Kong snatches the wrong woman from a New York hotel and drops her. The exact dates of the censoring have not been determined, although the film was issued a Production Code Certificate in 1938.
Some sources state that the film was cut in 1938, while others claim the censorship took place in 1952. Yet another source suggests that the film was censored piece by piece over the years. Although the censored portions were reported by modern sources as forever lost, a restored, uncensored version of the picture was released by Janus Films in 1969. King Kong's censorship controversy was the basis of a stage play, Censored Scenes, which opened March 6, 1980 on Broadway. In 1965, Variety reported that King Kong had been banned from Australian television because it was declared "unfit for viewing." In 1977, the American Film Institute selected King Kong as one of the fifty most favorite films ever made. On April 14, 1983, in honor of the fiftieth anniversary of the film's release, an 84-foot, inflatable "Kong" was attached to the top of the Empire State Building and was "attacked" by vintage biplanes. In August 1988, King Kong became the first film to be colorized by Turner Entertainment.
In 1976, Dino De Laurentiis produced a Universal version of Cooper and Wallace's story, starring Jessica Lange and Jeff Bridges and directed by John Guillermin. By that time, both the film's and Lovelace's novelization copyrights had fallen into public domain. Many other horror films have used the Kong character, including King Kong vs. Godzilla, a Toho Co. production, released in the United States in 1963 by Universal, directed by Inoshiro Honda and starring Michael Keith and James Yagi; and King Kong Escapes, a Rankin/Bass-Toho Co. co-production, released in the United States in 1968, also directed by Inoshira Honda and starring Rhodes Reason and Mie Hama (see AFI Catalog of Feature Films, 1961-70; F6.2611 and F6.2610). Rankin/Bass also produced an animated television series, The King Kong Show, which ran from September 1966 to August 1969 on the ABC television network. Although not based directly on the Kong character, Mighty Joe Young, a 1949 RKO production directed by Schoedsack, produced by Cooper, and starring Terry Moore, Ben Johnson and Robert Armstrong, and Konga, a 1961 Merton Park Studio production directed by John Lemont and starring Michael Gough and Margo Johns (see AFI Catalog of Feature Films, 1961-70; F6.2652) are considered by modern critics to be inspired by King Kong. The Kong character was also used in numerous television commercials and print advertisements. A toy model of the creature was manufactured in 1969 by Aurora Products.
Universal added a "King Kong" exhibit/ride to its studio tour in 1986. In 2005, the studio released its second remake of King Kong . Also titled King Kong, the later picture was directed by Peter Jackson, and starred Naomi Watts as Ann, Jack Black as Carl Denham, and Adrien Brody as Jack Driscoll. Wallace and Cooper received an onscreen story credit. To coincide with the 2005 remake's release, Warner Bros. released a special edition DVD version of the 1933 King Kong in December 2005. The DVD contains a 159-minute documentary about the original, which Peter Jackson supervised. The documentary includes a Weta-produced reconstruction of the lost spider-pit scene and re-created models and scenery.