DVDs from TCM Shop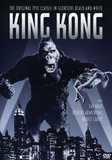 King Kong A film crew discovers the... MORE&nbsp> $10.95 Regularly $14.98 Buy Now blu-ray
USER REVIEWS
See Detailed Ratings
Acting of Lead Performers

Acting of Supporting Cast

Director

Music Score

Title Sequence

Screenplay

Cinematography

Historical Importance

Would You Recommend?

0 Member Ratings
Rate the acting of the Lead Performers

Rate the acting of the Supporting Cast

Rate the Director

Rating of the Music Score

Rating of the Title Sequence

Screenplay

Creatively uses the camera to tell the story

Importance in Cinema history

Would you recommend for fans of this genre
Submit Ratings
Cancel
Write a Review
Read Reviews
NO REVIEWS AVAILABLE
The title has not been reviewed. Be the first to write a review by clicking here to start.
Long Live the King!

This is easily one of my favorite movies and one of the films that got me into classic movies to begin with. It will always hold a special place in my heart.

Timeless Classic with a Great Film Score

The original 1933 KING KONG was made in the early days of movies with soundtracks, when most movies were musically underscored. Max Steiner himself underscored some of those movies, but in KING KONG he cut loose and composed a score that fills a CD today. If I could take a time machine ride back to 1933, I would arrive where I could see the first public screening of that movie and watch how the audience took in this movie that provided a huge, dramatic underscore that other sound pictures didn't have. But it doesn't really matter that I can't do that. What's truly astonishing is that this very old movie DOESN'T GET OLD. It's black and white, the special effects are primitive, yet it's still fascinating to watch, not only because it's an inspired first film version of this story, but also because Max Steiner's music is telling the story too.

Ultimate Fanatasy/Adventure/Sci-Fi

The first time I ever saw King Kong was 1955 on WOR-TV NY. I was six years old, it was then on The Million Dollar Movie. From that time on I would always make sure I saw every showing of this film that I could possibly see. It is my all time favorite motion picture ( and I am a lover of great classics from the 30's till this day). The story line, and plotwas spectacular, the development as it progressed was classic. In the day and era that it was made was ahead of it's time. Till this day one of the great classics ever made in/by Hollywood. The scene at the very second where he would square off with the T-REX is still one of the single most awe inspiring in motion picture history. The musical score by Max Steiner was truly one of the greatest (remember that musical scores did not get the attention back then that they later on receive now). The end of the picture when Kong is on top of the Empire State Building and his final moments are still one of the saddest in motion picture history and probably spurred the beginning of human emotions for animals. I can go on but I am sure you understand my feelings and opinion of the film. It is a 5 STAR film and no effort will ever make it any greater than the original.

The original is still the greatest

With modern animation, it is so easy to create astounding visual effects. But those visual effects can become boring during the length of a movie because the viewer can become quickly jaded. I think there is a very good reason why the old stop action animation movies still entrance and hold your attention so many years later. The animation was created by hand, and you can feel that in the character. The model was created by an artist and the movements of that model, were all done by hand. The animated creatures were given birth, in a sense and you feel that the creature is alive.The original King Kong still breaks your heart every time you see it. The other King Kong movies may have their razzle dazzle but the original is still the greatest.

special effect

this story has always been special to me. the moment when the main character fights the t rex ..is still something. seeing that punch..that way still gives me the same reaction. i even still feel badly for the t rex when he kills it. it might be considered a quaint movie now. it was and will always be part of the great history of film making. without it the fantasy genre would not have the prestige and respect it enjoys today. this ..movie about an ape..made people feel something. it.. changed the business of an industry . there are many movies that come out now and will never have the impact this did all those years ago. the nice thing about it was the fact ..that you could see and hold that little ..hand made effect ..in your hands. to me..that makes it..so profound.

Timeless Masterpiece

Great, great film, holds up so well 85 years later. The animation is terrific for 1933 and though the 2006 version is a very good film (but too long), this version is still the best of all the Kong films. The big guy becomes infatuated with Fay Wray, who should have gotten a special Oscar for her screaming. The climatic ending atop the Empire State Building is film lore as is the closing line. Tons of atmosphere and superb musical score. One of the 20 greatest movies ever made.

KING KONG

One of THE greatest film of all time. Consider, for One thing, When this masterpiece was made. Sound in films was only a few years old. The special effects were way ahead of there time. As another viewer has said, this film ages like fine wine. I sat through this back in the early 1950s in a dumpy old theatre,. I looked around, to see grown men with tears in there eyes and( these were tough city working stiffs). Ladies with Kleenex and hankerchiefs openly crying, Not for the New Yorkers, but for this giant ape. p.s. I think Peter Jackson did a fantastic remake.

A Genuine Classic!

"King Kong" is still the great monster flick in the history of cinema.

King Kong

One of the most lovable monster movies ever made "King Kong" from 1933 still stands as a tower of imagination. The effects work by Willis O'Brian with all the monsters and the movements, one frame at a time, was a masterwork for 1933. That Kong was found on an expedition to a lost island and brought back to New York and put on stage but escapes to the top of the Empire State building where he has planes trying to kill him had to excite moviegoers with what Hollywood special effects can do for a movie story. In 1976 the remake tried but didn't excite the imagination as much and while the more recent one was better with Naomi Watts there is still the original that began the mystery of Kong which was better for its time. A classic.

Five Stars (Or better!)

This has been THE movie for me since first viewing it as a young boy many years ago. It simply does not get any better than the 1933 original production of the mighty King Kong. (And special effects artist and stop-motion wizard Willis O'Brien re-wrote the book on achieving unparalleled, breath-taking thrills on the motion picture screen.) And, if you are not moved to pity and tears by his final fall from the Empire State Building, then you are dead inside, Jack!

King Kong thanksgiving

What I remember most is seeing King Kong on Thanksgiving day along with son of kong and mighty joe young. Wwor channel 9 showed them every holiday and godzilla movies the next day. The old days of tv may be gone but that memory will always live on with me still living in NYC area. It was something about it that made the holiday feel right. Watching an old black and white movie with action and adventure.I would love TCM to start this tradition again. It was Macy's parade then the movies for me. Those times seemed so much simpler in life. The smell of turkey, Fay screaming, and all the awesome toy and christmas sale commercials.It's sad that even Saturday morning cartoons are no more. I hope TCM always keeps Kong in their film library. I have the DVD but nothing like knowing it's coming on tv.Consider starting the tradition again TCM!

A Lifetime of Watching King Kong!

I still am amazed by the special effects of this movie since I was a young child and watched it on "Million Dollar Movie". No matter how many times I've seen it, I can't stop watching it again and again. I suppose that what makes a movie a classic! This is my all time favorite! "Million Dollar Movie" may not be around anymore, so thank goodness for TCM!

Kong still king

King Kong was THE picture of my youth. I would go to sleep playing and replaying scenes in my head. A few nightmares too, but who cares. As far as the gate is concerned, how else would they bring Fay Wray to the tying-up scene? She was tied up behind the gate, not in front. And anyway that gate was a work of art!

Acting reviews & soundtrack

Greetings,I am 64 and have seen Kong maybe GTR 50 times. I have a natural nostalgia for all of the acting roles in the 1933 version. However I still don't know why Jack Black got picked in the 2005 remake for the Carl Denham (Robert Armstrong) role. Black's key lines, to me were really duds. (i.e., ' Oh no, It wasn't the airplanes, it was beauty that killed the beast!"). Or the ("..we're millionaires boys.I'll share it with all of you!"). No pizzazz like Robert Armstrong had!On the other hand, in the 2005 Kong, Peter Jackson acknowledges in his screen credits his homage to Fay Wray and Robert Armstrong, but not to Bruce Cabot as Jack Driscoll who had a pivital character but so-so acting inhis romantic scenes with Ms. Wray. The film score really makes this film take off once the action begins. You can hear bits and pieces of Max Steiner's score in later RKO adventure. Being only a few years into the advent of sound, I don't remember a longerrousing sound track in any other pre-1933 films. That is, for the limited amount of golden oldies I've seen on TCM.I'm glad TCM shows an audio of the 'pre-score' 1933 Kong before the picture begins to play.Regards,Leonard Garcialeonardmgarcia@yahoo.com

King Kong

One of the most iconic & enduring films ever made. A film crew travels to Skull Island & gets into all kinds of trouble in the jungle. The film owes a lot to Wray's lungs, solidifying herself as the "Scream Queen" & Cabot gives a great performance as the Merian C. Cooper-like director. Willis O'Brian's special effects seem dated today, but that's a pathetic complaint against this magnificent film, filled with iconic scenes that have become ingrained in today's pop culture. A magnificent, must-see monster movie. I give it a 5/5.

the 8th wonder of the world.

Now digitally remasted from its prehistoric picture, this original King Kong still remains the original classic.

King Kong mystery

If the object was to keep King Kong behind the great wall, why put a huge gate in it?

A CLASSIC AMONG CLASSICS

I'm NOT going to bore you with a lot of unessesary drivel,accept to say that THIS film,is a classic among classics from the "GOLDEN AGE OF HOLLYWOOD."It's been said that KONG saved RKO from going bankrupt.This is a fact.A lot of detailed information is available on the second disc you see above.VERY INFORMATIVE. It should also be noted that in 1925,a film called "THE LOST WORLD",was produced at First National.This same crew that worked on "THE LOST WORLD",worked on KONG.It was Willis O' Brien's peak.He would NEVER hit a peak like THIS again.Yes,he went on to make more films for RKO,MGM,FOX,WARNER BROS.He would eventually win an Oscar for "MIGHTY JOE YOUNG". In 2001,I had the opportunity to meet Bob Burns,legendary collector of Hollywood memorabilia.One of the key collections,is the armature(METAL SKELETON)of the original KONG.I got to (VERY CAREFULLY)tap KONG on the top of his head,& bend a few of his fingers.IT'S AWESOME. In regards to the remakes...NO COMMENT goes to the second version,MUCH MORE ENJOYABLE,goes to Peter Jackson.He is a devout KONG fan & wanted to remain close to the times as was the original when it was produced. My feeling is.....LEAVE THIS FILM FOR US THE FANS & APPRECIATORS OF CLASSIC HOLLYWOOD ALONE.IT DOESN'T NEED TO BE ADDED ONTO,OR SUBTRACTED FROM.LEAVE IT ALONE.

Cooper & Kong!

"What has been said thoughout Motion Picture History of this all-time Classic has covered everything you could possibly cover! Although, my own breakdown seems abit different than everything else I have ever read about Cooper's Film. I think maybe Ruth had written the screenplay in many ways around Coopers own adventurous lifestyle centering the main character Carl Denham as a "Filmmaker that makes Movies in the Jungle"not unlike Cooper himself. Also not enough is said about the fact that this a Film Shoot and the Director needs to bring in the picture on a tight budget. So in the beginning he is doing everything possible to get what he needs himself including his starlet! What is left out is that his backers are demanding "more love interest" so this film of his will have a female (Fay Wray) for the first time. I love this film so much and have collected quite the history on the Film. I really don't care how audiences took to it in 1933, how much it made etc. What I do care about is the non-caring of this film in being re-licensed and re-titled in several very bad remakes including in my opinion Peter Jackson's mess! I suppose Universal needs the money or at least thinks that re-franchising Kong every 10 years is cash in the bag! But its horrible that you would even attempt to re-shoot Ruth's script. King Kong completely stands on its own even in 2012 as a incredible adventure like no other filled with tragedy and love and of course -The 8th Wonder of the World... KONG!

KING KONG: KING OF COLOSSAL MONSTER MOVIES!

a true classic from the 1930s that outdoes, outcasts, and OUTSTANDS any confounded Monster movie made today, KING KONG is a wonderfully imaginative horror movie, with spectacular special effects that show once more the lack for need of fake CGI, Fay Wray as the Quintessential Scream Queen, Max Steiner's thundering, spine tingling score, it works great as an adventure film, from the Prehistoric skull island, to the thrilling climax atop the Empire state bulidng, where it is "Beauty who kills the Beast"!

King Kong (1933)

When people mention the term of the greatest horror movie ever made, most think it doesn't mean much because of the past terrible horror movies that have come out in general from Jason Voorhees to Freddy Krueger, etc. They all mostly forget the very best from the 1930s. This film was the greatest of all those horror films. It's about a producer who shanghais a movie team aboard a ship that goes to a tropical island, only to find that a gigantic gorilla has taken their leading lady. The acting is merely back up to the special effects spectacle and the great score from Max Steiner.

King Kong (1933)

***1/2

King Kong(1933)

Revoltutionary film in which special effects are the Star! Depression era film helped people forget the misery of real life by providing pure escapism for the masses. Producers/Directors Merrian C. Cooper and Ernest Schoedsack provide the first major breakthorugh blockbuster with "King Kong", a giant ape from Skull Island, brought to New York by big game film maker Carl Denham(Robert Armstrong) and Jack Driscoll(Bruce Cabot). In search of a new story, the two protagonists travel to a remote Pacific island to try and capture footage of a giant animal. Little do they realize that the natives consider taking Ann Darrow(Fay Wray) as a bride for King Kong. Kong is enraptured by her beauty and tries to secure Ann in his mountain sanctuary. The pursuit ensues as Jack , Carl and crew members brave a prehistoric world to try and rescue Ann. This film should be seen on the biggest screen possible to get the maximum effect the producers had originally intended. Visionary in its scope , Willis Obrien is the creative genius in bringing life to Kong and the rest of the creatures in the film. Highly recommended! 5 out of 5 Stars! Pure escapist entertainment ! Trivia, the most shown film in TV history.

The Original is Still Superbly Immortal.

Frank Harris Horn

7/15/10

There have been various number of remakes including the 2005 Oscar-winner, but none can match the authenticity of the original 1933 classic that stands out all the rest. Fay Wray, Robert Armstrong and Bruce Cabot are the stars in this classic beauty-and-the-beast epic. A movie producer (Armstrong) takes his crew to an uncharted primitive, prehistoric island, where they discover and capture the gigantic monster ape, Kong, and bring him to the civilized world until Kong escapes and wreaks havoc on New York City. The grand finale atop the Empire Building remains an unforgettable spectacular moment. Willis O'Brien's special effects and animation of Kong are still insurpassed, and Max Steiner's musical score also remains memorable. With Frank Reicher, Sam Hardy, Victor Wong, James Flavin, Noble Johnson & Steve Clemente.

The King Still Reigns Supreme

KING KONG is one of those films that just gets better and better with age. This is because we watch it now as a 1930's fable that has transcended its own time and has become an American myth.The undiminished, primordial energy it continues to generate derives from all aspects of production; from Willis O'Brien's masterly animation and Murray Spivak's innovative sound mix, to Max Steiner's brilliantly evocative music score. The performances as well are in perfect synch with the larger than life premise of this adventure/fairy tale classic. Technical merits aside, the film also rates high marks for its deceptively simple screenplay, which has a subtext that is based on the real life experiences of producers Merian C. Cooper and Ernest B. Schoedsack. This makes KING KONG as much a personal work as is anything by Orson Welles or Charlie Chaplin. Consider: The "Old Arabian Proverb" following the credits was written by Cooper, the character of Carl Denham was fashioned after Cooper, and the pilots machine gunning Kong are actually Cooper and Schoedsack. KING KONG interweaves fact and fantasy with such clever subtlety that audiences are, perhaps, still largely unappreciative of this unique aspect of the film.

No More Remakes!

This is simply the best version of this film. The music is great and engrossing! Sure, in an era of CGI films, we tend to luagh at old stop motion animation, however, I feel that the special FX in this movie were very well done. The way that they switch from Stop Motion to "real life" is flawless. Add a good screenplay and decent acting, and you have good film. This version of King Kong will never be topped!

A film about filmaking

Great fantasy film and a classic. But next time you are watching, see how the movie is beyond a story of beauty and the beast, a story about films and directors. The manic director is willing to risk almost anything for a shot, and almost anyone.As the years go by, this movies depictions of urban life during the depression and the film making industry of that time form some of its most stirring images.Oh, by the way there is also a 50 ape in the film. And he is pretty darn good.
*We protect your personal infortmation and will not provide it to anyone without your consent. For a complete explanation, please refer to TCM's Privacy Policy. By submitting your contribution, you agree to TCM's Terms of Use.