DVDs from TCM Shop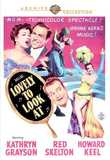 Lovely To Look At All-star remake of Roberta,... MORE&nbsp> $15.96 Regularly $19.99 Buy Now
NOTES
A November 1946 Hollywood Reporter news item announced a remake of Roberta starring Lucille Ball as "Comtesse Tanka Scharwenka," a part played by Ginger Rogers in the 1935 RKO version of the same name, which was directed by William A. Seiter (see AFI Catalog of Feature Films, 1931-40). In a Los Angeles Times article published on November 19, 1948, Judy Garland, Gene Kelly, Frank Sinatra and Betty Garrett were named as potential stars of the new version that was being written by Harry Rudy and George Wells, whose screenplay was eventually used for Lovely to Look At.
As noted in news items and reviews, when M-G-M purchased the rights to Roberta they decided to do a thorough rewrite of the RKO film. Although the basic structure of Lovely to Look At is the same as the musical and film Roberta: an American inherits a once successful Parisian fashion house and falls in love with the chief designer, most of the storyline for the 1952 film differs from the earlier stories. Some of the songs from Roberta were retained in Lovely to Look At, including "Smoke Gets in Your Eyes," "Yesterdays," "I'll Be Hard to Handle" and "I Won't Dance," some with new or revised lyrics added to Jerome Kern's music by Dorothy Fields.
Red Skelton performed "Go Tell Aunt Rhody" in his famous "Irish Tenor" comedy skit in the film. Skelton, according to reviews, had recently performed the same skit on his popular television comedy series. The film marked the motion picture debut of Zsa Zsa Gabor. A Hollywood Reporter news item indicated that the film would use English-language subtitles as a "gimmick" to accompany Gabor's exclusive use of French in the film. Although Gabor's only lines in the picture were spoken in French, no subtitles were used when the film was released. The film was also the debut of actress Rosemarie Bowe.
Lovely to Look At marked a return to M-G-M after a ten-year-absence at the studio for designer Adrian, who had been head of M-G-M's costume department from the late 1920s through the early 1940s. Within the film, Howard Keel's character, "Tony Naylor," refers to Adrian by name when describing how he would like to create the fashion show. The lengthy fashion show sequence at the end of the film included a number of different themes, with lavish costumes and settings. Its musical numbers included a duet performed by Keel and Kathryn Grayson singing "The Touch of Your Hand." Another number that critics singled out for praise involved a fantasy in which Tony appears simultaneously in several full-length mirrors as he sings "Lovely to Look At" to "Stephanie."