DVDs from TCM Shop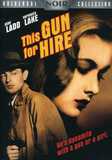 This Gun for Hire A hired killer dodges police... MORE&nbsp> $11.21 Regularly $14.98 Buy Now
Home Video Reviews
In
This Gun For Hire
(1942), Alan Ladd makes one of the most explosive screen debuts in American cinema. His character, an assassin named Raven, is dangerous, vicious, and cold-blooded, yet it's not a shallow, one-dimensional role. The script calls for Ladd to bring touches of pathos and sympathy to the character, and he does so quite touchingly and with nice restraint. (Billed in the credits as "introducing Alan Ladd," this was not technically his first screen appearance - he had already racked up some 40 films, but all were bit parts, several uncredited.)
Newly released on DVD from Universal Home Video,
This Gun For Hire
holds up extremely well, thanks to an ingenious script and the potent chemistry of Ladd and Veronica Lake. The screenplay intermeshes several storylines quite clearly and believably - a story of an assassin out for revenge, the cop on his tail, the cop's girlfriend who gets drawn into it all, and a background of wartime duplicity and profiteering involving atomic secrets. It all comes together without feeling contrived because the emotional motivations of each character are so clearly established and adhered to. The script's pedigree explains why - the movie was based on a Graham Greene novel called
A Gun For Hire
, and the adaptation was penned by Albert Matz and W.R. Burnett. Burnett was a very talented novelist and screenwriter whose novels included
High Sierra
,
The Asphalt Jungle
, and
Little Caesar
and whose film credits included
High Sierra
and
The Great Escape
.
This Gun For Hire
movies along grippingly with great pace from one exciting suspense sequence to another.
And when the time comes for Ladd and Lake to share the screen for a solid chunk of the running time, they do not disappoint. Their chemistry is hot, and it's easy to see why the moviegoing public clamored for more of the two of them together. In fact, it's difficult to think of another screen pairing which ever caused the level of excitement among moviegoers that Ladd and Lake did over their four films together. Paramount was lucky that when
This Gun For Hire
ignited screens across America, they had already begun production on the next Ladd and Lake picture,
The Glass Key
(1942), for Lake was not originally cast in the follow-up. That part at first went to Patricia Morison, who shot a few scenes before the studio decided she was too tall to share the screen with the 5' 5" Alan Ladd. Lake, at barely 5 feet, looked good with him, and in Paramount's eyes had done an OK job opposite him in
This Gun For Hire
. Then that film opened and they realized they had created dynamite. Two further Ladd and Lake pictures would eventually follow -
The Blue Dahlia
(1946) and
Saigon
(1948).
Also in the cast is Laird Cregar, a large-in-every-way character actor who specialized in bad guys and did a very good job at it. He was 6' 3" and weighed 300 pounds, and tragically he died two years after this film came out - of a heart attack, after losing 100 pounds more rapidly than his system could bear. His final movie, the fine film noir
Hangover Square
(1945), was released posthumously.
Paramount's DVD comes with zero frills, but it is an extremely handsome transfer and will not disappoint.
To order
This Gun For Hire
, go to
TCM Shopping
.
by Jeremy Arnold