DVDs from TCM Shop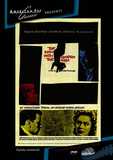 The Man with the Golden Arm A junkie must face his true... MORE&nbsp> $11.95 Regularly $10.99 Buy Now
OVERVIEW
Brief Synopsis
A junkie must face his true self to kick his drug addiction.
In the late 1940s, Frankie Majcinek, who is known as Frankie Machine, returns to Chicago's South Side, which is mostly inhabited by Polish Americans, after serving a six-month sentence at a federal narcotics hospital. The denizens of Antek's Tug `n' Maul Tavern, Frankie's favorite bar, are pleased to see Frankie, especially his best friend, "lost dog finder" Sparrow. Although Frankie's former drug supplier, Nifty Louie Fomorowski, offers Frankie a free "fix," Frankie refuses and vows to Sparrow that he has kicked narcotics for good and intends to become a drummer for a big-name band. Frankie proudly shows off the drums he was given at the hospital, and after sending Sparrow to find him some new clothes, goes to the roominghouse where he lives with his wheelchair-bound wife Zosh.

The neurotic Zosh, determined to keep Frankie with her by whatever means necessary, has manipulated him for three years by playing on his guilt over causing the accident that injured her while he was driving drunk. Zosh is dubious about his plans to become a musician and urges him to return to dealing poker for Zero Schwiefka. Frankie's consistent method of dealing has earned him a city-wide reputation as "the man with the golden arm," but Frankie is determined to improve his life so that he is not tempted to return to drugs. Frankie calls Harry Lane, a musical agent referred to him by his doctor at the narcotics hospital, and makes an appointment to see him. After Sparrow returns with a "borrowed" suit for Frankie to wear, they stop at Antek's for a drink and there run into Schwiefka. Frankie announces his intention to quit dealing, and the angry Schwiefka notifies "Cousin" Kvorka, a local beat policeman, that Frankie and Sparrow shoplifted a suit.

Kvorka takes the pair to police captain "Record Head" Bednar, who wearily ignores Frankie's protests that he has a job interview and insists that he be locked up. Schwiefka then offers to bail out Frankie and Sparrow if Frankie returns to deal for him, and Frankie is forced to accept. Disturbed by a jailed junkie's tormented plea for a fix, Frankie returns home, where Zosh is pleased that he is going back to dealing cards. That night, Louie's taunts about Frankie's shaking hand unnerve the dealer and he leaves to visit the Safari Club, a nearby strip bar where Frankie's former sweetheart, Molly Novotny, works as a b-girl. Although Molly and Frankie are still in love, Frankie's guilt over causing Zosh's paralysis have kept them apart. Frankie tries to tell Molly that she should leave her current boyfriend, the chiseling, alcoholic Drunkie John, but Molly states that she needs someone to stave off her deep-seated loneliness. Soon after, Frankie has an interview with Lane, who promises to call him with an audition for a band, but warns him that if he backslides even once, Lane will no longer sponsor him.

Despite Frankie's happiness, Zosh nags at him that he is being unrealistic in striving for a better life. A week passes without word from Lane, and Frankie sinks into depression, until one afternoon, Frankie runs into Louie and, succumbing to temptation, accompanies Louie to his apartment for a fix. Louie gleefully tells Frankie that "the monkey never dies" as he injects him with the drug, and Frankie is hooked again. Later, after yet another quarrel with Zosh, Frankie storms down to Antek's. There he meets Molly, who encourages him to call Lane, telling him that Lane probably lost his phone number. Molly proves to be correct, and Lane arranges for Frankie to audition for Shorty Rogers' band on the coming Monday. Frankie then pleads with Molly to let him practice playing his drums in her room, as the spiteful Zosh has forbidden him to do so in their room. Although she is reluctant to encourage Frankie's hopes of building a future for the two of them, Molly agrees, and when she comes home early the next morning, he happily greets her. After bragging that he has quit Schwiefka and joined the musicians' union, Frankie promises Molly that he is going to kick drugs again, and that after he has made some money and can send Zosh to a clinic, they will be together.

Meanwhile, Schwiefka and Louie search for Frankie, as they have used Frankie's reputation to lure two big-time gamblers, Markette and Williams, to play in Schwiefka's poker game. After Zosh urges Frankie to deal the big game and tears up his musicians' union card, Frankie seeks refuge at Antek's, where Louie offers him some of the profits if he will deal for Markette and Williams. Desperately needing the money, Frankie agrees, and again gives in when Louie tempts him with another fix. Frankie then goes to the Safari Club, where a disappointed Molly berates him for getting high. When Frankie gets in a fight with John, Molly hurriedly leaves the neighborhood without telling Frankie where she is going.

Later, Frankie deals the game for Markette and Williams, and his skill easily enables the house to win. After dealing all night, an exhausted Frankie insists on leaving, but when he arrives home, he is suddenly overwhelmed by the need for a fix and rushes back to Schwiefka's. Louie refuses to give Frankie any drugs unless he resumes dealing, because Markette and Williams have begun to win. As the hours pass, the game continues, and soon it is early Monday morning. Louie promises Frankie that if he cheats and wins, he will give him a fix, but Frankie, weary from his long hours of dealing, becomes careless, and Williams spots his card-palming and beats him. After Louie then refuses to give Frankie any drugs, Frankie knocks him out and searches his apartment, to no avail. Frankie then goes to his audition but cannot play competently due to his withdrawal symptoms.

Meanwhile, Louie regains consciousness and goes to the roominghouse to exact his revenge upon Frankie. Instead, Louie accidentally enters the room as Zosh is walking and deduces that she has been pretending to be paralyzed. When Louie threatens to reveal her secret, the hysterical Zosh pushes him down the stairwell to his death. Frankie, not knowing of Louie's death but fearing that he is after him, runs away and finds Molly, whom he begs for help. While Bednar is questioning Zosh, Molly learns from John that Frankie is Bednar's main suspect. Molly then agrees to help Frankie quit drugs cold turkey, so that he can go to the police sober and withstand questioning to prove his innocence. After an agonizing few days, during which Frankie suffers great torment, he is free of his craving. John sees Frankie in Molly's apartment, however, and alerts Bednar. Frankie leaves before Bednar arrives, and Molly takes the police captain to Zosh's, where Frankie is telling her that he is going away with Molly. Just as a terrified Zosh gets up from her wheelchair to chase after Frankie, Bednar and Molly arrive, and they all realize that Zosh must have killed Louie. Before Bednar can arrest her, Zosh runs out to the fire escape and falls to street below. Frankie rushes to the street, where Zosh lays dying, and holds her as she tells him she loves him. After Zosh dies, Frankie and Molly slowly walk off together, leaving their old life behind.
Cast & Crew
SEE ALL CAST AND CREW
Additional Details
MPAA Ratings:
Premiere Info:
New York opening: 15 Dec 1955; Los Angeles opening: 26 Dec 1955; Chicago, IL opening: 28 Dec 1955
Release Date:
1956
Production Date:
[1.85:1]
EB; AFI
my own dvd

Color/B&W:
Black and White
Distributions Co:
United Artists Corp.
Sound:
Mono
Production Co:
Carlyle Productions, Inc.
Duration(mins):

119 or 121

Country:
United States
Duration(feet):

not available

Duration(reels):

not available
Leonard Maltin Ratings & Review
LEONARD MALTIN MOVIE RATING
LEONARD MALTIN MOVIE REVIEW:
User Ratings & Review
This title has not been reviewed. Be the FIRST to write a review by CLICKING HERE >
User Ratings & Review
User Reviews:
Recommend:

Cinema History:

Cinematography:

Lead Performers:

Supporting Cast:

Director:

Screen Play:

Music Score:

Title Sequence:
User Ratings:
A Strong Arm....

ja661 2020-04-24

This is the first time I've seen this film. On the whole, they are all pretty much reprehensible characters. I thought Sinatra did a decent job.... MORE>

graphics reign

don letta 2017-06-07

The fifties were glory days for graphics designer Saul Bass. Many of the major films from that decade were embellished by his work. Sometime they were the... MORE>