DVDs from TCM Shop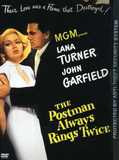 The Postman Always Rings Twice Illicit lovers plot to kill... MORE&nbsp> $14.25 Regularly $19.98 Buy Now blu-ray
FULL SYNOPSIS
While hitchhiking to San Diego, drifter Frank Chambers stops at the sleepy Twin Oaks diner, located on a rural road near Los Angeles. Frank accepts a job from Nick Smith, the middle-aged, alcoholic owner of the diner, and is immediately intrigued by Nick's young wife Cora. A furtive romance soon develops between Frank and Cora, and when Nick takes a trip to Los Angeles one day, they decide to elope. The two only travel a short distance, however, as Cora loses hope and decides to return to Twin Oaks. Frank agrees to return with her, and they hurry back to the diner to get there before Nick finds the farewell note that Cora left behind. Determined to continue her romance with Frank and make a better life for herself, Cora convinces Frank that the only way for them to achieve happiness is to kill Nick and collect his insurance money. While Frank stands guard outside the diner, Cora prepares to kill Nick by knocking him unconscious and make his death appear to be a bathtub accident.

The plan goes awry, however, when a cat trips the power lines just as Cora strikes Nick, plunging the diner into darkness and preventing Cora from completing the plan. Fearing that a police officer who stopped by the diner moments before the "accident" may become suspicious, Cora and Frank call an ambulance and rush Nick to a hospital. When Nick regains consciousness, he remembers nothing of the "accident," then tells Cora and Frank that he plans to sell the diner and take Cora with him to live at his sister's home in Santa Barbara. Although Cora protests, Nick firmly tells her that she must care for his semi-invalid sister. Desperate that the move will result in a complete life of drudgery, Cora enlists Frank to devise another plan to kill Nick. After getting Nick drunk, Frank and Cora stage an automobile accident at Malibu Lake, unaware that District Attorney Kyle Sackett has been following them. Though Sackett arrives on the scene too late to save Nick, he is certain that Cora and Frank are the killers.

Without enough concrete evidence to convict Frank and Cora, Sackett tries to pit the two against each other, and tricks Frank into signing an official complaint against Cora, alleging that she tried to kill both him and Nick. Sackett's strategy nearly succeeds when Cora incriminates herself and agrees to sign a full confession. The confession, however, is recorded by Ezra Liam Kennedy, a private detective posing as an official from Sackett's office. Kennedy is in the employ of Cora's attorney, Arthur Keats, who prevents the confession from being read to the court. Keats persuades Cora to settle for a manslaughter charge, and she is later released on probation. Several weeks pass, and Cora and Frank still do not trust each other, but decide to marry, in order to run the diner together and not appear to be living indecently. One day, Cora leaves Twin Oaks to visit her ailing mother in Iowa. During her week-long absence, Frank has an affair with Madge Gorland, a woman he meets at a train station.

Soon after Cora returns, she and Frank are visited by Kennedy, who is no longer employed by Keats and who demands $15,000 in exchange for Cora's signed confession. Cora and Frank manage to overpower Kennedy and destroy the confession. Afterward, Cora tells Frank that she has discovered his affair with Madge, and that she is pregnant. Cora then asks him take her to the beach for a swim in the moonlight and plans to swim far out into the ocean with Frank, then tell him that he can turn back without her. When Cora is finally too exhausted to continue swimming, she tells Frank what she is doing and his reaction makes them both realilze that they love and and trust each other once again. After Frank helps Cora back to shore, the now happy couple drive toward the diner, but Frank loses control of the car and the vehicle careens off the road. Although Frank escapes unhurt, Cora is killed. Frank is then convicted of Cora's murder, and just before his scheduled execution, Sackett comes to see him.

When Frank tells him that he didn't kill Cora and hopes that at the last second she did not think that he did, Sackett reveals that a note left by Cora, which was recently found in the back of the diner's cash register, not only revealed her love for Frank, but inadvertently divulged details of Nick's murder. Realizing that his situation is like that of someone who only receives the mail after the postman rings the doorbell twice, Frank contently heads toward his exection.