DVDs from TCM Shop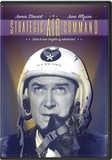 Strategic Air Command A baseball star takes to the... MORE&nbsp> $18.71 Regularly $24.95 Buy Now blu-ray
USER REVIEWS
See Detailed Ratings
Acting of Lead Performers

Acting of Supporting Cast

Director

Music Score

Title Sequence

Screenplay

Cinematography

Historical Importance

Would You Recommend?

0 Member Ratings
Rate the acting of the Lead Performers

Rate the acting of the Supporting Cast

Rate the Director

Rating of the Music Score

Rating of the Title Sequence

Screenplay

Creatively uses the camera to tell the story

Importance in Cinema history

Would you recommend for fans of this genre
Submit Ratings
Cancel
Write a Review
Read Reviews
NO REVIEWS AVAILABLE
The title has not been reviewed. Be the first to write a review by clicking here to start.
strategic air command

I could have sworn that this movie had a different ending.I seen it one time on tcm and Mr.Holland dies,his wife finds out while celebrating their daughter's birthday.I remember it because I loved the design on the decorated cake and wanted to make one that was similar to it.

Timeless Classic

A beautiful story in magnificent technicolor. Jimmy and June team up again for this wonderful story, depicting warm scenes from a bygone era, along with rare aircraft footage from the 1950s. A timeless classic that needs to be released on DVD!

Strategic Air Command on Blu-Ray

I won't go through the reasons why movies like Strategic Air Command should be on Blu-Ray (don't bother with DVD), not the least of which this is the 60th Anniversary of this important film, not because it's some blockbuster classic, but because generations like me (us baby boomers) who grew up with this film, and the still believe in the ideals it stood for, can't be overlooked any longer. And besides, I really want to see the FULL wingspan of the B-36 in action.Also, TCM hasn't shown this movie in a very, very long time, many years. How about showing it again, in its original VistaVision aspect ratio. Retroflix has been showing it fairly often, but only in 4:3 Pan and Scan, which is a real joke. Can't even watch it that way. Thanks!

One of my all time favorites!

Best Air Force Movie. Love everything about this movie even when Jimmy Stewart flubs and mentions flying the B-24 during WW2, although his character flew B-29 during WW2. In actuality Stewart flew the B-24 for real. I've got to agree with Richard, WHY IS THIS NOT ON DVD/Bluray? It was the most popular Air Force movie when it was released. PARAMOUNT PICTURES are you reading this? Please release it! Thank you.

Release it

Its one of my BEST LOVED movies of all time. Can remember as a child my parents taking me to see the movie when it was first released to the movies. Reminds me of my military life in the service. Can't UNDERSTAND why it hasn't been released on DVD for home viewing. Please count me in for its RELEASE.

Lost Gem

Not only is James Stewart one of the greatest actors ever, certainly during the Golden Age of movies, but his service to his country during World War II and well into the 1960's, makes his legacy even greater. So it is a shame, this 1955 Paramount release depicting some of the greatest aircraft photography (especially the B-36 bombers) is missing from DVD. How is that possible?

Real History

I was born in 1950 and my father was in Naval Aviation. I also served 3 tours in Viet Nam as a combat air crewman. This film is one of the most accurate movies made about that period of time when we thought we were going to be bombed or nuked at any time. Jimmy Steward portrays what he did in real life, a combat pilot. The movie not only is historical it is a very well done movie with spectacular aerial scenes. I cannot figure out why it has not been re-released on DVD or Blue ray. I agree with all of the previous comments about the film and acting and would say that it is a crime the younger generation does not have this film to see and understand what it was like then. I spent 22 years in naval aviation and I would bet that not only would former SAC personnel buy this but any former or present military aviation type would. I have wanted a copy of this for about 30 years and now with DVD I feel it would be spectacular to see even on the small screen.

Why No DVD?

Some of the greatest aerial scenes every put to film, American air power at it's height AND Jimmy Stewart. So, why has it not been released on DVD?

Strategic Air Command

As a B-47 pilot I found this film to be very accurate and the air to air scenes very enjoyable. Brings back many memories of my SAC duty 1960-1964. I Hope it is released on DVD soon.

Release SAC to DVD

I love the movie. But would like to see it released on DVD or Blu RayIt is one of only a handful of classic movies that Jimmy Stewart and June Allyson are acting in together and their acting style meshes together and complements each other.

Fine movie with great air to air scenes

The strengths of this movie are the scenes involving the aircraft: B-36s and B-47s, among others, in truly astonishing aerial sequences. This movie would look amazing if remastered for Blu-Ray, and every aviation enthusiast out there would buy a copy, I'm sure. So what if the story is a little dated, the performances are first rate, and the movie is well worth a viewing even if you aren't an airplane person. It is a slice of history out of a unique era in US history, as it became a global superpower in a new "fast response" nuclear age.Who owns the rights to this and why aren't they getting it on to Bluray?

Accurate Depiction of 1950's America and SAC

This movie gives a very accurate glimpse into life in the Strategic Air Command of the fifties. My dad had recently finished a tour flying the B-36 when he took me to see this movie. It helped inspire me to my own long fighter career in the USAF. As to June Alyson's part: I recall the dangers involved flying that technology and the worry on the part of aircrew famlies. And, I recall wives reactions when their husbands were rotated "too soon" to deployments and long missions, due to short manning in SAC at the time. When a B-36 was lost, the base housing area filled up with moving vans. June's part was written to reflect that reality. The script was written by Air Force veterans and the lead was acted by a fully qualified B-47 pilot, James Stewart. I am a pretty old codger now, but this movie brings back vivid memories of that time, the dedication of our dads, and the mighty beauty of the B-36. The photography and music were stunning on the big screen. I hope this movie, a box office smash at the time, comes to DVD before it is too late for me.

strategic air command

I was born in 1957 and looked forward to seeing this movie every year or so when it was on TV. I can not understand how anyone would miss the point, its just a moment in time, a day in the life of a man who has the profession of USAF bomber pilot. What is so great, its not something it is not, "made up" , its just a great guy, great planes and a great mission. Very boring to critics and Hollywood production lovers but thrilling to airplane folks and we get to see BG Stewart one of the coolest cats around in his "real" natural habitat... why isn't this on Blu Ray!

strategic air command

great movie,should be released

Strategic Air Command

Jimmy Stewart performs in what is a "Why We Fight" post-WWII recruitment film for the USAF who was in dire need of military pilots experienced flying multi-engine combat aircraft. The B-36 Peacemaker is an important aircraft in that bridged the gap between piston-power, jet power and eventually rocket power, all for a new concept: USAF intercontinental strategic nuclear strike capability.Most people don't know that Jimmy Stewart was an actual bomber pilot who flew bombing missions during WWII over Germany. Stewart's acting as a pilot in "Spirit of St. Louis" and "Flight of the Phoenix" also shows in Strategic Air Command, he just puts on the pilot-thing as it was a natural fit for him. Anyone who enjoys military aircraft will enjoy this film, the sheer size of the Consolidated B-36 is best described as awesome but also shows the lengths to which our country's military men and women went to guarantee continued peace and freedom in the shadow of the Communist threat that the USSR posed in the 1950's. If you are looking for a 1950's film that accurately depicts what US Air Force reserve officers and non-coms experienced way back then, as well as what they experience today, watch this film and enjoy not only the great acting but watch what was one of the most awesome bomber aircraft ever flown put through its paces while pitted against the real-world drama experienced by its crews and their families.

Strategic Air Command (1955)

Not one of Jimmy Stewart's best films, but not fault of his. He is terrific. June Allyson, I don't know what exactly it is I don't like about her. I feel her performances are so rehearsed and phony. She is way too sappy and understanding in this film and I feel she hurts the films overall effect. Some excellent aerial photography, good score and the entire production is top notch. It waves the flag a little excessively and the mix of personal drama and action sequences is at times a little awkward. The supporting cast is a bit bland, Harry Morgan and Rosemary de Camp stand out as the best. Good special effects. The color in the film was exceptionally crisp.

We Need This Movie Today More Than Ever

With our troops in peril throughout the world today, we need a movie such as this one which shows the sacrifices made by the men and women of our armed services, both to encourage those who continue to fight for our freedom and the freedom of those who are unable to fight alone, and also to remind everyone of the sacrifices made during the Cold War.

Nostalgic Value

As an Air Force member from 1970 through 1974, I truly identified with this film. I was part of SAC and the movie brings back memories of that time. Also, Jimmy Stewart does an outstanding job in the film. I agree with some of the other comments regarding the nostalgic value this film has. I highly recommend that the film be released in a DVD format.

THIS FILM NEEDS TO BE RE-RELEASED!

THIS FILM ALONG WITH ALL THE OTHERS DEPICTING THE DIFFERENT BRANCHS OF THE SERVICES THRU ALL THE WARS ARE A MUST FOR THE GENERATION OF TODAY TO SEE. MOST OF THEM HAVE NO CONCEPT OF WHAT THE WORLD WAS LIKE & WE AS A NATION WENT THRU FROM DAY 1 TO NOW. NOW AS TO ALL THE WONDERFUL SCENERY ABOVE THE GROUND. EVEN THOUGH I WATCH THIS & OTHERS WHEN THEY ARE SHOWN, I'M ALWAYS THRILLED TO SEE THE SKIES, OCEAN, ETC THE WAY IT WAS THEN, BEFORE ALL THE POLLUTION HAS AFFECTED OUR EARTH, SEAS & SKIES. IT'S DIFFICULT NOT TO GET INVOLVED WATCHING IT FROM START TO FINISH. LOVE THE COMMENTS FROM THE FLIGHT CREW OVER THE LONG DISTANCT FLIGHTS, WITHOUT THE MORE COMFORTABLE SEATS THAT ARE AVAILABLE NOW. TO SEE THE NAVIGATION SKILLS & FLIGHT SKILLS ETC NEEDED THAT GPS DOES TODAY. I STILL GET A THRILL LOOKING AT THE PLANES & THEIR DESIGNS THAT MAKE THEM LOOK LIKE THEY'RE SPEEDING ALONG JUST SITTING ON THE GROUND. IT'S WONDERFUL TO FEEL LIKE YOU ARE RIGHT THERE IN THE AIR WITH THEM. THERE ARE A LOT OF PEOPLE WHO'D LOVE TO OWN THESE FILMS WHO WEREN'T IN THE SERVICES, SO ADD US TO THE ONES WHO SERVED & WOULD LOVE TO HAVE THIS AND OTHER FILMS. MY FAMILY THRU GENERATIONS SERVED IN ALL SERVICES, EXCEPT SPACE.

I agree...

Please remaster and release this great movie with some of the best historical aerial footage from the cold war days. This is a must for Stewart fans and aviation buffs alike.

SAC veteran, Aviation history buff

This movie really needs to be released on DVD; The movie, despite some of the perhaps inaccurate dialouge, is one of the best Cold War-era aviation films made. I was only 4 years old when I first saw this movie as an Air Force kid on Holloman AFB, New Mexico. This base was a Air Force Systems Command test base then; B-36s would often visit the base and their 'revibirating snarl' was quite awesome. When I joined the Air Force in the early 70's I spent my first 10 years at Carswell AFB (now NAS-JRB Fort Worth) and recognize much of on-location scenes in the movie; The spectacular B-36 takeoff from Runway 17 with the background of the Convair plant and town of White Settlement (filmed from a B-25 chase plane) never ceases to amaze me. I also agree that the spectacular aerial photography at crusing altitudes of both the B-36 and B-47, along with its musical score, has yet to be matched by film makers, even in this day of computer-generated scenes. (Sorry Ron Howard, but you should have enhanced NASA films of the Saturn V launch when you made Apollo 13.)

The Demand Is There, Release It Already!

This movie has a lot going for it - James Stewart, June Allyson, Harry Morgan & Anthony Mann the Director. Was nominated for an Academy Award for Best Writing, Motion Picture + awarded a Special Citation by the National Board of Review for the aerial photography. Only available on VHS today for $18 - $70. The demand for this movie is proven for this 54 year old movie to be priced this high and on VHS only! The only thing this movie lacks is a little more action and some wisdom at Paramount Home Video. It has long deserved to be remastered and released in widescreen (only) on SD DVD and Blu-ray.

Please release on DVD.

The release of Strategic Air Command on DVD is long overdue. Although it was intended as a recuiting film at the time, it was also intended as a tribute to those who served in the air force. My father served during the 1950's as a crew chief on a B-36. He purchased the VHS version back in the 1980's. He loved to watch his beloved B-36 in action! This film includes very rare and very impressive color aerial footage of the B-36 and the B-47. Not to mention, Jimmy Stewart and June Allyson are a classic duo. It's about time that the veterans who served during the cold war era have this tribute film released on DVD.

Release now, please!

As an avid DVD collector, I have always enjoyed the older war movies released on DVD. I am very surprised that this film of so many have not been offered yet. This film is truely a testimate to Jimmy Stewart and The United States Air Force from the 50's. Please release this film for all to enjoy!!!!

SAC

Having been in the USAF, and SAC i related to the story. Jimmy Stewart was a real hero and USAF pilot and there wasnt a fake bone any were. knew his craft.

It's time for a DVD release!

I saw this film for the 'umpteenth time' and it never fails to bore me everytime. Once this movie is released on DVD, it will be 'prized' among my other great DVD collections of Classic Hollywood Aviation genre films. They don't make these kinds of movies anymore, so a DVD format is highly welcomed!

B-36 "You heard them before you saw them"

As a life-long Air Force enlisted electronic technician, I can say that the defining moment that I realized that this was what I wanted to do, was when I heard that unforgetable prop-beat. It was 1954-55 on my Dad's wheat farm in Montana and I looked for the small speck at the front of a contrail that looked 100 miles long. I knew I wanted to work on that machine. When SAC was shown in town, I had to see it. What a great movie for a 16 year old aviation nut.Long story short, 4 years of long-range radar ADC, 22 years of Oklahoma Air National Guard C-130H avionics, 5 years of Air Force civilian E-3 technician and I still can't get enough of these flying machines.So, see what a simple "propaganistic" movie can do?

Save Our History

As an actual Cold War veteran, and PROUD Strategic Air Command member, I can honestly say tht the story is great. I agree with Mr Whitlock, the film is quaint (a sign of the times) but I believe if you converted this film to home video it would fly off the shelves. Every current and former Air Force pilot and groundcrew would be fighting to get a copy!

Almost Lost History

"Strategic Air Command" has some of the best aerial photography ever. The story line may seem quaint by some today but it represents a real phenomenon of the 1950s:how to maintain a nuclear deterrent against the Soviets with an over-extended and under-appreciated bomber strike force which had to be always ready at a moment's notice. And, of course, Jimmy Stewart as an actual Air Force Reserve pilot whose exploits in WWII were then well known gave great credibility to this film.I feel this film represents an almost forgotten part of Cold War history and tells a part of the story of how we won that war.
*We protect your personal infortmation and will not provide it to anyone without your consent. For a complete explanation, please refer to TCM's Privacy Policy. By submitting your contribution, you agree to TCM's Terms of Use.