DVDs from TCM Shop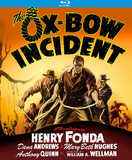 The Ox-Bow Incident A loner gets caught up in a posse's drive to find and... MORE&nbsp> $16.95 Regularly $29.95 Buy Now
Home Video Reviews
One of the most famous of American movies dealing with the dangers of lynch mob violence,
The Ox-Bow Incident
(1943) is still powerful and beautifully acted, if a tad preachy. Henry Fonda and Harry Morgan play two cattlemen who arrive in a western town to find that a man's been rustled and murdered. The townsfolk form a posse and find a small group of men (Dana Andrews and Anthony Quinn among them) camping on the outskirts of town, with the victim's cattle in their possession. The townsmen string up some ropes with plans to lynch the group, but don't carry out the deed until after much discussion and debate over what is the right thing to do, which is really the heart of the story.
In fact,
The Ox-Bow Incident
feels somewhat more literary than cinematic - a film more of intellectual ideas than of powerful emotion. Though beautifully shot by cinematographer Arthur Miller, it's essentially full of scenes of characters standing around talking, and is less a true western than a morality story which happens to be set in the old west. (Its subject matter has been covered better on-screen in the less preachy and far more emotional
Fury
, directed by Fritz Lang, and
Try and Get Me!
, directed by Cy Endfield). Nonetheless, it's an important picture in film history for its hard-hitting story and social drama - unusual for a western of its time - and is definitely worth watching. Its message is as timely as ever.
The novel was written in 1938 by Walter Van Tilburg Clark, who wanted to address Nazism by showing how easy it was for a fascist mentality to arise in a group of people. Setting his story in a western, the most American of genres, only furthered that point. Upon publication in 1940, the book was a huge success with readers and critics. United Artists contract producer Harold Hurley bought the rights, but he couldn't get a film version going. He pitched it to director William Wellman, who loved it, but when Hurley said he envisioned
Ox-Bow
as a lavish Technicolor production, Wellman bowed out.
A couple of years later, Wellman ran into Hurley again and inquired about
Ox-Bow
. It was still dead in the water, so Wellman bought the property from Hurley himself - the only time in Wellman's career that he ever put his own money into a project. He made the rounds in Hollywood only to find that with the nation now at war, studios were even less interested in a story of misjustice in the American west and the hanging of innocent men. No one in town wanted to touch something so dark. Finally, he took it to Darryl Zanuck at 20th Century Fox, with whom Wellman had had a falling-out sometime earlier. Zanuck offered to produce it if Wellman would make it on a tiny budget as well as agree to direct two more films for him - sight unseen. Wellman agreed. The film, shot cheaply almost entirely in a soundstage, did badly at the box office for the very reason that no one had wanted to finance it. But critics loved it, it was nominated for a Best Picture Oscar, and its reputation has only grown over the decades.
The Ox-Bow Incident
has been beautifully restored and preserved by 20th Century Fox. Among the DVD's extras is a fine side-by-side comparison of different versions of restorations over the years, culminating in this final digital version. Also included are a gallery of stills, the trailer, and an A&E Biography of Henry Fonda.
A commentary track by film professor Dick Eulain and filmmaker William Wellman, Jr., is mostly interesting and informative (if repetitive at times). Eulain points out much of the symbolism in the film and explains what was changed from the book to the movie, including the addition of one line of dialogue which implies that the lynchers will be punished for their crime - something that the book does not include.
Wellman recounts the production's history and shares some insightful tidbits about his famous father, who favored working with tough-guy actors like Cagney, Bogart, and Wayne and didn't get along with a lot of people. "My father had fights with people," his son says in describing the falling-out Wellman had with Anthony Quinn not long after making this picture. "He was not an intellectual. He didn't think that way - If you asked him about the theme of the story, the motivation and those things, he wouldn't pay any attention. He just liked the story."
To order
The Ox-Bow Incident
, go to
TCM Shopping
.
by Jeremy Arnold