DVDs from TCM Shop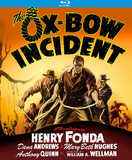 The Ox-Bow Incident A loner gets caught up in a posse's drive to find and... MORE&nbsp> $16.95 Regularly $29.95 Buy Now
USER REVIEWS
See Detailed Ratings
Acting of Lead Performers

Acting of Supporting Cast

Director

Music Score

Title Sequence

Screenplay

Cinematography

Historical Importance

Would You Recommend?

0 Member Ratings
Rate the acting of the Lead Performers

Rate the acting of the Supporting Cast

Rate the Director

Rating of the Music Score

Rating of the Title Sequence

Screenplay

Creatively uses the camera to tell the story

Importance in Cinema history

Would you recommend for fans of this genre
Submit Ratings
Cancel
Write a Review
Read Reviews
NO REVIEWS AVAILABLE
The title has not been reviewed. Be the first to write a review by clicking here to start.
Hanging Is Any Man's Business That's Around....

1943 little film which became legendary western, directed by William Wellman, probably the perfect director for subject matter. Nominated for Best Picture only, never happened before or since I believe. Story of two drifters who are accused of rustling, cleared, then join a posse led by Major Tetley ('i'll have no female boys bearing my name' - huh?). Posse catches up to three men ('you don't even care whether you've got the right men or not') with the cattle but no bill of sale, the audience knows this, which is key. Despite doubts and letter written by one of the accused, the lynching procedes, ending with classic letter reading scene at town's saloon. A 75 minute masterpiece and supposedly Clint Eastwood's favorite film ( I can see it in his 1992's 'Unforgiven' - also a great film). A Top 100 film of all-time in my book. Don't miss this little gem. note: to reviewers kevin sellers and moose on jd jitters review, it is a tad (sarcasm) excessive and i am a gun carrying independent who voted for clinton and trump 'cause i cheated and voted twice (heavy dose of ironic independence)...hope all three of you people are well my friends....pss: ironically this classic western was a box office flop....zanuck said...i wasn't there

Not your average western

I appreciated this film for several reasons. First off, I enjoy westerns. I also am a big fan of Henry Fonda. This was never destined to be a box office smash. It's a serious story and it doesn't sugarcoat anything. It is a disturbing look at ourselves and what can happen to anyone under certain circumstances. I wouldn't say it was one of my favorite westerns but I recommend seeing it to anyone who enjoys quality films and a good story. I didn't see it as a political statement but just another episode of the human struggle. You don't forget a film like this and that always is a sign of a good movie in my view.

100% agreement

Mr. Sellers, I have read many of your reviews....many times I agree....sometimes I don't. But never, ever have I agreed with you more than with your review below. Some people seem to politicize everything. It's a film that in its most simplistic form is about right or wrong. Don't be so paranoid, J.D., us big bad liberals aren't out to get you!

response to j.d.

Based on the evidence of his or her "review" below, wherein he (or she) conflates an anti lynching film with an attack upon white supremacy I, as a card carrying progressive liberal, pronounce J.D. Jitters not a white supremacist but rather a supreme idiot.

Outstanding

Ahead of its time,hence not big box office.Let's go for overhyping Bogie,Bacall and mindless drivel of today.This had a message then,and continues to be relavent.When good people adopt mob mentality,the innocent suffer!

no blinds for it.

a great story is like looking out a window. what you see is not promised to be pretty.. and it can only show what is there.

Outstanding

This is a dark, disturbing and riveting film. Henry Fonda is quiet, underrated and the voice of decency. Dana Andrews breaks the viewer's heart with his pleas of innocence--which are true. This is a western but it's no "shoot em up." It's a bit like picking up a rock and seeing what's under it. It's the dark side depicting a lawless, self-centered society where law, justice, mercy and honesty are tossed on the trash heap. In a way, this is Twelve Angry Men with Henry Fonda, again, as the voice of reason but, this time, the good guys do not win. Reasoning doesn't work. Nevertheless, the film takes a firm hold on the viewer and is well worth watching. The acting is outstanding and the story will never be forgotten.

Well written Western, ethics exposition

Selected for the Library of Congress' National Film Registry in 1998, The Oxbow Incident's "Best Picture" Oscar-nomination went in 1944 to pro-WW2 Casablanca. So heroically, over-aged Fonda volunteered to fight for US Navy. (Fonda's friend, Jimmy Stewart was already flying bombing missions for the US Air Force in Europe against the Nazis.) Fonda's finale in Oxbow Incident, scene soliloquy: "A man just naturally can't take the law into his own hands and hang people without hurting everybody Law is a lot more than words you put in a book, or judges , or sheriffs you hire to carry it out. what's right and wrong? It's the very conscience of humanity. There can not be any such thing as civilization, unless people have a conscience. Because if people touch God anywhere, where is it, except through their conscience?" This drama deserves an encore. Director William Wellman's well written Western, Ox-Bow Incident (1943), seems so similar to Sidney Lumet's courtroom drama, 12 Angry Men (1957); both star Hank Fonda correcting corruption, lynch-mob mentality; today's group think victimizing innocents. All three, favorite films, (Oxbow, Casablanca & Angry Men) earn rave reviews for brilliant stars, character actors developing enlightening scripts, engaging dialogues, dramatic directing, and appropriately Black & White cinematography, making subjects most memorable, motivational for audiences across America and Europe.

Playing Now!

Boy! If anything describes progressive liberalism this film does, it jumps out like a warning. Today's progressive liberal claims to know who is and who isn't a white supremacist without evidence thus making the accused a bigot. It goes back to the old southern sheriff who says: Will give him a fair trial and then hang him. This is the politically correct form of justice.

A must-see morality play

The first time I saw this film, I was absolutely floored! I had never heard of it before, and As soon as the credits rolled, I thought hmm this could be interesting. Little did l know how much emotion I would experience over the next 75 minutes. After watching, I had tears in my eyes and felt like I had been punched in the gut. The acting is exceptional as is the directing. Sure, you can quibble over the cheapness of the stage sets but the story is so engrossing it rises above all that. I wish this could be shown to teens because of the similarities of bullying and mob mentality. Watch the dog cross the road at the beginning and end of the film, kind of a neat little start and finish. This is a movie that should be considered as one of the best films of any genre and will haunt you long after you have seen it.

ox bow

This film is at its best when it's not hitting you over the head with its anti lynching message but is rather letting the relationships and conflicts between the characters take center stage. Fortunately, there are many such moments. Let's give it an A minus.

Film of shadow and light

Fine film of the 1940's, it feature one of Henry Fonda's very best "everyman" roles. Excellent assembly of actors: Dana Andrews, a young Harry Morgan, and several veterans of the John Ford films. Tough story told with few touches of the Hollywood gloss so typical of the 1930s and 40s. I can understand why Zanuck, Fonda, and Wyler wanted to work on the script, it is powerful. That said the move is a little bit heavy, the technique beautifully realized but heavy handed and until Fonda's wonderful reading of the letter at the end, it seems to only intermittently soar into the classic realm. Wonderful film, a few flaws, but well worth the viewing. For me it is one of finest "darker" westerns of the mid-20th Century.

A Twisted Tale

When I began to watch this movie it had already started but it was so interesting I continued to watch. The more I watched the more riveting it became but it took me for a loop. This movie was not meant to entertain audiences but rather to bring awareness regarding themes such as: racism, fairness, pride, hate, mercy, greed, responsibility, guilt, lawlessness, and most of all, about having a conscience. The end of this movie was unique and left me stunned. I felt honored to have seen it, for it was full of purpose and meaning.

The Ox-Bow Parliament

Democracy in action!

The Ox Bow Incident: Legendary Film

The Ox-Bow Incident makes a strong case to be considered the finest movie ever made. It has all the ingredients necessary including an Academy Award winning- and motion picture visionary- in Director Wild Bill Wellman along with three time Oscar winner for Best Cinematography in Arthur C. Miller. Academy Award winning stars Henry Fonda, Anthony Quinn & Jane Darwell grace the story with focused sincerity. Prodigious character actors Harry Davenport, Marc Lawrence and Harry Morgan team with Tony Award winner Frank Conroy and legendary minority film pioneer Leigh Whipper to provide performances that grab the audience and make for active participation by the viewer. Not to be overlooked is the presentation of aged human foibles by Frances Ford, who in real life is the older brother of noted director John Ford. "Everyman" star Dana Andrews burns the screen up with his portrayal as a victim of social injustice.However- the real star is the tale itself. Based upon a 1940 novel of the same title written by Walter Van Tilburg Clark, the plot simmers like the caged heat of a pressure cooker against a backdrop of the cold and dreary western night. The film as well as the book takes a scathing look at justice, mob rule, truth, bravery & the role of law in the old west- or in contemporary society- anywhere the "little man" is preyed upon by powerful people.Filmed during the ominous days during the Summer of '42, the message of this- the first "modern" western-was not evaluated by the studio effectively because the money people are concerned more with profit than art. Never a money-maker in its day- even though it was filmed on a back lot budget of $565,000- this exceptional picture was well received by critics and appreciated enough by Hollywood itself to be nominated for the Best Picture Oscar. Only 75 minutes in length, the fast paced experience leaves one limp with emotional exhaustion.

The Ox-Bow Incident

Overall-4/5Lead Performers-5/5Supporting Cast-4/5Director-3/5Screenplay-5/5Score-3/5Title Sequence-3/5Cinematography-4/5Importance-4/5Recommendation for fans of the genre-4/5

Great Western

Powerful drama,appreciate more with each viewing.Great book.Lynching as anything but justice was never shown more powerfully.Quinn's best for me are Ox-Bow and Guns Of Navarone.

The Ox Bow Murders

Another great movie proving what happens when not all facts are known,mob drunk on human blood.Nazis in cowboy garb very apparent

Who's Rash in Rush to Justice now

No Room For Error

5/14/12

The Purple Heart showed captured fliers fighting for justice.This is a lynch mob of same caliber as Nazis and Tojo in WWII.Conviction in the mob's hearts is never justice,whether a gay black man in 1998's BLIND FAITH,To Kill A Mockingbird,The Purple Heart or many other wonderful films.As Errol Flynn's Robin Hood said,"It's Injustice I hate,not the Normans!"

GREAT MOVIE!

THIS MOVIE WAS A GREAT MOVIE! I NOTICE THAT THE PERFORMANCES BY HENRY FONDA AND DANA ANDREWS WERE PREFERRED PERFORMANCES-I MIGHT HAVE CHOSEN FRANK CONROY'S PERFORMANCE(HIS FACIAL EXPRESSION WHILE WILLIAM EYTHE WAS TAUNTING HIM WAS OUTSTANDING!), BUT THAT WOULD BE SO UNFAIR TO THE OTHER ACTORS, BECAUSE THEY WERE ALL SO GOOD! AN INTERESTING PLOT WITH GREAT ACTING EQUAL A GREAT MOVIE!

What Happens When Mob Rules Prevail

What a significant picture of what no one would admit to as happening in Nazi Germany and elsewhere and also today

The Ox-bow Incident

William Wellman's study of mob justice is a dramatic & great story. Henry Fonda is great as a cynical & weary rancher who plunges himself into a group of very, & I mean "Very," nasty people. Dana Andrews is terrific as one of the doomed lynch victims & he will bring tears into your eyes. An incredibly moving & terrific film to add to the western genre. I give it a 4/5.

Great Movie

I'm glad I caught it.

Not a good role for Fonda

I think if this film had come along later in Fonda's career he would've taken the role of the Christ figure played by Andrews. The script and direction basically hand the picture over to Dana Andrews. Fonda and Morgan are relegated to the sidelines during much of the story's main action, functioning as onlookers and having less commentary on the proceedings that the supporting cast! Even though Fonda gets top billing he is not integral to the plot (until arguably the end). In 'My Darling Clementine,' he also gets top billing but loses that picture to Victor Mature.

One of my favorite films.

This is wonderful story - and brilliantly put on the screen. A movie way ahead of it's time. After The Searchers, I think this is the 2nd best western ever made. Look for the little dog at the opening of the film and just before the end.

great film, great performances.

great acting captured on film, not just by fonda, but by most of the cast. i remember being absorbed into this film, with no escape from the inevitable outcome. you can sense it in the opening scenes, and the energy builds and builds... like hopelessly trying to stop a runaway freight train. i am so glad to see the four star rating. fonda at his best in his early years, along with grapes of wrath. great film. and maw gave me nightmares.

ONE OF THE BEST FILMS EVER!

Mary Melinda Kinnaird

8/13/07

Everyone should see this film. I'm not a western fan, but I do like both Dana Andrews and Henry Fonda, so I watched this film. I am so glad I did. It is one of the best films ever! It's one of the most moving and beautifully made films I have ever seen. This film will stay with you long after the end credits. It's a powerful film that has become one of my all-time favorites. SEE THIS MOVIE!!
*We protect your personal infortmation and will not provide it to anyone without your consent. For a complete explanation, please refer to TCM's Privacy Policy. By submitting your contribution, you agree to TCM's Terms of Use.