DVDs from TCM Shop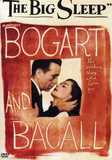 The Big Sleep Private eye Philip Marlowe... MORE&nbsp> $14.96 Regularly $19.98 Buy Now blu-ray
Trivia
Director Howard Hawks and star Humphrey Bogart got into an argument as to whether one of the characters was murdered or committed suicide. They sent a wire to author Raymond Chandler asking him to settle the issue, but he replied that he didn't know either. The question is left unresolved in the original novel by Chandler.
The scene where Bogart and Lauren Bacall make suggestive talk about horses was added almost a year after filming was otherwise complete in an attempt to inject the film with the kind of risque innuendos that had made To Have and Have Not (1944), and Lauren Bacall, so popular a few years earlier.
Mars' henchman are named Sidney and Pete, a tribute to Bogie's frequent costars Sydney Greenstreet and Peter Lorre.
Eager to repeat the success of To Have and Have Not (1944), Jack Warner gave Howard Hawks $50,000 to purchase the rights for The Big Sleep. Hawks bought the rights for $5,000 and pocketed the rest.
Raymond Chandler claimed that Martha Vickers gave such an intense performance as Carmen Sternwood that she completely overshadowed Lauren Bacall, and that much of Vickers' performance ended up on the cutting room floor as a result.
Contributions
Holz (2008-10-24)

Source: not available

Many of the cars in the film have a "B" sticker in the lower-right corner of their windshields. This is a reflection of the wartime rationing of gasoline. Gas was rationed primarily to save rubber, because Japan had occupied Indochina, Malaysia, and Indonesia. (There was a shortage of gas on the East Coast until a pipeline from Texas was constructed to replace the transport of crude oil by sea.) The B sticker was the second lowest category, entitling the holder to only 8 gallons of gas a week. Marlowe seems to use more than one week's allotment during a 72-hour period, which may be intended to reflect a black market in ration books. However, since Marlowe still has a deputy badge, at least in a deleted scene which existed in the 1945 version, he would be entitled to an X sticker (unlimited gas) as a peace officer. Perhaps the B sticker on the windshield was camouflage, since an X sticker would make the car extremely noteworthy.