DVDs from TCM Shop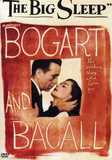 The Big Sleep Private eye Philip Marlowe... MORE&nbsp> $14.96 Regularly $19.98 Buy Now blu-ray
USER REVIEWS
See Detailed Ratings
Acting of Lead Performers

Acting of Supporting Cast

Director

Music Score

Title Sequence

Screenplay

Cinematography

Historical Importance

Would You Recommend?

0 Member Ratings
Rate the acting of the Lead Performers

Rate the acting of the Supporting Cast

Rate the Director

Rating of the Music Score

Rating of the Title Sequence

Screenplay

Creatively uses the camera to tell the story

Importance in Cinema history

Would you recommend for fans of this genre
Submit Ratings
Cancel
Write a Review
Read Reviews
NO REVIEWS AVAILABLE
The title has not been reviewed. Be the first to write a review by clicking here to start.
The Quick and The Dead

The young women fall for Marlowe and the middle-aged men fall around him in this comic book comedy with great atmosphere, dialogue, and music. The nine women with lines in the film are all early twenties head turners, and it's lust at first sight for most of them upon eyeballing Basset Hound Bogart's Marlowe [I can see why author Chandler wanted Cary Grant and TCM's Muller believes William Holden would've made the best Marlowe (in the 50's, of course)]. Seven not so lucky (nor magnificent) men die at separate times (five onscreen). Untamed beauties and beasts, with Bogart cracking whips occasionally and cracking witticisms outstandingly.

Music Sound Track

No question, it is the background music by Max Steiner that makes this film a hit and special---period!

If you haven't seen this... you just got to...

Being a child of the 70s, THE BIG SLEEP was generally shown on weekends or late night tv (the Late, Late Show) and what a treat. No cable in those days. You'd turn out the lights and watch this one, trying to connect the dots and figure it all out... You couldn't, and who cares! Just to sit in the dark and watch this masterpiece slowly build on itself. Truly addictive, requiring multiple viewings, don't kid yourself. And here's the thing---- atmosphere. The gloomy, rainy night, the loneliness, the eerie sound of crickets..... Toss in Bogey with a gun, Bacall by his side, and some strange dead-pan characters that take everyone for a ride. And what a ride. Enjoy this one.

The Big Sleep

Makes absolutely no sense. if you were confused, welcome to the club.

A Fine Mess

There should have been more of the sisters, who along with Bogey were really the only captivating characters. It goes without saying that the plot was a mess. Some of the players should have been homogenized or removed completely.The original 30's film did a better job, but SLEEP is still the better watch...by a mile.

You Do Sell Books, hmmm?

In the 1940's and1950's suspense, mystery and film noir were extremely popular to the masses. Chandler's Detective Marlowe has made many appearances on film and this is the absolute finest. Bacall and Bogart made 4 terrific films together and this mystery masterpiece is the best of them. Their chemistry on film is always relevant but the banter and one liners together in this film make me smile and laugh every time (about a baker's dozen). The bodies pile up and the one which leaves the killer in the dark........was murdered by Colonel Mustard in the library with the candlestick (sic). Page 7 was ripped out of my detective school book (what do those look like grapefruits?). Boogie investigating the rare book store as a book worm is priceless. Bacall and Bogart are the ultimate screen duo ( what Jolie and Pitt....nope) with Hepburn and Tracy and Loy and Powell close behind. To this viewer a terrific classic film and Top 40 film of all-time. Sit back and enjoy but pay strict attention required...."come into my boudoir"....

A Revised Snooze

For once, I would like to see the earlier version of this film that explains the plot better. For David Letterman and others to say this is a great movie even if the plot is confusing is utter nonsense. When the original writer doesn't know who killed one of the characters in his story; then somebody on this film with brains should have had the scene deleted or identified someone. I know they wanted to show more steam between Bogart and Bacall, but don't throw the baby out with the bathwater.

the price of stake in rubels..

if you do not give this movie a chance.. you may be a 1950s communist. . or a vampire. in other words.. vlad the putin.

why the shorter version

confused about why TCM would choose the version with 5 minutes less of Bacall and Bogart.....

It's The Back Ground Music

As good as this film is, it's the background music that makes this movie what it is. Say what you will about MGM musicals but nobody and I mean nobody could handle music like the Warner Brothers music department. Sometime when your watching Yankee Doodle Dandy, just close your eyes an listen to the sound track, there is nothing quite like it in the music world.

Classic!

A lot of quibbles over the years about this film but, like it or not, it's a classic. The beautiful and very capable young actress, Lauren Bacall, is stunning in this film and she's the one to watch. It's no wonder Bogart fell in love with the woman! Aside from her looks, her acting here is superb and her banter with Bogie is top drawer. There's also some great banter with other actors in this film and that makes it great fun to watch. Not the best film noir and not the best Boggie/Bacall film but, geez, it's worth the viewing at least once!

The Big Sleep

A complex plot line that is difficult to keep up with "The Big Sleep" still turns out to be a classic murder mystery with Humphrey Bogart as Philip Marlowe trying to find who is blackmailing a millionaire. Lauren Bacall, as the millionaire's daughter, tags along with Bogart as he tries to make sense of the mess he gets into. This was remade 20 years later with Paul Newman in "Harper" and that was a good private-eye story and with Lauren Bacall as the wife of a kidnapped millionaire. Here there are countless twists and turns with many characters trying to influence the final result that even the director Howard Hawks didn't know who did what. But in the 1940s Bogart's "The Maltese Falcon" and "The Big Sleep" were top detective films setting a standard for years later that were tough to beat.

love film big sleep

wow im still watching it anything with bogie and bacall i to cant take my eyes off of lauren

The Big Sleep A Diamond With A Few Flaws

Hello TCMers, I am hopelessy biased by my infatuation with Lauren Bacall in the 40s. That being said, H. Hawks re-shot in late 46 several scenes; the addition of some brand new footage featuring audience pleasing sexually charged and innuendo laced reparte between B & B, one shot in a restaurant, and the cutting of the scene where she visits B's office wearing a veil, and reshooting it with Lauren sporting a beret. These changes were done at the behest of Hawk's friend, Charles Feldman, who felt the film could harm Bacall's promising career if released to theaters in the original version. The plot is convoluted, and some insist, almost incomprehensible. The legend (fact?) still persists that Chandler never really did know who killed the Sternwood's chauffer, which is another plot twist in an already complicated plot. I feel the minor problems the movie has boil down to this: Although "noir" was pushing the boundaries of "socially acceptable content" in movies at an alarming rate for some, there are certain subjects in "T.B.S." that were considered taboo, or at best very delicate, ground. Examples: 1)The hints of Mr. Geiger's homosexuality. He is seen dressed and living in a very garish manner, and had the constant company of a young man who was so enraged by his murder that he lashed out and killed the man he thought responsible. 2) The subject of Bacall's sisters "problems". The hints are everywhere it is heroin or morphine, but never fully addressed. The missing statue camera photo @ Geiger's home is probably not a nude shot, but one of her injecting herself. If these had been explained, and the chauffer's murder eliminated, it would have been a less complicated plot. However, this is Bogie and Bacall at their best, w/H.H. directing, making this an enduring, periodically viewed classic for me. If fate had only allowed B&B to give us many more noir thrillers. RJM

HAIL HOWARD HAWKS !

As any serious scholar or student of the studio system in Hollywood's heyday knows, Howard Hawks is in the top 3, of the most successful directors. Intelligent people worldwide are still fascinated by John Ford's westerns. Alfred Hitchcock's suspense-filled mysteries intrigue five-generations of the intelligencia. Rivaling these two aces, is the ace of aces among world-class film directors, Howard Hawks. He created more 4-star films (the highest of ratings among most critics) in many more genres than any other director in the history of film. Howard Hawks is famous as a movie-making maverick with a distinctive talent for creating sassy female characters that enchant male bosses. Please consider his hits: "A Girl in Every Port" (1928), "The Dawn Patrol" (1930), "The Crowd Roars" and "Scarface" (1932), "20th Century," "Barbary Coast," "Bringing Up Baby," "Only Angels Have Wings," "His Girl Friday," "Sergeant York," "Ball of Fire," "Corvette K -255,", "To Have And Have Not," "The Big Sleep" (1946), "Red River" (1948), "A Star Is Born," "I Was A Male War Bride," "The Thing From Another World," "The Big Sky," "Monkey Business," "Gentle Prefer Blondes," "Rio Bravo" (1959), "Hatari" (1962), and "El Dorado" (1967). Twenty-three successes. Who else compares to this heroic champion, across so many different genres, among film directors? Hail Howard Hawks!

Big Sleep

Coastal NC Native

9/15/14

Very complicated plot but great movie. Really have to pay attention. Martha Vickers is one hot number in this movie. Wish they would make more like this one today.

erratum

I've just re-read, and realized that the character in "The Curtain" killed someone else. For the low-down on how the chauffeur got dead, read the title story in a collection called "Killer in the Rain" (read them all; they're great), and pay close attention in the last few pages. I've already spoiled one story in the collection. Two would be imposing on any readers here. No wonder Chandler was confused!

about the dialog

In the late 70s, Leigh Brackett was a guest of honor at a Denver science fiction convention, and a showing of THE BIG SLEEP was arranged. According to Brackett, dialog in some scenes was made up by the actors. She cited the amusing scene where Bogart and Bacall are messing with the police on the phone. Brackett should know: She was one of the three screenwriters, and at the time she told us the story, she was just about to script the second STAR WARS movie, so presumably she was in full possession of her faculties.

mystery solved [SPOILER of sorts]

The question of who murdered the chauffeur is present even for readers of the novel, but the answer is buried in a short story Chandler wished to suppress. The Big Sleep (novel) was taken and rewritten from two or three short stories Chandler wrote using his pre-Marlowe detective(s), who differed only in the names he used. "The Curtain," which can be found in a collection called Killer in the Rain, reveals [SPOILER] that the extra killing was committed by a psychotic kid - literally, he's "ten or eleven" - with poor impulse control. When Chandler put the novel together from "The Curtain" and "Killer in the Rain" (short story), with bits of "Mandarin's Jade" and "Finger Man," as well as a fair amount of new material, he neglected to explain a murder he'd retained that was committed by a character he hadn't (Carmen Sternwood is a combination of the young psycho and Carmen Dravec from "Killer in the Rain"). This was likely the inspiration for a plot in M*A*S*H (TV) where a page from a mystery novel was missing, and when Hawkeye managed to call the writer, he didn't know who did it either.

The Big Sleep

Overall-3/5Lead Performers-4/5Supporting Cast-3/5Director-2/5Score-4/5Titles=2/5Screenplay-4/5Cinematography-3/5Importance-2/5Recommendation for fans of the genre-4/5

The Big Sleep

I'm really glad I finally got to see this film. I had heard enough about it to not even bother trying to figure out the plot. So, I spent my time watching the beautiful Lauren Bacall (she never looked better) and Humphrey Bogart interact in really interesting sets. The atmosphere was perfect when it was foggy and mysterious at night. It was neat to see a round fireplace ( I wonder why they never took off ) and I always enjoy seeing gowns from the period (wishing I could have one made and wishing I had somewhere I could wear it too). It really is a must see if you are a fan of Bogie and Bacall. I can see why people wanted to see more of them, but I hate they had to butcher the story to do so.

Don't try to figure out the plot--just enjoy!

This film was apparently edited after the initial, more detailed cut failed to satisfy audience's wish for more interaction between Bogey and Bacall. The editing has made it nearly impossible to figure out the plot, so don't try too hard because you'll miss out on all the interesting stuff, like Dorothy Malone as the sexy bookstore clerk who closes the store early to get busy with Bogart on a rainy afternoon. You'll see examples of themes inspired by this film in later movies--i.e., the evil bookstore owner, Geiger, in this film, likely inspired the evil bookstore owner in "Patriot Games", although in the latter film he is involved with the IRA instead of blackmailing a rich girl with dirty pictures as Geiger does in "The Big Sleep". And you thought bookstores were boring. Check out the set for Geiger's home and all its interesting details, like the Asian themes, the fireplace, the sculpture complete with a hidden camera to take compromising photos and potiers. Love the old cars, clothes, but especially Bogart and Bacall.

The original is better

The original version of this film is really the only version they should show. The plot is so badly mangled in the re-edited version that most American audiences will never find their way out of the dark. The whole point of a detective story is to find out whodunit, and that is not possible in this version. The additional scenes with Bogart and Bacall that were added post-release at the expense of the plot are not worth it, for the most part. What this movie badly needs is another re-edit. If I were able, I would use the original version, then add just a couple of the additional scenes with Bacall.

Plot?

Plot? The plot is really secondary. Just hang on for the ride as Bogie plays the best gumshoe ever.Bacall is too hot to handle in this, her second movie with Bogie. Their chemistry is unbelievable. No wonder they got married, they were a natural together. The repartee is absolutely the best; almost like they weren't acting a script, but really talking to each other. Gotta give it a high five.

The Big Sleep

Director Hawks & stars Mr. and Mrs. Bogart reunite in this unforgettable film noir. Bogie & Bacall, as usual sizzle on screen, him as one of the most memorable P.I.'s in fiction. The convoluted & confusing story may be frustrating to understand, but the film itself is engaging. A terrific film noir adapted from Chandler's first novel. I give it a 4.5/5.

'AGNES LOWZIER' . . .

. . . was played by a beautiful young starlet named Sonia Darrin. Like many others, I have long wondered what became of her (her handful of credits having ended in 1950). It turns out that she married, and retired from acting, having four children with her husband, William Reese. Here is the truly amazing part, though: one of their four children is the former child star Mason Reese-- who, obviously, did not inherit his mother's youthful beauty! You may find her story told at a blog called Ron Schuler's Parlour Tricks, in a post dated Wednesday, March 25, 2009. According to both Intelius and Peoplefinders, she is now 83 years old-- meaning that she may have been as young as 15 when "The Big Sleep" was originally filmed, in 1944!?! Amazing!

The Big Sleep

What can you say? Bogie and Bacall. Should say enough, but if it did not, then you'llbe glued to the TV while this dandy rolls along. Bogie is Phillp Marlowe - super slueth.Suspense, some sexism keeps Bogie turning the pages of this mystery. Bacall has toprotect her troubling, afflicted baby sister from the gumshoe. Its a classic. All you cansay is see it. Again and again and again.

What happened to Agnes?

Saw this movie in 1946. Was only eight years old. Saw it well over sixty times in the ensuing years.Bogie was and always will be Bogie.Loved his scenes in the book stores. First with Agnes (Sonia Darrin..............why ever did her career end so soon?)The second with a very young Dorothy Malone.I never cared about the plot per se, but the inter action and banter between the characters. It is a classic!!!!

The Big Sleep

One of the best detective movies ever. I own it and still watch it every time it airs on TCM. If you have never seen it you are missing a true classic gem -- watch it the next time it is shown. Better yet, treat yourself: purchase the DVD -- you will not be sorry you spent the money!

The Big Sleep

All I can say is that they don't make them like this anymore!Intricate plot that made me watch this more than once. Bacallis prettier than an angel, Bogie is...well, Bogie. A CLASSIC!!

Aptly named

Another reviewer below writes "I have never been able to understand this film. ". I'm glad I'm not alone. In fact I had to watch it four times before I could even make it all the way to the end without falling asleep myself.It's just lucky this movie has both Bogie and Bacall in it. It's worth seeing for them alone. And what a great line he delivers, "Yeah, she tried to sit in my lap while I was standing up".

Original/First Cut vs Final Cut

I just ran across a VHS tape with a copy of the original and final cut of The Big Sleep. It was TCMs 3rd Birthday so I recorded it in '97. Robert Osborne explained audiences really liked the "saucy" banter between Bogart and Bacall, and apparently there wasn't enough in the original cut, so they added the banter and ended up cutting key scenes that explained what was going on in the movie! Hence, all the confusion...you really do need to view the original in order to understand what's going on-maybe TCM will air the original again sometime soon.Osborne also noted the original cut was how director Howard Hawks envisioned the film- (I also ran across a VHS that apparently was recorded before '94 because it was on the original Turner movie station TNT-and it's got both The Big Sleep and The Maltese Falcon in COLOR! Nice to view for a change of pace.....)

Bogie & Bacall 2

Who cares if the plot of "The Big Sleep" doesn't make any sense? Just seeing the sparks fly between Bogie and Bacall in their second film together is more than enough for me. Besides, I think the fact that the plot is convoluted and incomprehensible gives "The Big Sleep" a certain look and feel that other film noirs don't have. One of the best film noirs ever and one of Bogart's best performances.

Sean Penn as Marlowe?

As well as he might have progressed and matured as a performer, I still cannot see Jeff Spigcolli as Phillip Marlowe

The Big Puzzle

I am a big Bogey fan, but I have never been able to understand this film. One reviewer said ". . . the more times I watch it the clearer it becomes . . ." My question is why should I have to watch a film 8 or 10 times to understand it? Great cast, but this one is overly complex.

Pistol continuity error

There is also a continuity error with Bogie's pistols, the one's he has hidden under the dashboard in his coupe. The spring-loaded panel holds two pistols, a short barrel and a long barrel. Mid-movie, he removes one of them, uses it, and is disarmed by an antagonist. Later in the movie, he accesses the hidden panel and there are two pistols again.BTW, I have read the book and it is not much easier to read than the movie is to understand. Chandler uses many of the phrases that have become clichs and it is interesting to read the first generation of that writing style. I still love the movie.

Better with each viewing

The story line can be difficult to follow at first, but it seems to be become more clear with each viewing, specifically regarding exactly what went on inside of Geiger's house during the shooting. The TMC synopsis says Geiger was a pornographer. I haven't read Chandler's novel, but the movie only indicates that he's a blackmailer.Never noticed the "shoes flub" in the house behind the garage, and I must have seen this movie over twenty times. Very interesting. There's also a dialog flub when Bacall tries to sugar Bogie off the case in the night club scene. Bogie asks her if she knew that Eddie Marrs wife had supposedly run off with Sean Brady. She says, "Who doesn't." But, when Bacall was in Bogie's office earlier in the movie, she told Bogie, "Eddie Marrs has a close relationship with the Sternwoods. Some people think Sean Brady may have run off with Eddie's wife."

Warning

It's common for an obsession to develop. Try reading the book. Or, hire a cast and crew and make your own version, maybe with Sean Penn as Marlowe?

The Big Sleep

Humphrey Bogart is wonderful in this. His Phillip Marlowe is tough with a touch of humor. I also don't find it hard to believe that women would find Bogart's Marlowe very attractive. Bogart has charisma. He has great chemistry with Lauren Bacall. But he also has great chemistry with Dorothy Malone. The story line is confusing. But the movie is highly entertaining.There is a flub in the movie. I don't know if anyone has caught it. Bogart is tied up and sitting on the floor. Bacall sits on the floor before him. She is not wearing shoes. Moments later when she gets up to get something to untie him, she has shoes on.
*We protect your personal infortmation and will not provide it to anyone without your consent. For a complete explanation, please refer to TCM's Privacy Policy. By submitting your contribution, you agree to TCM's Terms of Use.