DVDs from TCM Shop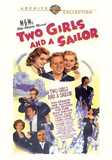 Two Girls and a Sailor Singing sisters create a World... MORE&nbsp> $15.96 Regularly $19.99 Buy Now
NOTES
The working titles of this film were The Tale of Two Sisters and Two Sisters and a Sailor. In addition to the above-listed numbers, the film includes instrumental excerpts from "Wabash Blues" by Fred Meinken, "Tentacin de amor" by Xavier Cugat and Fausto Curbelo, Cugat's "The Thrill of a New Romance" and "Mulata rumbera." The film also features a comic, classical piece in which Gracie Allen plays a simplistic piano "concerto" with an orchestra led by British conducter Albert Coates. According to M-G-M publicity material, Allen had performed her concerto at Carnegie Hall, the Los Angeles Philharmonic Auditorium and the Hollywood Bowl prior to the film's production. Robert Planck, not credited cameraman Robert Surtees, is listed in an early Hollywood Reporter production chart as director of photography.
Although this film was shot after Bathing Beauty, it was released shortly before it, and therefore marked Latin entertainer Carlos Ramrez' American feature-film debut. The film also marked June Allyson and Gloria DeHaven's first starring roles, although both had been in films before. Allyson's first screen appearance was in M-G-M's 1943 musical Best Foot Forward . According to a modern interview, Allyson was originally cast in DeHaven's role. As a child, DeHaven, like the character she plays in the picture, accompanied her parents, entertainers Carter DeHaven and Flora Parker, during their vaudeville circuit tours. Although Two Girls and a Sailor was not Tom Drake's first film, "Sgt. Frank Miller" was his first significant role. The Hollywood Reporter review described him as a "most promising leading man prospect."
Hollywood Reporter news items and M-G-M publicity items add the following information about the production: Felix Jackson, Leo Townsend, Carl Dudley and Herbert Baker worked on drafts of the film's screenplay, but their contribution to the final film has not been confirmed. George Sidney was initially assigned to direct the picture, and Kathryn Grayson was to star. Al Dubin, Ralph Blane and Hugh Martin were originally hired to write the film's music, along with credited composer Georgie Stoll, and Don Loper was to be the picture's dance director. (Loper did appear in the film as a "small town wolf.") Although Alan Reed, playing his "Falstaff Openshaw" character created on Fred Allen's radio show, singer Dennis Day, and comedienne Nancy Walker were announced as cast members, they did not appear in the completed film. In August 1943, Hollywood Reporter reported that Duke Ellington was to accompany Lena Horne on a song composed by Johnny Green and Jack Lawrence, but Horne's only number was Johnny S. Black's "Paper Doll."
Hollywood Reporter also claimed that M-G-M was seeking a Jimmy Durante "look-alike" for the role of Durante's screen son, "Junior." Although the CBCS lists Buster Keaton in that part, Durante actually played the role. Virginia O'Brien's comic interpretation of the song "Take It Easy" was added after principal photography was completed. The film was shown to the Army prior to its national release and Allyson "plugged" it in Spanish and Portuguese for South American broadcasts. In addition, Ramrez and Xavier Cugat made Spanish and Portuguese language trailers for the film's Latin American release. The National Board of Review named Two Girls and a Sailor one of its "outstanding pictures." The film was nominated for an Academy Award in the Writing (Original Screenplay) category. According to Hollywood Reporter, the song "Sweet and Lovely" enjoyed a revival after the release of this film. Modern sources note that Gene Corcoran, playing tenor saxophone, and Mickey Scrima, playing drums, appeared in the film as part of Harry James's band.