DVDs from TCM Shop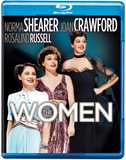 The Women A happily married woman lets her catty friends talk her into... MORE&nbsp> $15.95 Regularly $19.98 Buy Now
Articles
SEE ALL ARTICLES
The Women (1939)
Based on Clare Boothe's hit Broadway play, The Women (1939) is about a group of bitchy, backbiting, Park Avenue Ladies Who Lunch...and dish...with disastrous results for the only one of them who's happily married. The entire cast — more than 130 speaking roles — is female.

Appropriately, the screenplay credit went to two of Hollywood's women pioneers, Jane Murfin and Anita Loos. Murfin had been writing "women's pictures" since the silent days, and she produced a faithful adaptation of Boothe's play. Maybe too faithful. Shortly before production began, the censors objected to the racy dialogue. Enter Loos, the petite dynamo who began writing silent movies as a teenager, and who excelled at snappy dialogue. Loos claimed that she sat on the set and produced instant, cleaned-up variations of Boothe's innuendo-laden repartee.

The Women was directed by George Cukor, who was known as Hollywood's leading "women's director." And with an all-star cast headed by MGM's dueling divas, Cukor had his hands full. Norma Shearer had been the Queen of the Lot when her husband, Irving Thalberg, was head of production at MGM. Recently widowed, Shearer still had considerable clout. For years, Joan Crawford had lost plum roles to Shearer, and deeply resented her. Crawford, who had recently been declared "box office poison," needed a hit. Realizing that the role of husband-snatching Crystal in The Women was a meatier one than Shearer's virtuous wife, Crawford went after it. But even a juicy part couldn't stifle her resentment. When she had to sit off-camera and feed lines to Shearer during Shearer's close-ups, Crawford, knitting furiously and noisily, never made eye contact with her co-star. Shearer, rattled, asked Cukor to send Crawford home. Cukor did, and later insisted that Crawford apologize. She did, grudgingly. But relations between the two stars never thawed.

Shearer's contract stipulated that she get star billing. Crawford fought for, and won, equal billing. Then Rosalind Russell, who was giving a hilarious, movie-stealing performance, decided she deserved co-star billing as well. So she called in sick until she got it. Somehow, Cukor stroked all the egos and kept all the actresses busy enough to keep the feuds to a minimum. The result was a fast-paced, witty and brilliantly-acted farce.

In Gowns by Adrian: The MGM Years 1928-1941 (Abrams) author Howard Gutner noted that "Adrian designed 237 gowns for the cast of The Women. Five complete, identical changes of wardrobe were needed for the fight that erupts on the Reno divorce ranch due to the multiple takes that were required for each scene. And amid all the criticism for the inserted fashion show, a critic for the Hollywood Reporter was astute enough to recognize Adrian's contribution to the film: "Regarding the production as a whole, I would give major honors to Cedric Gibbons and Adrian, whose contributions made it possible for Oliver Marsh's and Joe Ruttenberg's cameras to make the film one of the season's outstanding visual treats."

The Women was remade as The Opposite Sex in 1956, but neither the addition of music nor the addition of men improved on the original. An updated 2008 version starring Meg Ryan and Annette Bening had feminist overtones. But most critics agreed that the later versionslacked the sparkle, bite, and star power that The Women still has.

Director: George Cukor
Producer: Hunt Stromberg
Screenplay: Jane Murfin and Anita Loos, based on the play by Clare Boothe
Editor: Robert J. Kern
Cinematography: Oliver T. Marsh, Joseph Ruttenberg
Art Direction: Cedric Gibbons, Wade B. Rubottom; set decoration, Edwin B. Willis
Music: Edward Ward, David Snell
Cast: Norma Shearer (Mary Haines), Joan Crawford (Crystal Allen), Rosalind Russell (Sylvia Fowler), Mary Boland (Countess DeLave), Paulette Goddard (Miriam Aarons), Joan Fontaine (Peggy Day)
BW & C-134m. Closed captioning. Descriptive Video.

by Margarita Landazuri
back to top
---