DVDs from TCM Shop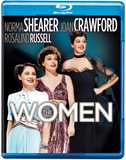 The Women A happily married woman lets her catty friends talk her into... MORE&nbsp> $15.95 Regularly $19.98 Buy Now
NOTES
The title card of the film reads The Women "as presented for 666 performances in its Triumphant run at the Ethel Barrymore Theater, New York." According to a news item in Hollywood Reporter, in 1937, Max Gordon and Harry M. Goetz of Max Gordon Plays and Pictures Corporation (the company that produced the Broadway play) signed Gregory LaCava to direct Claudette Colbert in a motion picture version of The Women. Hollywood Reporter news items from 1938 note that M-G-M purchased the play as a vehicle for Norma Shearer, who was to be directed by Clarence Brown, and that Ilka Chase was originally slated for the role of Sylvia Fowler. In the opening cast credits, photographs of animals dissolve into photographs of the actresses to suggest their analagous natures. Thus, an image of a deer dissolves into the image of Norma Shearer, a lamb into Joan Fontaine, a black cat into Rosalind Russell, a lion into Joan Crawford, a wolf into Paulette Goddard, etc. According to studio publicity contained in the Production Files at the AMPAS Library, the cast consisted of 135 women and no men. Even the animals appearing in the film were female. In addition to its cast of sound film stars, the picture also boasted a large roster of silent film actresses, such as Maude Allen, Flora Finch and Nell Craig. Phyllis Povah reprised her Broadway role as Edith for this film.
The fashion show was shot in color, using the Technicolor process. According to a news item in Hollywood Reporter, this combination of color and black and white photography in the same shot was a technical innovation. Another item in Hollywood Reporter adds that the film was also innovative in it use of "light charts" which mapped out the lighting arrangements for each actor. Developed by photographer Oliver Marsh, the chart cut set-up time by twenty percent. M-G-M publicity notes that no doubles were used in the fight sequence in which Rosalind Russell bites Paulette Goddard. In interviews, Russell stated that Goddard suffered a permanent scar from the bite, but that the two actresses remained friends.
A modern source has alleged that George S. Kaufman either ghost wrote the entire play or rewrote Luce's original version. In 1956, M-G-M produced The Opposite Sex, which was also based on the Clare Boothe Luce play, starring June Allyson, Joan Collins, Joan Blondell, Ann Miller and Agnes Moorehead and directed by David Miller. Unlike the 1940 version, the 1956 film featured men in the cast.