DVDs from TCM Shop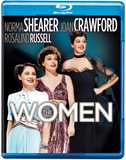 The Women A happily married woman lets her catty friends talk her into... MORE&nbsp> $15.95 Regularly $19.98 Buy Now
Trivia
There are over 130 roles in this movie, all played by women. Phyllis Povah, Marjorie Main, Mary Cecil and Marjorie Wood originated their roles in the play, which opened on 7 September 1937 and had 666 performances at the Ethel Barrymore Theatre in New York. No doubles were used in the fight sequence where Rosalind Russell bites Paulette Goddard. Despite the permanent scar resulting from the bite, the actresses remained friends.
Though many people view Joan Crawford as the "bad girl" of the movie, Clare Boothe, who wrote the play that the film was based on, sympathized most with Crystal Allen, Crawford's character.
In addition to its all-female cast, every animal that was used in the film (the many dogs and horses) was female as well. In addition, none of the works of art seen in the backgrounds were representative of the male form.
Sydney's, the beauty salon where the initial action takes place, was named after Sydney Guilaroff, the chief hairstylist at MGM from 1934 to the late 1970s. He was brought to MGM from New York at the request of Joan Crawford.
According to her autobiography, Rosalind Russell called in sick because Norma Shearer refused to share top billing. She stayed "sick" until Shearer finally relented.
Contributions
Siegel (2007-05-27)

Source: THe Women, 1939

The Women is known for being all women down to the gender of the dogs. However I found a picture of a man in this movie. It is very fast, but it is a picture of a man's face on the back of a magazine.

Jennifer Siegel

missminiver (2009-02-05)

Source: not available

In the first scene of The Women, one of the dogs that is fighting is Toto, from The Wizard of Oz.