DVDs from TCM Shop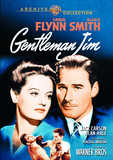 Gentleman Jim Fanciful biography of... MORE&nbsp> $15.95 Regularly $17.99 Buy Now
FULL SYNOPSIS
DVDs from TCM Shop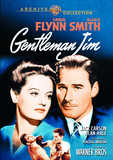 Gentleman Jim Fanciful biography of... MORE&nbsp> $15.95
Regularly $17.99 buy now
In San Francisco, in 1887, an illegal boxing match is broken up by the police. Among those caught in the raid are two young bank employees, Jim Corbett and Walter Lowrie, and Judge Geary, a member of the bank's board of directors. Upset because boxing's bad reputation has resulted in a ban on the sport, Geary announces that as a member of the Olympic Club, he will arrange for matches involving young men from good families to be held there. The next day, when they see Geary enter the bank, Jim and Walter are convinced they are about to lose their jobs, but Geary is actually there to thank Jim for the story he told in court to explain their presence at the fight. When Victoria Ware, the daughter of Buck Ware, another Olympic Club member, comes to the bank to get a supply of coins for her poker-playing father, Jim insists on accompanying her back to the club. There he talks Vicki into giving him a tour of the club and having lunch with him.

In the gym, Jim does a little boxing and so impresses the trainer that he is proposed for membership. Jim, whose father drives a hackney cab and whose brothers are longshoremen, becomes self-important after his election into the club. The other members, offended by his egotistical behavior, set up a match between Jim and Jack Burke, a former British heavyweight champion. To everyone's surprise, Jim's fancy footwork and quick punches win the match. At the ball afterward, a drunken Walter is asked to leave the club, and out of loyalty, Jim leaves with him. The next morning, Jim and Walter, painfully hungover, wake up in Salt Lake City. To earn the money to return to San Francisco, Jim boxes in a professional match and wins. With the help of manager Delaney, Jim turns professional and continues to win his fights. His successful fight against Joe Choynski takes place on a barge in an attempt to circumvent the laws which prohibit prizefights.

Because of his elegant fighting style, and his penchant for fancy evening clothes, Jim is nicknamed "Gentleman Jim." Now that he is earning a lot of money, Jim moves his family to Nob Hill. Although Jim is attracted to Vicki, she dislikes his airs so much that she is eager to see him fail. In 1892, when Jim needs $10,000 to challenge heavyweight champion John L. Sullivan, Vicki anonymously puts up the money, hoping that Sullivan will knock the pride out of Jim. On the night of the fight, Vicki is in the audience to boo Jim, but he again resorts to his fancy footwork and, at the end of twenty-one rounds, wins the championship. Even Vicki cheers the result, but she makes fun of Jim by buying him a huge hat to fit his swelled head. Sullivan comes to Jim's victory party to present him with his championship belt. They speak graciously of each other, and Jim expresses his deep appreciation of Sullivan's skills and place in history. Vicki is impressed with Jim's sensitivity and confesses that she loves him. When he proposes, she accepts.