DVDs from TCM Shop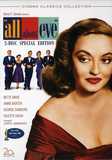 All About Eve An ambitious young actress... MORE&nbsp> $11.21 Regularly $14.98 Buy Now blu-ray
NOTES
The working title of this film was Best Performance. In the onscreen credits, the character of the director is called "Bill Simpson," but he is referred to as "Bill Sampson" throughout the film. Voice-over narration spoken by the characters of "Addison DeWitt," "Karen Richards" and "Margo Channing" is heard intermittently throughout the film. Although he is listed in the onscreen cast credits, singer Eddie Fisher's part was cut from the final film. All About Eve was his motion picture debut. Mary Orr adapted her short story, "The Wisdom of Eve," into a radio play before selling the film rights. It aired on NBC's Radio City Playhouse on January 24, 1949, starring Claudia Morgan and Marilyn Erskine. Orr received no onscreen or official credit for her story, which Twentieth Century-Fox purchased for $3,500. In 1951, the screenplay of All About Eve was published in book form. According to the Twentieth Century-Fox Records of the Legal Department, located at the UCLA Arts-Special Collections Library, screenwriter-director Joseph L. Mankiewicz received two-thirds of the profits, Orr one-third.
Orr revealed in an October 11, 1950 Variety news item that the story was inspired by the actual experience of Polish-born actress Elisabeth Bergner, who had once befriended an unscrupulous young actress. In a modern interview, however, Orr noted that "Eve Harrington" was "a combination of many young actresses I had met, including a great deal of myself." In a modern interview, Mankiewicz disclosed that the archetype for the character Margo Channing was 18th century English actress Peg Woffington, adding that she represented "every woman for whom acting was identical with existence."
Some reviews claimed that Bette Davis based her Margo characterization on husky-voiced star Tallulah Bankhead, and despite Davis' denials, these rumors persisted. In a modern interview, Davis said, "Tallulah herself, more than anyone else, accused me of imitating her as Margo Channing. The problem was that I had no voice at all when I started filming All About Eve due to emotional stress as a result of [fighting with her husband, artist William Grant Sherry, with whom she was engaged in acrimonious divorce proceedings]....This gave me the famous husky Bankhead voice. Otherwise, I don't think the similarity to Bankhead in my performance would ever have been thought of." Bankhead performed Margo, to Mary Orr's Karen, in a November 30, 1952 radio adaptation of the film on The Theatre Guild on the Air. Orr later recalled, "During the course of the rehearsals, Tallulah said to me, 'Of course, I was the prototype of Margo, wasn't I?' I assured her that she wasn't, and that I had Elisabeth Bergner in mind only. This made her so angry, she never spoke to me again, except on the air."
The character of acerbic critic Addison DeWitt was widely believed to have been based on New York critic George Jean Nathan, but Mankiewicz maintained that there was "[no] basis for a serious identification" of the real and fictional critics. Mankiewicz invented both the Sarah Siddons Society and the Sarah Siddons Award for the film. To his surprise, the award that he "dreamed up as an object of satire" was taken seriously, and in 1952, a real Sarah Siddons Society, inspired by the great English tragic actress (1755-1831), was founded in Chicago. The first Sarah Siddons Award, which was an exact replica of the statuette used in the film, was bestowed on Helen Hayes.
Mankiewicz and producer Darryl F. Zanuck initially considered Susan Hayward for the role of Margo, but decided she was not old enough. Claudette Colbert was cast as Margo in February 1950, but was forced to withdraw from the production when she injured her back. Modern sources provide the following information: Zanuck then suggested casting Marlene Dietrich as Margo, Jeanne Crain as Eve, John Garfield as Bill Sampson and Jos Ferrer as Addison DeWitt. Mankiewicz sought noted stage actress Gertrude Lawrence for the role of Margo, but her attorney, Fanny Holtzman, insisted that the screenplay be changed so that Lawrence did not smoke or drink in the picture, and would sing a torch song about Bill in the party scene. Zanuck also sought Ingrid Bergman to replace Colbert, but the actress refused to leave Italy, were she was living, for the production. A May 16, 1950 Hollywood Reporter news item adds Gertrude Astor and Franklyn Farnum to the cast, but their appearance in the final film has not been confirmed.
Some scenes in the film were shot at San Francisco's Curran Theatre, and at The Stork Club in New York. Location shooting was also done in New York before principal photography began. During filming, Davis and co-star Gary Merrill, who was married at the time, became romantically involved. Davis and Merrill married in July 1950 and adopted a baby girl, whom they named Margot. They were divorced in 1960. According to a Hollywood Reporter news item, the studio promoted the film with trailers in which magazine reporters Leonard Slater and Stanley Gordon conducted onscreen interviews of the leading ladies.
With the release of All About Eve, Twentieth Century-Fox inaugurated a revolutionary "scheduled performances" screening policy, which required exhibitors to show the film only at designated times, with no late seating. The Harrrison's Reports review explained, "The purpose is to make patrons see the picture from the beginning so that they May fully understand and enjoy the proceedings, and thus give it favorable word-of-mouth advertising." The studio also stipulated in its exhibition contracts that the film receive single billing: no other feature-length picture could be shown on the same program. This policy was tested at the film's world premiere run at New York's Roxy, but after a week of scheduled performances, the Roxy reverted to the established practice of running the film continuously and permitting patrons to enter at any time. According to an October 18, 1950 news item in Hollywood Reporter, "confusion arose because of the public's deeply ingrained habit of going to a movie show at any desired hour, when most convenient or on impulse. A Hollywood Reporter item the following day described the failure of Twentieth Century-Fox's screening experiment but applauded the studio for trying to change the public's viewing habits.
A November 1, 1950 Hollywood Reporter news item reported that All About Eve would be dubbed or subtitled into twenty-seven languages, which, according to Twentieth Century-Fox, was the largest number of translations for any American film. When All About Eve was released in Vienna in 1952, the daughter of Austrian playwright Marco Borciner brought suit against Twentieth Century-Fox, claiming that the film plagiarized Borciner's 1909 play Hinter dem Vorhang (Behind the Curtain). The outcome of that suit is not known.
All About Eve received fourteen Academy Award nominations-a record that remained unbroken until 1998, when it was tied by Titanic. All About Eve received the following Academy Awards: Best Picture, Best Screenplay, Best Director, Best Supporting Actor (George Sanders), Best Sound Recording and Best Costume Design (Black and White). Mankiewicz, who had won Academy Awards the previous year for writing and directing A Letter to Three Wives, became the only person ever to receive the award in both categories for two consecutive years. Davis and Anne Baxter were both nominated for Best Actress, marking the first time two actresses were nominated for starring roles in the same film, but they lost to Judy Holliday in Born Yesterday. Celeste Holm and Thelma Ritter were nominated for Best Supporting Actress, but they lost to Josephine Hull in Harvey.
The film also received nominations for Cinematography (Black and White), Art Direction (Black and White), Music (Scoring of a Dramatic or Comedy Picture) and Film Editing. All About Eve was awarded the Special Jury Prize at the Cannes Film Festival, at which Davis won the Best Actress prize, won the British Film Academy Award for best film from any source and received New York Film Critics Circle Awards for best picture and best female performance (Bette Davis). According to a March 7, 1951 Variety news item, Twentieth Century-Fox did not enter the film in the International Film Festival in Montevideo, Uruguay, because the State Department feared that the story of a ruthlessly ambitious actress might be seen as paralleling the career of Argentina's first lady (and former actress) Eva Peron.
According to the legal records, after the film's release, the studio received dozens of letters from people interested in producing Mankiewicz's screenplay as a play, but Orr had retained the dramatic rights to her story. In 1964, Orr and her husband, director-playwright Reginald Denham, published a play titled The Wisdom of Eve, which was produced off-off-Broadway in 1979. In 1970, Orr and Twentieth Century-Fox agreed to a musical theater adaptation. The musical, Applause, opened on Broadway on March 30, 1970, with a book by Betty Comden and Adolph Green, and a score by Charles Strouse and Lee Adams. Lauren Bacall won a Tony Award for her portrayal of Margo Channing. Anne Baxter later replaced Bacall in the role. Applause was adapted as a television movie and broadcast on CBS-TV on March 15, 1973, with Bacall and Penny Fuller repeating their Broadway roles. Radio adaptations of All About Eve were broadcast on the Screen Guild Players on March 8, 1951, with Davis, Baxter and Sanders reprising their screen roles; on Lux Radio Theatre on October 1, 1951, with Davis, Baxter and Gary Merrill repeating their roles and Reginald Gardiner as Addison; and on Lux Radio Theatre on November 23, 1954, with Claire Trevor, Ann Blyth, William Conrad and Don Randolph.