DVDs from TCM Shop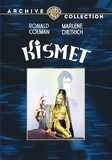 Kismet In the classic Arabian Nights... MORE&nbsp> $15.96 Regularly $19.99 Buy Now
NOTES
The film's opening credits conclude with captioned photographs of the principal actors and a voice-over narration introducing their characters and their relationship to one another. Hollywood Reporter news items and M-G-M publicity items add the following information about the production: Lawrence Hazard and novelist John Erskine were both assigned to write the screenplay, but their contributions to the completed film, if any, have not been confirmed. William Powell was first cast as the beggar (who was named "Hajj" in Edward Knoblock's play and in earlier film versions), and Richard Carlson was first cast as the "Caliph." Vera Zorina, Virginia Bruce and Marilyn Maxwell tested for the role of "Jamilla." Katharine Balfour and Mia Slavenska were tested for unspecified roles, and Leatrice Joy Gilbert, the daughter of actor John Gilbert, was to make her screen debut as "Rallah," a water bearer. Their participation in the completed film has not been confirmed, however. In addition, dance director Jack Cole was to appear in one of the dance sequences, but his onscreen participation has not been confirmed.
Kismet marked the first and only time that Marlene Dietrich appeared in an M-G-M film. According to modern sources, the film was to be the first of a two-picture deal for Dietrich, but the studio never found another project for her. According to Life, Dietrich's legs were covered with four coats of golden paint, and her dyed-blonde hair was sprinkled with powdered gold for her dance number. The article notes that Dietrich first wore gold-chain trousers for the scene, but switched to paint because the chains kept breaking. Art director Cedric Gibbons and producer Everett Riskin reportedly developed a new Technicolor technique for the film. In contrast to earlier Technicolor films, colors were to be selected to create a realistic look, not just to distract the eye. Another September 1943 M-G-M press item announced that Kismet was to be one of the "first productions to take account of the new world awareness" and noted that director William Dieterle was "taking pains to ensure that no offense" would be given to "Muslim moviegoers." A December 1943 Hollywood Reporter news item announced that New York painter Louise Schact had been hired for a "special exploitation assignment" in connection with the film, but the exact nature of her contribution has not been determined.
Edward Knoblock's play has been filmed many times, all under the title Kismet. The first version was produced in 1914 in Great Britain by Zenith Pictures in 1914, and was directed by Leedham Bantock and starred Oscar Asche. In 1920, Louis J. Gasnier directed Otis Skinner, the star of the stage play, in the first American version, which was produced by Robertson-Cole. Skinner appeared again in the role in First National's 1930 sound version, directed by John Francis Dillon. In 1931, First National released a German-language version directed by William Dieterle. In 1955, after Knoblock's play had been turned into a successful Broadway musical, M-G-M made its second version, a musical directed by Vincente Minnelli and starring Howard Keel and Ann Blyth. The play was then adapted for television and was broadcast on the ABC network on October 24, 1967, with Jos Ferrer and Anna Maria Alberghetti in the lead roles. To avoid confusion with the 1955 version, the 1944 theatrical version was later broadcast on television under the title An Oriental Dream.