DVDs from TCM Shop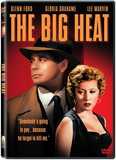 The Big Heat A police detective whose wife... MORE&nbsp> $11.21 Regularly $14.99 Buy Now
FULL SYNOPSIS
After the suicide of detective Sgt. Tom Duncan, his wife Bertha takes his detailed notes on racketeer Mike Lagana's organization, then demands money and protection from the mob boss to keep the notes secret. Lagana places the Duncan situation with his right-hand man, Vince Stone. Homicide detective Sgt. Dave Bannion is assigned to investigate Duncan's death and upon questioning a bereft Bertha, finds her explanation that Duncan suffered a mysterious malady suspicious. Later at home with his wife Katie and young daughter Joyce, Dave reads that the police department has accepted Bertha's assertions without question. That evening Lucy Chapman, a fading B-girl, contacts Dave and they meet at The Retreat bar where Lucy debunks Bertha's story, claiming that she and Duncan dated and that Bertha had just agreed to give her husband a divorce. When Dave cautions Lucy not to attempt to blackmail Bertha, Lucy angrily threatens to take her information to the newspapers.

Dave then visits Bertha, who dismisses the divorce story, despite her knowledge of Duncan's relationship with Lucy. The next day at headquarters, Dave learns of the discovery of an unidentified woman who had been thrown from a car after being beaten and tortured. At the coroner's, Dave identifies the victim as Lucy, and the coroner reveals that she suffered numerous cigarette burns before being strangled. Department head Lt. Ted Wilkes summons Dave and advises him to stop harassing Bertha. Dave returns to The Retreat to question bartender-owner Tierney, who reveals nothing. That evening, Katie and Dave are interrupted by a phone caller, who insults Katie then threatens Dave. Furious, Dave goes to Lagana's house, where he accuses Lagana of corruption and Lucy's murder. The next day, Wilkes chastises Dave and insists he stop inquiring into Lucy's death as it is under the county sheriff's jurisdiction. Later, preparing for a night out with Katie, Dave angrily tells her that he should resign, but Katie encourages him to follow his instincts. Moments later, when Katie starts the Bannions' car, it explodes, killing her.

After Katie's funeral, Dave demands help from Wilkes and Commissioner Higgins, but when the commissioner airily assures him of his assistance, Dave accuses both of being paid stooges for Lagana and is suspended. Dave places Joyce with his brother-in-law Al, and moves into a hotel. Meanwhile, Lagana reproaches Stone for hiring Larry Gordon, who botched Lucy's murder and accidentally killed Katie instead of Dave. Stone claims he was not involved and fires Gordon. Lagana admits to Stone that Bertha is demanding more money and has arranged to have Duncan's notes sent to the newspaper in the event of her death. Concerned about the mounting publicity over the recent spate of deaths, Lagana hesitates at Stone's offer to kill Dave. After several days, Dave, acting on a tip regarding Lucy, goes to a junkyard, where the owner, Atkins, informs him that the man he seeks, Slim, is dead. Upon leaving, Atkins' secretary, elderly Selma Parker, stops Dave and reveals that shortly before his death, Slim was visited by two men, one of whom, "Larry," mentioned The Retreat. Dave returns to the bar and spots Stone and Debby Marsh. Stone is rolling dice with a woman and when he suspects her of cheating, he brutally burns her hand with his cigarette, provoking Dave's anger. Stone apologizes, gives the woman money and leaves, but Debby remains and offers to buy Dave a drink. Dave refuses, but when Debby follows him, he takes her to his hotel room in hopes of learning Larry's identity.

Debby reveals no information, and when her flirting upsets Dave, she leaves. Back at Stone's apartment, Debby finds him with several men, including Higgins. When Stone questions her about going off with Dave, she assures him that she said nothing. Outraged, Stone attacks Debby, then hurls a pot of boiling coffee into her face. Shortly afterward, Debby, her face swathed in bandages, returns to Dave's hotel, pleading for protection. She describes Stone's attack upon her and how Commissioner Higgins took her to the hospital. Realizing Dave's genuine concern for her, Debby divulges that "Larry" is Gordon, a hit man hired by Stone.

Armed with this information, Dave locates Gordon and through physical coercion learns that Duncan was on Lagana's payroll for years and that Lucy was murdered because she may have known about it. Gordon insists he does not know why Bertha has been spared, and Dave speculates she must have evidence with which she is blackmailing Lagana. Dave leaves, promising to make it known that Gordon has talked, and soon after, Lagana has Gordon killed. Stone repeats his offer to kill Dave, but Lagana is fearful about what Dave may have done with his newly acquired knowledge, so considers a plan to kidnap Joyce to gain Dave's silence. Later, a panicked Bertha telephones Lagana asking for help when Dave shows up at her house. Dave demands information on the papers Duncan left behind and Bertha initially feigns ignorance before taunting him with her secure position and his inability to prove anything. The police, summoned by Lagana, arrive, forcing Dave's withdrawal. Dave returns to the hotel and tries to answer Debby's questions about Katie before confiding his frustration that Bertha is unbreakable as long as she has Duncan's notes.

They are interrupted when Al's wife calls to say the police guard around the house has vanished. When Dave arrives, he discovers Al has rounded up several Army buddies to protect Joyce. Debby goes to see Bertha, who receives her coldly, then threatens to call Stone. Debby calmly shoots Bertha and leaves the gun behind. Meanwhile, Dave watches Stone's place and sees him arrive. Inside Stone's darkened apartment, Debby waits and throws a pot of boiling water into Stone's face and tells him she has just murdered Bertha. Stone shoots Debby in the back just as Dave bursts in. A shootout on the balcony ensues, then Debby manages to tell Dave about Bertha. Dave calls an ambulance and holds Stone hostage. After Wilkes and Dave's former partner arrive, Stone is duly arrested while Dave tells a dying Debby about Katie. A few days later, after the arrest of Lagana and Higgins, Dave is returned to duty.