DVDs from TCM Shop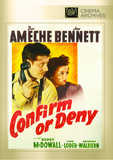 Confirm or Deny Newsman Mitch and teletype... MORE&nbsp> $12.95 Regularly $19.98 Buy Now
Home Video Reviews
Confirm or Deny
(1941) may be a minor film, yet it carries much interest. Its stars, Don Ameche and Joan Bennett, give enjoyable, winning performances, its script bears the mark of young co-writer Sam Fuller, and the picture overall stands as a fascinating and evocative time capsule of WWII London, just as the United States was on the verge of entering the war.
Ameche plays a newspaperman stationed in London who for the first portion of the story is trying to secure the use of a special, dedicated wire so he can scoop his competitors with cabled news reports with a forty-minute head start. The plot shifts when he meets teletype operator Bennett on a London street so dark -- because of wartime restrictions on light -- that they can't even see each other's faces. An air raid sends them into a Tube station, where they finally get a good look at each other's attractive faces and spend the night together amidst a sea of humanity.
When Ameche's office is bombed, he has to set up shop in a hotel basement, and to replace his own teletype operator, he tracks Bennett down and borrows her from her government job. Ameche wants to report on what he sees as an absolutely surefire impending German land invasion, but the war office censor (John Loder) won't allow it, and the two engage in a battle of words and wits, with Bennett taking the censor's side and ready to go to any length to protect military secrets. An unexploded German bomb wedged in the floor ratchets up the suspense.
Even though it was filmed on a Fox soundstage, there's an authenticity to this picture that is hard to shake. The attention to detail of wartime London is impressive, and there are many striking moments that embody an important time in WWII history: moments like a secretary scanning a casualty list hoping not to find her brother's name on it... and her reaction when she does find it; the Tube station sequence, where we see authentic war-related posters on the walls, and an impossibly large crowd of Londoners packing the subway platform, singing together and making the best of things while bombs rain down on the streets above; and the opening montage of the real war-torn London. Even the depiction of a boy who helps Ameche by waiting for the return of carrier pigeons bearing secret messages from the front feels sincere, and 12-year-old Roddy McDowell is touching in the part.
The screen story is credited to Henry Wales and Sam Fuller. Wales was a former foreign correspondent, while Fuller was a former reporter, screenwriter and novelist who would soon join the American infantry and later become a top-notch movie director. In his posthumously-published memoir
A Third Face
, Fuller said that this story was inspired by the real-life bombing of the Associated Press offices in London. He recounted that he and Wales started their script on a Monday morning, finished it on Saturday, contacted an agent that day, and the agent sold it to Fox the following Monday for $50,000. (
The Hollywood Reporter
claimed the sales figure was $20,000.)
Fox acquired the script for director Fritz Lang, but Lang quit the production after just a few days, and director Archie Mayo replaced him. Months later, Fuller had lunch with Lang, who explained that he had loved the original script but that the studio had mandated some rewrites (by screenwriter Jo Swerling) that Lang didn't like. "We agreed that the original script had more action, more emotion, and certainly more balls than the Archie Mayo movie that Fox eventually released," wrote Fuller. The finished movie definitely suffers from some unevenness as it swerves between rat-a-tat newspaper drama and slower romance, but Ameche's character nonetheless still feels like a Fuller creation: fast-talking, brash, intense, and very committed to his cause. Joan Bennett, too, exudes the no-nonsense pluck and determination that Fuller liked so much.
Confirm or Deny
was filmed in early 1941, had its premiere on Nov. 19, 1941, and opened commercially on Dec. 12 -- just five days after the attack on Pearl Harbor, which had the effect of making this picture feel even more intense and significant.
Like many Fox Cinema Archives releases, the new DVD-R looks like it's taken from an old TV master and suffers from a less-than-perfect picture, but compared to some other recent Fox releases, the quality isn't too bad and is well worth a look.
Also of note is another Fox Cinema Archives release made and set during World War II:
Paris After Dark
(1943), starring George Sanders, Brenda Marshall and Philip Dorn in a tale of underground resistance fighters in Paris. Fans of
Casablanca
(1942) will especially enjoy seeing that film's Marcel Dalio (the croupier) and gorgeous Madeleine Lebeau (Yvonne) popping up together a year later in this Fox film with a similar milieu. Lebeau, whose close-ups singing "La Marseillaise" were so unforgettable in
Casablanca
, gets the chance to sing a song here by herself, and again she is afforded intense singing close-ups. Incidentally, Dalio and Lebeau were a real-life married couple who had dramatically fled Paris as refugees when Hitler invaded the city. Picture and sound quality of
Paris After Dark
are very good.
By Jeremy Arnold