DVDs from TCM Shop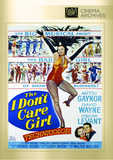 The I Don't Care Girl This musical biopic presents... MORE&nbsp> $14.91 Regularly $19.98 Buy Now
Home Video Reviews
The I Don't Care Girl
(1953) has long deserved to be better known and respected, and its debut on DVD from Fox Cinema Archives will hopefully start to reverse that reputation. The picture had a troubled production that resulted in half its footage being scrapped (according to a
Variety
review from the time), and the resulting 78-minute feature can hardly be seen as an illuminating biopic of Eva Tanguay. As a narrative, it's choppy and not very penetrating, focusing more on an on-again, off-again light romance than on exploring what made Tanguay tick as a performer.
However, seen now for what it is rather than what it isn't,
The I Don't Care Girl
functions as a hugely enjoyable, brisk little movie that contains some very big production numbers -- spectacular ones, in fact. And I would venture to say that this picture probably contains the best dancing Mitzi Gaynor ever put on screen, if not her most appealing overall performance.
She's a fireball of bawdy energy and movement as Eva Tanguay, the famous vaudeville singer and dancer of the early 1900s. And she holds the movie together, because the storyline is frankly all over the place. After a brief opening sequence that shows Gaynor, as Tanguay, performing in a Ziegfeld Follies show, the film presents another, "meta," opening, in which a man arrives at the Twentieth Century-Fox studio lot asking to see a producer about the Eva Tanguay picture currently in preparation. The man doesn't get in to see the producer just yet, but we do, and it's George Jessel -- the actual producer of the movie we're watching -- playing himself. He takes a meeting with two screenwriters assigned to write this picture, and they strategize over how to proceed. In the course of the film, they will interview three men who knew Eva Tanguay, and as those men relate their tales, the film will flash back to show us different episodes of Tanguay's life, more or less in order but sometimes contradictory, with a slight "Rashomon" effect.
The I Don't Care Girl
, then, ends up being a movie about the attempt to make
The I Don't Care Girl
. (One can imagine screenwriter Charlie Kaufman perhaps having been inspired by this framework when he was writing
Adaptation
[2002].)
In any event, the self-referential quality is not dwelled upon or dealt with heavy-handedly; it's treated lightly and matter-of-factly, and works more as a way of providing the audience with a pleasing "behind-the-scenes" feel, which makes sense for what is essentially a backstage musical on two levels -- the making of the film we're watching in the present and the scenes of Tanguay performing in the past. It also enables some highly amusing moments like the one in which vaudeville performer Ed McCoy (David Wayne) sits at a bar ruminating over who could possibly play him in the movie within the movie (which are, of course, one and the same movie): "This Gene Kelly
might
be able to do my dances. But for looks, well there's this Victor Mature, but he can't sing."
David Wayne as one of the three main men in this film is joined by Bob Graham, who never made another movie, and Oscar Levant, who is best known as a composer and pianist but also brought comic wit as an actor to a dozen or so movies, including
The Band Wagon
(1953). Yet the true "leading man" of
The I Don't Care Girl
has to be Jack Cole, who does not appear on screen but, as choreographer, is responsible for the three best numbers in the picture: "The Johnson Rag," "I Don't Care," and "Beale Street Blues." All three are modern 1950s production numbers ablaze in Technicolor, as opposed to the other numbers in the film that are all grounded in a 1910s time frame. But these modern ones work because the movie has established itself from the outset as having an almost anything-goes level of reality.
"The Johnson Rag" features witty, modern big-band interpretations of Mozart, some performed by Levant, and exquisite synchronized jazz dancing. At the end of the wild "I Don't Care," which was Tanguay's signature song and is actually performed twice in this film, Gaynor ascends a staircase ringed with flames, and it's truly a wonder her feathery costume didn't catch fire. "Beale Street Blues," the finale, is also good but not quite a showstopper like the earlier two numbers; possibly it got shuffled around in postproduction when the entire movie was restructured.
Gaynor's musical performance in all these numbers and more demonstrates -- both because of and in spite of the film's choppy quality -- that she was unfairly wasted in Hollywood and never quite had a chance to realize her potential as a major musical film star. She has few film credits and has spent most of her career instead as a successful live performer.
The I Don't Care Girl
was directed by Lloyd Bacon, a veteran who turned out an astonishing number of snappy little movies starting in the silent era, including first-class musicals like
42nd Street
(1933) and
Footlight Parade
(1933). He directed only three more films after
The I Don't Care Girl
and died in 1955. He has never been considered an auteur or great stylist, but rather as a workhorse who performed well in all genres. Possibly it's due to his great experience as a filmmaker that this film has its curious and brief pre-credit sequence of Eva Tanguay performing in a show, before the camera pans over to reveal Florenz Ziegfeld (Wilton Graff) watching in the wings and commenting on her dancing. It's a moment that the film never returns to; it exists entirely on its own. It may have been part of another sequence that was intended for the film and scrapped, and possibly Bacon decided to use this snippet as a way of establishing in visual terms that this would be a film that would show both Tanguay performing and the behind-the-scenes people who enabled her to do so. Regardless of whose idea it was, it's a beautifully economical -- if abstract -- method of setting up the way this entertaining film will work.
The I Don't Care Girl
is one of a slew of interesting new burn-on-demand DVDs from Fox Cinema Archives, which has had an uneven record to date in its choices of titles and in the technical quality of its transfers, most of which have not been remastered. Happily, this one looks decent and will not disappoint. There are some other musicals in Fox's new batch that have also been under the radar in recent years and are well worth a look, such as
Call Me Mister
(1951) and
Meet Me After the Show
(1951), both starring Betty Grable late in her career, and
Irish Eyes are Smiling
(1944), starring June Haver at the beginning of hers. Also notable:
The Model and the Marriage Broker
(1952), starring the beautiful and forgotten star Jeanne Crain, and
Sitting Pretty
(1948), an enormous comedy hit in which Clifton Webb originated his character of Mr. Belvedere the babysitter. (The film was so popular that it spawned two sequels.) Fox has also issued the less-inspired 1958 Webb comedy
The Remarkable Mr. Pennypacker
.
By Jeremy Arnold