DVDs from TCM Shop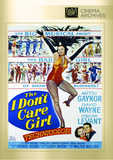 The I Don't Care Girl This musical biopic presents... MORE&nbsp> $14.91 Regularly $19.98 Buy Now
NOTES
DVDs from TCM Shop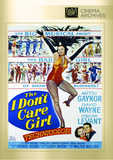 The I Don't Care Girl This musical biopic presents... MORE&nbsp> $14.91
Regularly $19.98 buy now
The working title of this film was I Don't Care. Before the opening credits, there is a brief sequence during which "Eva Tanguay" performs a number in the Ziegfeld Follies with a group of chorus girls. "Florenz Ziegeld, Jr." detects that there is something wrong with Eva, however, and orders that the curtain be brought down. The sequence is not explained or referred to again during the rest of the film and May be an anachronistic reference to Eva's later blindness and arthritis. The picture is very loosely based on the life of Eva Tanguay (1878-1947), a popular singer and dancer whose signature song, "I Don't Care," and well-publicized antics earned her the nickname "The I Don't Care Girl." In addition to her many vaudeville appearances, Tanguay starred in several editions of the Ziegfeld Follies and acted in a number of dramatic and musical plays. Tanguay was married at least twice, to a dancer and a pianist, and May have had another, common-law marriage to a comedian. Tanguay, who was well-known for her bawdy, spirited performances, appeared in two motion pictures: the 1916 picture Energetic Eva, directed by Joseph Smiley, and the 1917 Selznick Pictures production The Wild Girl, co-starring Tom Moore and directed by Howard Estabrook (see AFI Catalog of Feature Films, 1911-20).
According to contemporary sources, I. A. L. Diamond, Albert E. Lewin, Burt Styler and Arthur Caesar worked on early drafts of the film's screenplay, but their contribution to the finished picture is doubtful. A August 23, 1951 Hollywood Reporter news item noted that John Agar was to be tested for a leading role. Although the CBCS includes the following actors in the picture, they do not appear in the released film: Jimmy Dodd (Will Rogers), Jean Darling (Lillian Tashman), Harmon Stevens (W. C. Fields), Harry Hines (German comic), Eddie Parks (German comic), Frank Herman (Ventriloquist) and William Johnstone (Magician). Hollywood Reporter news items include the following actors in the cast, although their appearance in the completed picture has not been confirmed: Roscoe Lincoln, Gus Lax, Clara Hogan, Geraldine Farnum, Betty Jane Howarth, Diana Mumby, Meredith Leeds, Beryl McCutcheon, James Gonzales, Betty Jane Barton, Yvonne Ruby, Dorothy Towne, Marta Almeida, Nancy Kilgas, Kay Topscott, Al Lyons, Emil Moroney and Bob Odom, who served as Oscar Levant's stand-in.
Although an August 1951 Hollywood Reporter news item stated that director Lloyd Bacon was scouting locations in Indianapolis, the picture was shot on the Twentieth Century-Fox lot. Producer and former vaudeville star George Jessel, who appears as himself in the film, briefly filled in for Bacon when Bacon became ill. A number of reviews commented on the film's lack of continuity, which, according to the Daily Variety reviewer, was "apparently because fully half of the footage originally shot was scrapped." The I Don't Care Girl marked the motion picture debut of Bob Graham.