DVDs from TCM Shop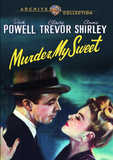 Murder, My Sweet Detective Philip... MORE&nbsp> $14.36 Regularly $17.99 Buy Now
Home Video Reviews
Film noir is a style, a mood, an attitude - but not a genre. No one in the 1940s ever said, "Let's go make a film noir." (It has since
become
a genre, but today's "noirs" are something quite different.) Instead, the noir attitude set the tone for movies in a wide variety of genres in the '40s and '50s, many of which fell into the broad category of urban crime dramas - though there also exist noir westerns, women's films and even musicals. You won't find any westerns or musicals in Warner Home Video's new 5-disc set, but you will find five noir films that represent a mix of urban genres: the heist film (
The Asphalt Jungle
), the boxing picture (
The Set-Up
), the bank robber story (
Gun Crazy
), and the private-eye film (
Murder, My Sweet
and
Out of the Past
). What unites them are the feelings of oppression, confusion and fatalism created by intricate storylines and dazzling black-and-white lighting. They bring us into the underworld and in different, stylish ways make us feel very strongly what it's like to be there. Each picture is a truly great one, and all are presented here in good, clean prints. In fact, this is the rare multi-title set that contains not one dud.
The Asphalt Jungle
(1950), with its tough, evocative dialogue and beautifully textured characters, hasn't aged a bit. It's pure noir, and one of the great heist films of all time. A superb cast including Sam Jaffe, Sterling Hayden, Louis Calhern and James Whitmore plans a jewel robbery in methodical detail, and then we watch in methodical detail as it goes awry and each man meets his fate. John Huston, Oscar®-nominated for script and direction, brings much more to it that that, however, making us feel the alienation of the characters in a hostile world. It's a tour de force for all involved. Marilyn Monroe, in one of her earliest screen appearances, is sinewy and sensual, and a good deal of this effect is thanks to the way Huston positions her in the frame, dresses her, and lights her. As USC film professor Drew Casper points out in his commentary track, it's a type of glamour and sex appeal that is distinctly post-WWII and distinctly MGM. In fact, it may be the only thing that's distinctly MGM about the entire picture! MGM was never a studio associated with dark crime dramas and shadowy lighting, though it did produce a few noirs - more, in fact, than most people remember, such as
Border Incident
(1949),
Force of Evil
(1948),
Side Street
(1949), and
Undercurrent
(1946).
Murder, My Sweet
(1945) takes a few minutes of getting used to if all you've ever seen Dick Powell do is sing and dance. Here, he plays Philip Marlowe. Yes, that Philip Marlowe. Powell is tough and hard-boiled as Chandler's famous detective, and he pulls it off extremely well, delivering brilliantly sarcastic dialogue with confidence. Chandler himself called Powell his favorite screen Marlowe. Every scene is set at night, making
Murder, My Sweet
one of the expressionistic archetypes of the noir style. Director Edward Dmytryk would make two more important noirs soon thereafter:
Cornered
(1945) and
Crossfire
(1947).
The Set-Up
(1949), with a script based on a long narrative poem, is one of the great boxing films in an era in which there were many, such as the noir
Body and Soul
(1947) and the marginally noir
Champion
(1949). Told in real time, the 72-minute film is also set entirely at night, and rarely has a film captured a sense of fatalism and doom as strongly as this one. Robert Ryan plays Stoker, an over-the-hill, so-so fighter who is determined to win one big fight on his way out. What he doesn't know at first is that the fight has been fixed, and not in his favor; if he doesn't play along, he will suffer severely afterwards. Ryan got the part because he was the only actor under contract at RKO who had actually been a boxer (in college), and he is superb as always - not just in the fight scenes, which are brutally realistic, but in sequences which call on his gift for expressing deep vulnerability. Audrey Totter as his girlfriend is equally effective and turns in one of the best performances of her career. This was one of Robert Wise's early credits as director, and his previous career as an editor is on great display throughout, especially in a memorable sequence where Totter stands on an overpass watching buses drive underneath.
Gun Crazy
(1950) is one of the best B-films of all time. Director Joseph Lewis's low-budget masterpiece is a model of economy and style, never more evident than in the famous one-shot bank robbery sequence filmed from the back seat of a car. It's a shot - and a sequence - unlike anything else of the time. John Dall and Peggy Cummins are a Bonnie and Clyde-type couple who "go together like guns and ammunition," and the linking of sexuality and violence gives
Gun Crazy
a unique and fascinating edge.
All four of these films are wonderful, but my personal favorite has to be
Out of the Past
(1947), which is
finally
making its debut on DVD. The quintessential private detective film noir and one of the greatest movies ever to come out of the Hollywood studio system, it just gets better with repeated viewings. It's the kind of movie one thinks of when "film noir" is mentioned. It has a tough antihero in Robert Mitchum, a classic femme fatale in luscious Jane Greer, a meshing of sex and violence, hardboiled dialogue, stunning black and white lighting, and a confusing storyline complete with a flashback set in a world of mobsters. It all comes together to create a strong fatalistic sense that these characters are doomed and they're going down in a dark, ominous world. It's also a layered and poetic picture, visually and emotionally. Jacques Tourneur, who started out directing low-budget Val Lewton horror films like
Cat People
, brought this type of style to most of the films he made, and
Out of the Past
is certainly his greatest. Mitchum and Greer are at their peaks, Kirk Douglas is enjoyable in just his second film, and the movie is pure pleasure.
Warner Home Video has delivered these pictures in exceptional transfers with little wear.
The Set-Up
in particular looks a lot better than its TV airings have looked over the years, and the rich shadows of
Murder My Sweet
and
Out of the Past
are well-served by the DVD medium. Each disc comes with a commentary track by a film historian except for
The Set-Up
, which has commentary from Robert Wise and Martin Scorsese, a huge fan of the film. Their comments were recorded separately, and the track jumps back and forth between the two. 89-year-old Wise unfortunately offers little that is insightful, but Scorsese is riveting, speaking of the "hyper-naturalism" of the movie and excitedly describing it as "compact and tough and lean, like a fighter. You feel the immediacy of what's happening." He goes on to explain how
The Set-Up
influenced his own
Raging Bull
(1980), and the visual similarities are indeed startling.
The Asphalt Jungle
's commentary also includes archival oral interviews with star James Whitmore, who was Oscar®-nominated and whose comments are articulate, thoughtful, and definitely worth a listen. Other extras are a couple of trailers and John Huston delivering a brief intro to
The Asphalt Jungle
.
For more information about the
Film Noir Classic Collection
, visit
Warner Video
. To order the
Film Noir Classic Collection
, go to
TCM Shopping
.
by Jeremy Arnold